In one memorable sequence during a recent practice at Redskins Park, Jason Campbell took his drop, settled in and tried to hook up with Anthony Mix about 20 yards down the field and in the right flank. Leigh Torrence had other ideas as Campbell and Mix tried to re-create the combination that worked well at times at Auburn.
Torrence stepped in front of the much taller Mix and picked off Campbell's pass.
As his defensive teammates gave him assorted applause and shout-outs, Torrence returned his well-timed interception.
That's the type of play-making skills the Redskins need to see more out of from Torrence, the 5-11, 180-pound fourth-year player out of Stanford.
Looking ahead to the regular season, Shawn Springs and Fred Smoot appear solid at cornerback.
But Carlos Rogers is coming off a serious knee injury and no one can say for certain when Rogers will be able to go at full tilt and at a highly-competitive level.
That's why the play of Torrence in training camp is something to closely monitor.
"I think I've been making progress," Torrence said. "I feel like I'm getting really comfortable at that left corner. I'm trying to show coaches that they can depend on me if it's a situation where I'm called on to be that third corner."
He has earned praise from defensive coordinator Greg Blache this training camp.
"Leigh is very physical and tough, and he can play both nickel and corner," Blache said. "He has some savvy and moxy that a lot of guys do not have about feeling the zones and being able to play both the inside and outside areas.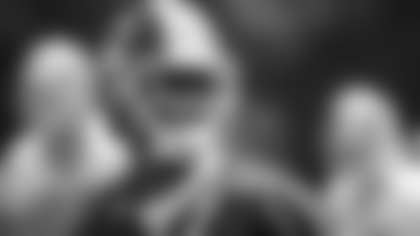 Leigh Torrence (Don Wright Photo)
"Leigh is a young man who is up and coming, but how good he gets is up to him. He is a guy we are very encouraged by and he has had a good camp."
Last season, Torrence played in all 16 regular-season games for the first time in his NFL career, which began with an audition in Green Bay that was followed by a 10-game stint in Atlanta, his hometown, in 2005.
The Redskins signed Torrence late in 2006 and last year he produced 33 tackles and a sack (coming against Tarvaris Jackson of Minnesota). On special teams, Torrence contributed 14 stops.
Redskin coaches first showed confidence in Torrence in Week 2 at Philadelphia. He was in the defensive backfield as Philly was threatening late in a tight Monday Night game the Redskins won 20-12.
"Week 2 in Philly last year, that was a key game for me in terms of getting more confident in this defense," Torrence admitted. "It's a big game, a Monday Nighter, and Philly's driving. Our coaches left me out there. That really boosted my confidence.
"Then, after Carlos got hurt in New England, I started to see the field more. By then, that Week 2 experience had really helped me."
Torrence saw the field in nickel packages and at corner after Rogers went down in Week 8 at New England.
He started at free safety in the playoff game at Seattle--opposite LaRon Landry lined up at strong safety. It was a game in which he played against former high school teammate Will Heller, one of the Seahawks' tight ends.
Both played at Marist High School in Georgia, where the soft-spoken Torrence stood out in football, tennis and track.
After the first 10 days of training camp, it appears Torrence is ready to make a more significant contribution in 2008.
If Rogers isn't ready in the early going, Torrence is preparing himself to step up, in case that's how his coaches envision things.
Back in mini-camp, LaRon Landry and Clinton Portis famously raced each other at Redskins Park to see who's faster. To this day, there's no closure on that issue. Both claim to have won.
But if you want to discover the fastest Redskin overall, you at least have to put Torrence in the conversation. In college, he was timed at 4.36 in the 40.
It's safe to say that Torrence keeps himself busy when he's not at Redskins Park.
The Stanford grad served as an intern for U.S. Rep. Sanford D. Bishop, Jr. (D-Ga.)
In addition, the 26-year-old Redskins cornerback annually hosts youngsters at a camp in Atlanta, and earlier this year he appeared on NBC's "Today Show" as part of an episode called "Race To The Altar."
His friend Darnell Suggs was married on national television, at the network's studios in mid-town Manhattan. Torrence was in the ceremony as a groomsman.
That was a day of celebration, of course, and Torrence is hoping that more good things are ahead in terms of trips to the New York area.
He knows that the Redskins have to start fast, which means on Thursday night, Sept. 4, versus the Giants in the Meadowlands.