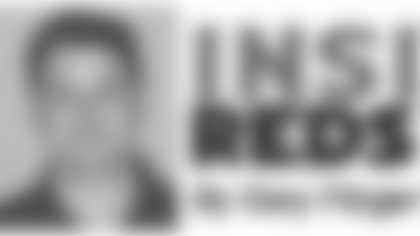 The Redskins completed their eight-player practice squad on Monday, signing former New York Giants quaterback Andre Woodson, two former draft picks and four undrafted rookies.
Woodson was a sixth-round draft pick by the Giants in 2008. He spent time on the Giants' practice squad last year.
Noticeably absent from the practice squad list is quarterback Chase Daniel. He had indicated on Saturday that he hoped to join the Redskins' practice squad, but he ended up signing with the New Orleans Saints' practice squad instead.
The Redskins are keeping two quarterbacks--Jason Campbell and Todd Collins--on the 53-man roster, with Woodson serving as the scout team quarterback as a member of the practice squad.
The Redskins' practice squad is as follows:
REDSKINS PRACTICE SQUAD
Player
Position
Status
Lendy Holmes
S
Undrafted Rookie
Rob Jackson
DE
2008 7th-round Draft Pick
Onrea Jones
WR
First-year Player
Trent Shelton
WR
First-year Player
J.D. Skolnitsky
DE
Undrafted Rookie
Eddie Williams
FB
2009 7th-round Draft Pick
Andre Woodson
QB
2008 6th-round (N.Y. Giants)
Darrel Young
LB
Undrafted Rookie
The Redskins were interested in signing defensive tackle Antonio Dixon, an undrafted rookie out of Miami, to the practice squad. He was claimed off waivers by the Philadelphia Eagles on Sunday and added to their active roster.
The Redskins also hoped to bring back linebacker Cody Glenn, a fifth-round draft pick by the club, but he was claimed off waivers by the Indianapolis Colts.
Here is a closer look at the Redskins' five practice squad players:
-- Lendy Holmes, S
Holmes, a starter on last year's Big 12 champion Oklahoma Sooners, has experience playing both free and strong safety. The undrafted rookie was one of nine prospects to participate in Deion Sanders' combine training session called "Prime U." In preseason, Holmes led the defense in tackles with 20.
-- Rob Jackson, DE
A year ago, Jackson earned a Redskins roster spot as a sixth defensive end. This year, the Redskins kept five defensive ends, with Jackson on the practice squad. Jackson was a 2008 seventh-round draft pick by the Redskins. In preseason this year, he recorded two tackles and a forced fumble.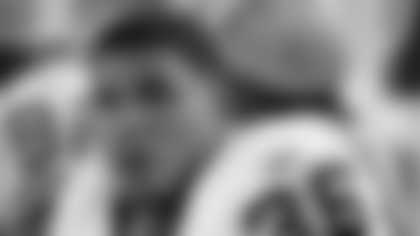 Eddie Williams (AP Photo)


-- Onrea Jones, WR
Jones is a first-year player who has had NFL stints with five teams, including the Arizona Cardinals during preseason. He caught six passes for 79 yards and two touchdowns with the Cardinals in 2009 preseason. Jones played college football at Hampton and hails from Williamsburg, Va.
-- Trent Shelton, WR
Shelton joined the Redskins last May after practice squad stints with the Seattle Seahawks and Indianapolis Colts each of the last two years. He had a solid preseason, catching four passes for 38 yards in four games.
-- J.D. Skolnitsky, DE
Skolnitsky, a Fairfax, Va., native, joined the Redskins in May as an undrafted rookie. He first caught the Redskins' eye at the team's local college pre-draft workout in early April. Skolnitsky played college football at James Madison, but lost his final year of eligibility after he tested positive for a banned substance. During preseason this year, Skolnitsky recorded two tackles and one sack in four games.
-- Eddie Williams, FB
Williams was a seventh-round draft pick by the Redskins last April. Raw but versatile, Williams spent training camp learning to play fullback from Mike Sellers. He said he hopes to model his game after Sellers. A pass-catching fullback at Idaho, William grabbed three passes for 18 yards in preseason this year.
-- Andre Woodson, QB
Woodson is a 6-4 and 230-pound quarterback out of Kentucky and he was a Heisman Trophy candidate in 2007. Joining the New York Giants as a sixth-round draft pick in 2008, Woodson served on the practice squad most of last season. In preseason this year, Woodson struggled, completing 18-of-46 passes for 238 yards, no touchdowns and two interceptions. His QB rating was 38.1.
-- Darrel Young, LB
Young signed with the Redskins in May as an undrafted rookie out of Villanova. Regarded as a linebacker with good speed, Young impressed coaches with his play on special teams during training camp. In four preseason games, he logged four tackles.