As a high school football player in Fort Myers, Fla., Phillip Buchanon wore No. 2.
It was a tribute not only to Deion Sanders (also of Fort Myers) but to Charles Woodson. Sanders had already made quite the name for himself as a cornerback, Woodson was doing the same and Buchanon would follow.
Buchanon had no idea that he would one day line up in the same secondary as Woodson. Then the Oakland Raiders made him a first-round draft pick in 2002 and he found himself manning the cornerback spot opposite one of his idols for three years.
"I was a big fan of Charles when he was at Michigan. Our high school even wore the same colors – navy blue and gold," Buchanon said.
They will get reacquainted on Sunday when the Redskins and Green Bay Packers meet at FedExField.
Woodson left the Raiders for the Packers as a free agent in 2006. The Raiders traded Buchanon to the Houston Texans in 2005 and he went on to also play for the Tampa Bay Buccaneers and Detroit Lions before joining the Redskins this spring.
Buchanon doesn't stay in close touch with Woodson but he still pays him plenty of respect.
"I see everything he does," he said. "He's been making a lot of plays, way more in Green Bay than he did in Oakland."
Woodson returned an interception for a touchdown last Sunday against Detroit, marking the 10th time in his career he has done that. Only two other players (Hall of Famer Rod Woodson, Darren Sharper) ever achieved double digits. A six-time Pro Bowl pick, the 34-year-old Charles Woodson continues to build his brand.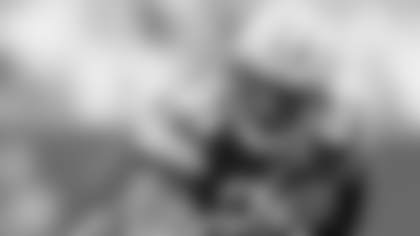 He was the NFL's Defensive Player of the Year in 2009 when he tied for the league lead in interceptions with nine. He often will match up with the opposing team's best receiver.
"These older guys still play at a high level. We can still do that," Redskins quarterback Donovan McNabb, soon to be 34, said with a laugh. "Charles is still doing the same things, getting interceptions and taking them back for touchdowns."
Woodson also scored once on a fumble return. That came against the Redskins in 2007 and provided the winning margin in a 17-14 Green Bay victory.
"I bet most of the guys on this team don't even know he won the Heisman (Trophy), they're so young," wide receiver Anthony Armstrong said. "It's going to be a big matchup and it's going to be fun to go against him. He's a lot of people's idol. People saw him play at Michigan and all through the league. He's one of the best corners in the league. I'd like to see what I can do against him."
Woodson is the last player who played primarily on defense (he also took snaps at receiver and returned punts) to win the Heisman (1997). He not only had the pick for a score but a career-high 14 tackles against the Lions, earning him NFC Defensive Player of the Week honors.
"He's one of our prime-time players on defense," Packers coach Mike McCarthy said. "He's smart, he's tough, he has the ability when he gets his hand on the ball to find the end zone. Just a very instinctive, smart football player."
Woodson intercepted 17 passes in eight seasons in Oakland but has 29 in five years with the Packers.
Maybe, as McNabb suggested, he's just getting better with age.
QUOTABLE: "I'm a very patient person." – New York Giants coach Tom Coughlin, when asked why he hadn't replaced shaky rookie punter Matt Dodge. ... "Psychological damage control is not an issue." – San Francisco 49ers coach Mike Singletary, talking about his 0-4 team. ... "It's a man's league. Everyone has to own up, be a big boy." – Miami Dolphins linebacker Cameron Wake after Monday night's 41-14 loss to the New England Patriots.
AROUND THE NFL: The New York Giants' 10 sacks against the Chicago Bears had another effect far beyond simply knocking out the first- and second-string quarterbacks. The Bears went 0-13 on third-down conversions and managed only 110 yards of total offense. Six Giants shared in the 10 sacks, with Justin Tuck getting three. ... Tony Gonzalez of the Atlanta Falcons is now the only tight end in NFL history to surpass 12,000 receiving yards (12,012). ... Washed up? LaDainian Tomlinson didn't think so when he signed with the New York Jets. His 133 rushing yards against the Buffalo Bills pushed him past Tony Dorsett (12,739) into seventh place all-time and earned him AFC Offensive Player of the Week honors. Tomlinson has 12,831 yards. ... The Oakland Raiders have allowed opponents to score nine touchdowns on 11 trips inside the 20-yard line. The Jacksonville Jaguars have allowed the most red-zone touchdowns (12). ... The AFC's three leading receivers all play for the pass-happy Indianapolis Colts. Reggie Wayne (33 catches) sits just ahead of teammates Austin Collie (32) and tight end Dallas Clark (28). Wayne leads the NFL not only in receptions but receiving yards (456). ... It is probably small comfort for Redskins fans, but Antwaan Randle El, back with the Pittsburgh Steelers, is averaging 3.9 yards per punt return. Sound familiar?
---
Larry Weisman, an award-winning journalist during 25 years with USA TODAY, writes for Redskins.com and appears nightly on Redskins Nation on Comcast SportsNet. Read his Redskinsblitz blog at Redskinsrule.com and follow him on Twitter.com/LarryWeisman.