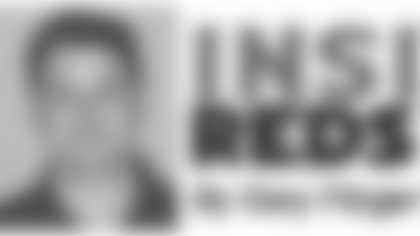 Renaldo Wynn has always felt a connection to the Washington, D.C. area.
So when the Redskins contacted Wynn earlier this offseason to gauge his interest in coming back to the club he played for from 2002-06, he jumped at the opportunity.
Wynn returned to Redskins Park earlier this week and was all smiles as he greeted teammates, new and old, as well as long-time staff employees. He admitted he felt a sense of deja vu.
"It was destined, because I could not have foreseen coming back," Wynn said. "There was no way I thought I would be back here. With all of my friends here, it just seemed too good to be true.
"But God has a bigger plan, one that I didn't foresee. Now that I'm back, it's just an unbelievable feeling."
Wynn departed the Redskins after the 2007 preseason and signed with the New Orleans Saints. Last year, he was a reserve defensive end with the New York Giants and posted 24 tackles and two sacks, including one on Jason Campbell in a Nov. 30 contest at FedExField.
The last two years, Wynn would periodically visit Redskins Park to say hello to former teammates and staff. He maintained his ties to the area through his charitable foundation, the Renaldo and LaTanya Wynn Family of Faith Foundation.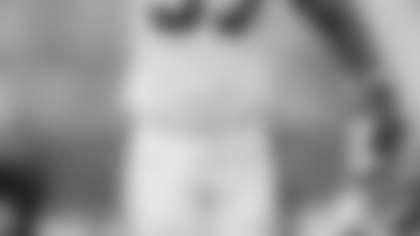 Wynn had put his Ashburn home up for sale two years ago, but he could find no buyers.
"It's great because everyone is happy," Wynn said. "My wife is happy, my daughter [Kennedy] is happy. She's old enough now that she realizes where you make your home has a lot to do with your happiness. It was a little bit uneasy for them in New York and being in the big city.
"Now you can go home and know you're in a comfortable situation. It puts things in perspective. You never know how much a place grows on you until you leave."
Wynn returns to a Redskins team that is in flux along the defensive line.
The defensive tackle position has great depth with the addition of Albert Haynesworth. At defensive end, just one starter returns--Andre Carter--returns from last year.
Wynn could step in at defensive end opposite Carter and could line up at tackle as well. At the very least, he provides experience and depth, as well as great locker room chemistry.
"We're a little thin at the defensive end position right now," Wynn said. "But the court is still open."
Wynn joins youngsters Chris Wilson, Rob Jackson and Alex Buzbee at defensive end.
Wynn mentioned Phillip Daniels, a free agent who has played for the Redskins since 2004, as a possibility to help fortify the defensive end position.
"I think we have a few more pieces of the puzzle [to add] and we'll go from there," Wynn said.
Wynn, a 12-year veteran, played in 79 games with 63 starts during his first stint with the club. During that span, Wynn totaled 133 tackles, eight sacks, three forced fumbles and two fumble recoveries. He was also named the team's Walter Payton Man of the Year in 2006.
For his career, the 6-foot-3, 296-pound Wynn has played in 180 regular season games, with 128 starts, and recorded 294 tackles, 27 sacks, six forced fumbles and five fumble recoveries.
Wynn began his career in Jacksonville, where he spent five seasons after the Jaguars chose him in the first round (21st overall) out of Notre Dame in the 1997 NFL Draft.
In Washington, D.C., Wynn established his foundation, with its signature event an annual holiday shopping spree for families in need at a local Target store.
Families that participated in the shopping spree received a Target gift card and Redskin players escorted them as they shopped.
It's an event that Wynn continued even when he was in New Orleans and New York the last two years. Last year, some members of the Giants joined Redskins players at the event.
"We felt that we established something special here with the community," he said. "No matter how long I play, wherever I play, I'm still going to do that event here because it started here."
Wynn also hosted a car show at Redskins Park in June 2007. His connections extend to NASCAR and he plans to establish a working relationship with former head coach Joe Gibbs and Joe Gibbs Racing.
"Joe Gibbs offered me the opportunity to come down and work with his NASCAR team, and that's something I love to do as well," Wynn said. "I may work in the marketing department and have some input there while I learn about NASCAR.
"I'm in awe of what they do at the track, just like [racers] are in awe of what we do on the football field. A lot of those guys are big football fans and a lot of them are big fans of the Redskins."