Inside the 20-yard line, veteran tight end Todd Yoder has increasingly become a viable option for quarterback Jason Campbell.
In Washington's 24-17 win over Arizona on Week 3, for instance, Yoder found separation in the end zone and latched on to a two-yard TD toss from Campbell. That play gave the Redskins a 17-10 edge at the 3:16 mark of the third quarter.
Yoder's TD catch was one of the keys in a second half that saw the Redskins open up their playbook and seek out different personnel in their offensive scheme.
"Things are starting to click with us and we're starting to get more and more confident each game," the 6-4, 253-pound Yoder said after Washington improved to 2-1 under new head coach Jim Zorn. "We had a mixture of different types of plays and we did a good job keeping the defense on their heels."
A year ago, of course, the Redskins had their very own version of "The Catch"--Todd Yoder style.
It's one that may get lost when reminiscing about the amazing run the Redskins made to reach the playoffs last season.
Go back to when the Chicago Bears visited FedExField on the night of Dec. 6, 2007.
The Redskins were recovering emotionally from the death of star safety Sean Taylor 10 days prior, and at 5-7, their playoff hopes were flickering. They were in desperate need of a win.
Both offenses struggled in the first half, but an interception and 53-yard return by safety Shawn Springs gave the Redskins a first down on the Bears' 21 just before halftime. The Todds connected on the next play.
Quarterback Todd Collins, in for an injured Jason Campbell, found Yoder, a tight end who is seldom used as a receiver, for a 21-yard touchdown pass.
The Redskins went on to win 24-16 to start of a four-game winning streak that propelled them into the playoffs.
Yoder, now in his ninth season, considers the catch to be a very special moment for him.
"It helped spark us, got us on a run and into the playoffs," he said in retrospect. "It was a huge catch."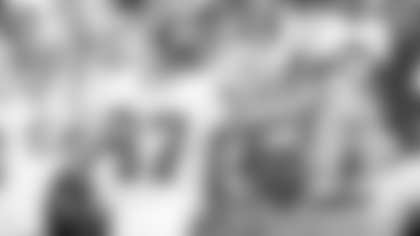 To Collins, Yoder's catch probably turned the Redskins' season around.
"It was a pivotal play," Collins said. "Shawn had that big interception, and we had only a few seconds left in the first half. Once we scored, it kind of lifted the whole team, the whole stadium."
On the play, Yoder out-ran Bears linebacker Hunter Hillenmeyer on a crossing route, then beat safety Danieal Manning at the goal line for the reception.
"He made a nice catch on it," Collins said. "He ran it the way it was supposed to be run. It was a great call. We had a play-action fake off tackle. He was in man-to-man coverage and just beat his man."
That catch was one of only seven last season for Yoder, who is used primarily as a blocking tight end and on special teams.
With Pro Bowl tight end Chris Cooley and Santana Moss among the Redskins' receiving weapons, along with three rookies (receivers Malcolm Kelly and Devin Thomas and tight end Fred Davis), it doesn't seem a lot of balls will be coming Yoder's way.
How does he envision his role under first-year coach Zorn?
"Right now, I'm just trying to execute everything they ask me to do, whether it's blocking or receiving," Yoder said. "Obviously, we have a lot of weapons besides me with Santana, Cooley, (Antwaan) Randle El, guys who need to get their touches. I see myself where I may pick up a ball here or there to help out, but really I'll just do whatever they ask me to do."
Yoder, a member of a Super Bowl team in Tampa Bay in 2002, is one of only three current Redskins with Super Bowl wins to their credit. In that respect he joins London Fletcher (St. Louis, 1999) and Randle El (Pittsburgh, 2005).
Following a 29-24 win over the Saints on Sept. 14, a game in which the Redskins piled up 455 yards of offense and scored three touchdowns in the second half after settling for three field goals in the first half on four trips to the red zone, Yoder sounded excited about how productive the offense can be.
"Our offense today showed we can score points," he said. "If you look at the times we were down in the red zone and had to come away with field goals, if we turn those into touchdowns, then we score even more points.
Yoder added: "This offense, everyone is still young in it, and it's a building process. I hope this is the stepping stone we can use toward good things to come."