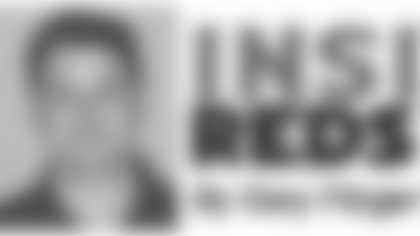 Amid rumors and reports that the Redskins are looking closely at quarterbacks in the NFL Draft, Jim Zorn said on Wednesday that the team continues to move forward with Jason Campbell as the starting quarterback.
"With Jason, we are going full speed and he is every bit being handled as though he's our starting quarterback, both through word and deed," Zorn said during the Redskins' pre-draft media briefing at Redskins Park. "We're handling it that way.
"And we're also encouraging Todd Collins and Colt Brennan, in their positions as well, to get better. It's our off-season program, so we're going as though nothing is changed."
Regarding quarterback prospects in the NFL Draft, Zorn added: [It's] part of knowing who's out there and what's available. We have to get to know these players a little bit. If there's any opportunity to better our football team, we want to talk to those guys.
"Nothing is etched in stone. A lot of it is a wait and see. We want to make sure we're ready when the opportunity arises."
Campbell is entering the last year of his rookie contract. He is scheduled to be a free agent in 2010, although his status as restricted or unrestricted is to be determined.
Since early April, when the Redskins inquired about the availability of Jay Cutler, there have been reports that team officials may pursue a quarterback in the draft.
Georgia's Matthew Stafford and USC's Mark Sanchez are regarded as the top quarterback prospects available.
The Detroit Lions are expected to take Stafford with the No. 1 overall pick in the draft.
That would leave Sanchez as a second option and a host of teams have worked out the former USC signal-caller in recent weeks.
Zorn declined to address Sanchez's skills as a college player.
"I'd rather wait to talk about any player evaluations that I might have about a guy who's not even on our roster," Zorn said. "That just has to wait until after the draft."
Later, Zorn acknowledged that Sanchez's one year as a starter at USC would be "a factor in his positioning" as the Redskins organize their draft board.