Jason Campbell is expected to start Saturday's preseason game against Buffalo and play at least three offensive series, head coach Jim Zorn said.
However, the rotation of Campbell's backups could be different from what Zorn used in last Sunday's preseason opener against Indianapolis.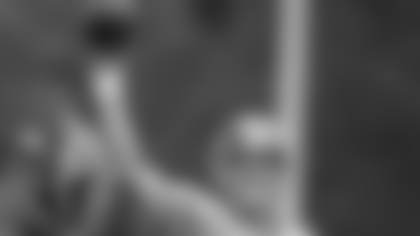 Todd Collins (Ned Dishman Photo)
"I know that Jason is going to start the game, but I haven't decided the order of the other three yet," Zorn said.
In the Indianapolis game, Campbell played two series before giving way to Todd Collins for the rest of the first half. Rookie Colt Brennan opened the second half. Derek Devine closed out the game, a 30-16 win for the Redskins.
The four quarterbacks combined for 19-of-22 completions for 216 yards and three touchdowns against the Colts.
On Saturday night vs. Buffalo, Zorn said he several factors would come into play in determining the QB rotation after Campbell.
"It's the experiences in the game that I want to give them," Zorn said. "It's possible that I may want to give Colt Brennan a two-minute drill. I've got to see that and I've got to give him that experience. So we may mix and match as we go along."
Brennan said on Thursday that he was nursing a "tight hamstring," but he expected to play.
He had not yet been informed of the quarterback rotation beyond Campbell.
Even so, Brennan does not interpret any change in the rotation as a promotion.
"Everyone knows that Todd has [the No. 2 quarterback position] down," Brennan said. "Even the coaches ask him for advice. I think [Coach Zorn] is maybe just trying to get the rookies and young guys more work."