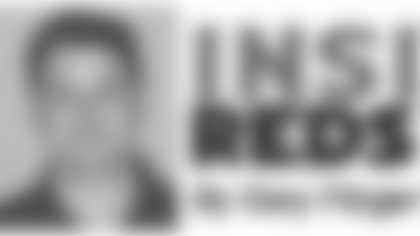 First week complete, head coach Jim Zorn walked off the Redskins Park practice fields on Thursday confident his team was "further ahead" than last year.
The Redskins resume their strength and conditioning workouts through June 1, when the team returns to the practice fields for more OTAs.
Zorn said off-season practices have focused on fundamentals so far.
The 11-on-11 sessions were abbreviated so that coaches could spend more time instructing players on technique.
"One of the things we tried to do differently is work drills," Zorn said. "We had the quarterbacks throwing to linebackers, throwing to defensive backs, trying to get their hands a little more ball-speed oriented.
"And then we worked on techniques, such as coming in and out of breaks, how to get your weight over your body--just real fundamental things, instead of just running a bunch of plays."
Jason Campbell continues to work on adjusting his release so that it's quicker, more efficient and accurate.
Coaches kept an eye on the right tackle position, shaping up as the top training camp competition, and some of the team's second-year players.
With four veterans competing for the right tackle job, it's still too early to get a read on the position, Zorn said.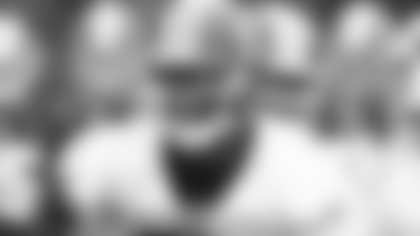 Fred Davis (Ned Dishman Photo)


Further complicating matters is that right guard Randy Thomas has been limited in off-season work as he returns from neck surgery.
"[Right tackle] is still open," Zorn said. "We're still trying to work in Mike Williams, we've got Stephon Heyer working in there, and Jeremy Bridges is going to be working in there now.
"We've got some candidates, but that position probably won't be solidified until we do work in training camp, we get these guys in games and we find that chemistry and that combination."
Jon Jansen, last year's starter for 11 games, saw action at center during mini-camp and OTAs, earning Zorn's praise.
"He's doing a great job at center, communicating with the guards and getting people put in the right place," Zorn said.
Meantime, it's hoped that second-year players including Devin Thomas, Fred Davis and Malcolm Kelly emerge in their sophomore seasons.
Davis is the only one of the three who has seen regular playing time, though.
Thomas has been slowed by a hamstring injury while Kelly continues to rehab from arthroscopic knee surgery this offseason.
Said Zorn: "We're hoping that the potential becomes a reality to what we think they're going to be. I'll tell you this: they have the want-to, and that's part of the battle. They're working hard to get it all down.
"They're listening to their coaches so that they can be in the right place at the right speed with the right cut, and then finish it with the catch. And then hopefully we'll get some yards after the catch as well."
Asked about Kelly, Zorn added: "Each day he has done a little more. He's showed that he's bursting off the line of scrimmage now.
"We're keeping him from doing some of the extended routes, but he's doing some of the quicker cuts and the little accelerations."
Kelly is expected to be "much more ready" when OTAs resume in June, Zorn said.
Zorn said that there may be some "minor" tweaks to the roster between now and June 1.
He indicated that the team's roster is probably set until training camp.
"We've got the greater nucleus of what we're going to go into camp with, so the changes we do make will be because somebody else became available, or it's just a minor adjustment in personnel," Zorn said.
-- Matt Terl contributed to this report.