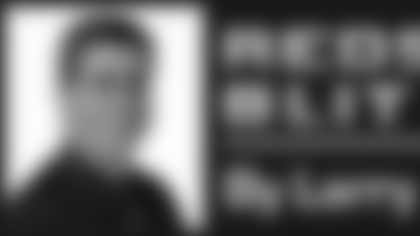 They don't put a title on the game tapes. This one will simply be labeled "New England Patriots" with the preseason date identifying it.
We can steal from Clint Eastwood and think of it as "The Good, the Bad and the Ugly."
Plenty of good came out of this 27-24 loss to the Patriots on Friday night at FedExField. Jason Campbell moved his game forward considerably, the first-team offensive line again did not allow a sack, and some young players, such as receiver Marko Mitchell and cornerback Kevin Barnes, contributed big plays.
The bad? The depth of the offensive line, or the lack thereof, got exposed a bit. Poor Colt Brennan, trying to hang on to the No. 3 quarterback job, must have felt like a debtor hounded by bill collectors as the Patriots pursued him around the field. And that interception he threw that got returned 99 yards for a touchdown made the difference between winning and losing.
The ugly? Fifteen penalties, eight by the defense. And the loss itself. Often it is said that victories and defeats count for nothing in preseason but coach Jim Zorn begs to differ.
"It does matter to me," he said Saturday afternoon after his news conference and just as a personnel department meeting was convening at Redskins Park. The Redskins must cut five players by Tuesday and likely won't wait that long to initiate some of the moves.
"I like the idea of beating these football teams that have those reputations and the Patriots are still a very good team. It would have meant a lot to me to win that game but we didn't earn it," Zorn said. "I have to stay positive because some very good things happened."
Campbell, who came in to the game a mere four of 13 passing for 48 yards, completed 13 of 22 for 209 yards and ran for a four-yard touchdown. He staked the Skins to a 7-0 lead and then rallied them from a 17-7 deficit to a 17-17 tie at halftime.
The pump fake that caused Patriots linebacker Paris Lenon to leap, allowing Campbell to dash by him for the score, was "pretty slick," Zorn said.
Campbell's passing was generally "real sharp," as was his pocket presence. He also spread the ball around.
Of course there was some bad and a bit of the ugly, too. Missing Santana Moss on the deep ball early. Looking away from an open Malcolm Kelly and trying to find Moss over the middle and simply misfiring.
"I would have liked to have seen him hit that deep post to Moss," Zorn said. "He got stuck on a receiver or two that he needed to move on from."
Devin Thomas showed versatility and flexibility, catching three passes for 36 yards and returning three kickoffs for 79 yards in Rock Cartwright's absence. Marcus Mason and Anthony Alridge kept alive competition in the backfield with decent rushing attempts. Alridge had a 15-yard run, Mason a one-yard bolt for a touchdown. Mitchell, the seventh-round pick, caught his second touchdown pass in two games. Barnes, the third-round choice, got his first interception.
The defense accumulated a pair of interceptions but managed only one sack. It allowed only three points to the New England offense in the second half but those came on Stephen Gostkowski's 30-yard field goal with eight seconds left to win the game.
Every pass Tom Brady threw to Randy Moss became a reception and Moss finished with six grabs for 90 yards and two touchdowns. Brady didn't play after getting his shoulder crushed by Albert Haynesworth and the Redskins had relatively few problems with the inexperienced Kevin O'Connell.
They will not, however, see the likes of O'Connell during the regular season. They will need to be good, not bad or ugly.
The kicking duel may also come down to the final cut. Challenger Dave Rayner produced strong kickoffs and a 25-yard field goal while Shaun Suisham, the incumbent, missed a 52-yard field goal try. Neither has really had the opportunity to grab the job.
"We've had to make a lot of competition situations on the practice field," Zorn said. "I'm very undecided. There's no clear-cut guy."
The Redskins (1-2) wrap up the preseason on Thursday night on the road against the Jacksonville Jaguars. Zorn said he will determine how much, if at all, starters play after he sees how practice goes.
"We're still a work in progress," Zorn said. "In all three phases."
He means offense, defense, special teams. Not the good, the bad and the ugly.
Injury update: RBs Mason and Clinton Portis both have rib bruises. X-rays of Portis were negative. WR Antwaan Randle El sprained an ankle. Campbell (shoulder) is "fine," Zorn said. S Kareem Moore (hamstring) is sore and Zorn said he did not know if Moore would play against the Jaguars. OT Mike Williams (ankle) should get playing time in Jacksonville while Cartwright (groin) "felt a lot better with rest," according to Zorn. "We've got to see how he practices."
---
Larry Weisman covered professional football for USA TODAY for 25 years and now joins the Redskins Broadcast Network and Redskins.com to bring his unique viewpoint and experience to Redskins fans. Go to Redskins.com for the Redskins Blitz column and NFL Blitz on Friday. Larry also appears on Redskins Nation, airing nightly on Comcast SportsNet, and on ESPN 980 AM radio, both in the Washington, D.C. area.