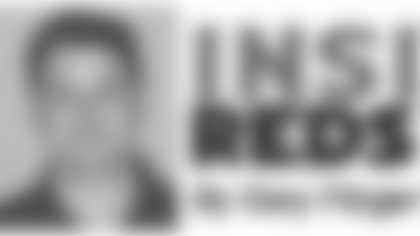 Jim Zorn stood on the sidelines of Bank of America Stadium on Saturday night with a stunned look on his face.
The Redskins had been overwhelmed by the Carolina Panthers in a 47-3 preseason loss in Charlotte, N.C.
Just a couple days earlier, Zorn had watched his players have one of their best practices of preseason. He saw great preparation in the days leading up to the game.
Game time arrived, and starters played the entire first half. The game got out of hand in the second quarter when the Panthers scored four touchdowns in the final 8:20.
With the preseason finale set for Thursday and the Redskins' regular season opener fast approaching, here is the question of the day at Redskins Park: How will Zorn and the Redskins respond?
"I will be honest and show the game film to players," Zorn said on Sunday. "They have a lot of pride in what they do. They will look at it and we will all be honest about it.
"We will re-group--I have no doubt about that. This is a good group. They will take the opportunity to re-establish themselves."
Part of re-establishing themselves could be playing time in this Thursday's preseason finale against the Jacksonville Jaguars at FedExField.
As of Sunday afternoon, Zorn was still considering the idea.
Typically, veteran starters don't play in a team's final preseason game.
"That's something I'm going to discuss," he said. "I'm open to it. I may have to do that just based on what we did [against Carolina].
"It's not a matter of throwing them back out on the field, or putting on pads and scrimmaging for two hours. It's a matter of developing a drive and getting back some tempo before the regular season.
"A 10-day layoff without getting them out there for a drive [against Jacksonville] may not be the right thing."
In Saturday's loss, Zorn pointed to the pass protection as "very soft" and a primary reason for the Redskins' offensive struggles in the first half.
Jason Campbell was 6-of-10 for 39 yards, but he was under constant pressure by the Panthers' defense. He was sacked four times in the game, including three times in six plays.
First it was defensive tackle Damione Lewis breaking through the middle to drag Campbell down. Then it was defensive end Charles Johnson getting past Jansen to sack Campbell at the Redskins' 1-yard line.
On a later drive, defensive end Julius Peppers pushed Chris Samuels back into Campbell for another sack. The ball popped loose from Campbell's grasp and Peppers was there to pounce on the fumble.
"To me, it was the pass protection and it was the way Carolina played very good, tight man coverage," he said. "We had to have good protection so our quarterbacks could hone in and focus on the tight man coverage. We didn't do that and we didn't get [that protection].
"On the first four passes that Jason threw, he had somebody pushed back into him or had somebody in his face. It is very difficult to play quarterback from that position."
Zorn noted mistakes on defense, particularly in defending the run, but that was attributed to the offense's inability to sustain a drive.
"We were 3-and-out, 3-and-out, and they were able to get just two field goals [in the first 20 minutes]," Zorn said. "We put our defense in a real tough situation. As little as we were doing on offense, they kept us in the game early."
Zorn told players after the game that "this wasn't us," but there was no getting around that this was a disappointing showing 10 days before the start of the regular season.
"This was going to be a great test," he said. "They were going to play their starters for a long time, and we were going to play our starters for a long time. This was no joke of a game for both teams. Really, we didn't do anything in the first half."