Offensive lineman Brandon Scherff crumbled to the ground, then felt a "pop" near his left shoulder during a Week 9 showdown against the Atlanta Falcons last November. He immediately knew something was wrong.
"I tried anything I could to get back into the game," Scherff says now, about five months removed from the torn pectoral muscle that prematurely ended his 2018 season. "But I said, 'I can't go,' so I got an MRI and that's when they told me I was out for the year."
Scherff said the extended time off, while difficult, has given him a newfound appreciation for the sport and even more of a reason to look forward to the 2019 campaign. He's been steadily progressing through the Redskins' offseason training program and rated his health at 90 percent on April 24. On Monday, he was one of 12 players to compete in the Redskins Charity Golf Classic.
By training camp, Scherff said he'll be "ready to go," leaving the frustration and disappointment from his first major NFL injury in the rear-view mirror.
"I think it was just a fluke injury," Scherff said. "My arm got caught in a weird position, and my peck popped. There's nothing you can really train for that injury, but it's all about getting stronger and eating healthier -- I've been doing that a lot better -- and just not worrying about [the injury]. Just going out and playing football."
Scherff was familiar with the lengthy recovery process that comes along with a major injury. He missed several games with a broken fibula and dislocated ankle during his sophomore season at Iowa in 2012. Upon returning from the injury, he developed into an All-American before being the fifth-overall pick in the 2015 NFL Draft.
But early on in his NFL career, there had not been many physical setbacks. Of a possible 49 games over his first three seasons, Scherff played in 47.
So when he suffered the season-ending injury midway through 2019 -- and spent the rest of the year on the sidelines -- Scherff felt out of place.
"Whenever you watch a game, you always want to be out there with your teammates, and you know all of the hard work they put in to play the game," Scherff said. "It's just hard watching that, but you have to do anything you can to get back on the field, and that's what I'm trying to do right now."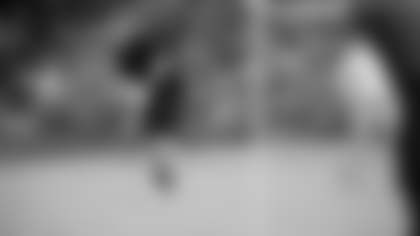 After several months of intense rehab -- "the training staff has been kicking my butt each and every day" -- Scherff is ready to reassume the starting right guard responsibilities and showcase the aptitude that's made him a Pro Bowler in each of his last two full seasons.
Scherff's contact situation will only add intrigue to his comeback. Scherff is in the last year of his rookie contract and is set to become a free agent at the end of the season, though both him and the Redskins have expressed interest in keeping Scherff in Washington long-term.
"I'm here for one more year, and I want to be here for a lot longer than that," Scherff said. "I can only control what I can control, and I'll be here for this year and play as well as I can."