Jennifer King is living her dream as a full-year coaching intern for the Washington Football Team, but that wouldn't have happened if not for a little help from the Women's Sports Foundation.
King had just finished up the 2019 season as a quality control coach for Dartmouth College and wasn't sure what her next step would be. She knew she wanted to continue coaching football, but her options were limited. She had spent a portion of her career coaching college basketball, so maybe she could return to that profession until another opportunity came her way.
That's when she was named as one of three recipients for the Scott Pioli & Family Fund for Women Football Coaches and Scouts, which is a grant that provides financial support for female football coaches and scouts to help advance their careers. That eventually led to Washington head coach Ron Rivera, who had worked with King in the past, giving her an opportunity to join his new coaching staff.
The assistance she received made it an easy decision for King to support the Women's Sports Foundation during the NFL's "My Cause, My Cleats" campaign. King will wear her sneakers on the sideline during Monday's game against the Pittsburgh Steelers. You can bid on them, HERE.
"I'm super thankful for the Women's Sports Foundation and the Scott Pioli & Family Fund as well," King said on the "Women of Washington" podcast.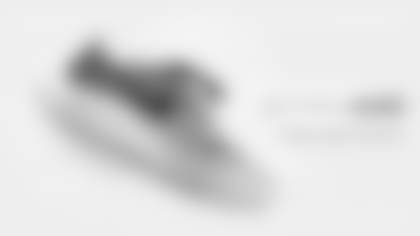 King has loved football for most of her life. She started playing with the other kids in her neighborhood when she was about 5 years old. She remembers having games on the playground at school while having to dodge kids who weren't playing.
That led to a successful playing career for multiple women's teams. King was a seven-time All-American quarterback and wide receiver for the Carolina Phoenix over the span of 11 years. She was also a wide receiver and defensive back for the New York Sharks and helped the team win the 2018 WFA National Championship. Prior to joining Washington's coaching staff, King played receiver and safety for the D.C. Divas.
At the same time, King was a successful college basketball coach. She was an assistant at Greensboro College from 2006-16 and then became the head coach at Johnson & Wales University Charlotte for the next two seasons. The team won the SCAA Division II National Championship in 2018, and she was named the USCAA Division II National Coach of the Year for leading her squad to a 37-10 record.
Still, coaching football was the path she wanted to pursue. It started off with her coaching middle school teams with her friends. Later on, she decided she wanted to take coaching football more seriously, so she went to one of the NFL's career forums for women who wanted to pursue coaching. That's where she met Rivera, who invited her to work with the Carolina Panthers' wide receivers during rookie minicamp in 2018.
"I was super excited for those two days," King said. "I kept getting invited back. I thought it was going to be two days, and then [Rivera] was like, 'We'll have the regular minicamp if you want to come back.' I kind of just kept going from there."
When Rivera became Washington's head coach, he decided to add King to his new coaching staff.
"Jennifer is a bright young coach and will be a great addition to our staff," Rivera said via press release. "Her familiarity with my expectations as a coach and my firsthand knowledge of her work ethic and preparation were big factors in bringing her to [Washington]."
King's days are now filled with assisting Randy Jordan with Washington's running backs and preparing for each week's game. She even tries to prepare for the following week's opponent when she has time. King owes the opportunity to the Women's Sports Foundation, and that's why she wants to show her appreciation in any way she can.
"Representation is everything," King said. "That's one of those things that I didn't even realize when I started coaching football. I just got in it because I loved football, I loved coaching and I was able to combine my passions. But then when you see the impact it has on people being able to see you and envision themselves in you, I definitely think it's important to have that legacy of hard work and dedication and being selfless and really doing a great job because... you don't want to be the last."