Terry McLaurin made it clear during his rookie year to Carson Wentz, then a Philadelphia Eagles, what kind of player he was going to be. Both matchups that year ended in Washington losses, but they did feature McLaurin burning the Eagles' secondary for a touchdown.
After one of the games, Wentz approached McLaurin to say that "I'd love to throw you the ball one day." Three years later, Washington Commanders fans are going to see a lot of that in 2022, and the hope is their pairing will take the unit to another level.
"Never did I think that it would all line up like this," Wentz said during his introductory press conference.
McLaurin certainly put his stamp on the NFC East during his rookie season. In his NFL debut, which was against the Eagles, he caught five of his seven targets for 125 yards, including a 69-yard catch-and-run for a touchdown that put Washington up 17-0.
McLaurin went on to score two more touchdowns in Weeks 2 and 3, and he became the first player in NFL history to record at least five receptions and a touchdown in each of his first three games. It was part of his 58-reception, 919-yard season, which stands as one of the best rookie campaigns for a Washington receiver in franchise history.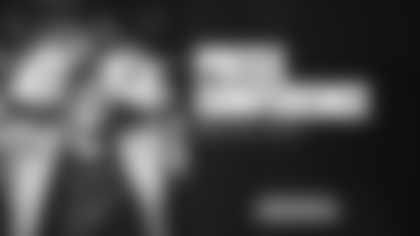 Wentz and McLaurin met again that season in Week 15 at FedExField. McLaurin caught all five of his passes for 130 yards, which was highlighted by a 75-yard sprint for a score in the first quarter.
"I watched him light us up in Philly, and I was like, 'That dude's special,'" Wentz told senior vice president of media and content Julie Donaldson. "I'm excited to get on the field and experience that speed firsthand."
Wentz said he was "fired up" after talking to offensive coordinator Scott Turner about his vision for the offense, and it's safe to assume McLaurin was brought up a couple times in that conversation. Despite playing for several quarterbacks in his three seasons, he's remained a consistent option. He leads the league in contested catches since 2019, adding more evidence that if a passer is looking McLaurin's way, there's a good chance he's going to come down with it.
Pairing that kind of talent with Wentz's arm is an exciting prospect to Ron Rivera.
"Oh, I think it helps him. Most certainly," Rivera said of McLaurin. "His [Wentz's] skillset fits in very well with what we expect to do with the offense. He can throw the vertical ball very well."
Wentz had the 12th-highest average completed air yards and the ninth-longest completed air distance, per Next Gen Stats. That falls in line with previous seasons, as he was ninth in 2020, sixth in 2019 and second in 2017. However, Rivera also mentioned that Wentz is "spot on" in the quick game.
That should also catch Washington's attention, because McLaurin's second touchdown against the Eagles in 2019 came on a slant that he took to the end zone.
"The talent that's around here gets me fired up and I look forward to being able to push the ball down the field to those guys, get the ball out to the play makers and make some plays," Wentz said.
Wentz doesn't know many players on the roster personally, but he's eager to get started. That's why he said in his press conference that he's going to reach out to his new receivers "right away" to build their chemistry together.
McLaurin's name will likely be at the top of Wentz's list. The only downside is that we have to wait a few more months before we can see Wentz's wish to finally come to life.
"It's a special roster. I truly believe that," Wentz said. "And talking to everybody in this organization, they feel the same offensively and defensively. I think we got the right pieces in place, and I can tell the vision is there from the top. And so that's exciting and I look forward to being a part of it."