The first Monday night after daylight saving came with a sense of quiet at FedExField. The hallways winding throughout were all but empty and the field sat resting, undisturbed by football cleats for over three weeks now. A hushed and still stadium, that is, except for one particular section. Owner's Club West was buzzing as dozens of uniformed cadets socialized, laughed and relished the activities of a special gathering.
"We don't usually get time to relax like this," Cadet Imani Lipscomb said. "It great how we all get to come together, but in a fun aspect and learn new things about each other."
Usually when Lipscomb and her fellow cadets are assembled, military drills or leadership training are in order. This night, though, was different. On Nov. 8, roughly 60 cadets from United States Air Force ROTC Detachment 130 were treated to live music, gift packages, a Mission BBQ dinner and a private talk with Coach Rivera in an end-of-the-year cadet celebration as part of the Washington Football Team's Salute to Service month.
As its keynote event, the celebration featured the bestowing of two $10,000 scholarships, presented by Easterns Automotive Group, to two standout cadets. Hanging out, engaging in conversations about team building in the military and in sport while rallying around two hardworking cadets, the night underscored the importance of one of the ROTC's most esteemed values: comradery.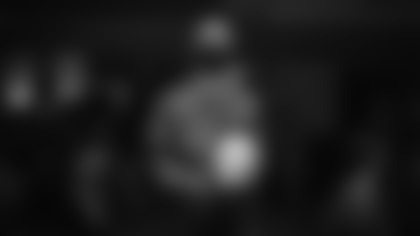 When Lt. Col. Redahlia Person dove into a speech about a certain environmental science major student with a 3.6 GPA who ranked in the top 15% of perhaps the most competitive field training encampment in recent history, Hana Bahlawan smiled a little bashfully. It was an honor to be complimented by her commander. When head coach Ron Rivera then revealed she would be receiving the Commander's Scholarship worth $10,000, the American University senior sat stunned.
And while the announcement was a well-executed surprise, it didn't leave Cadet Ryan Williams completely shocked. Considering the type of cadet and person Ryan knew his friend to be, the fact that she would be given a scholarship just made sense.
"For the 2.5 years I've known Hana, it's been straight hard work," the Georgetown senior said. "Everything she does, she brings a lot of passion to, like a very intense level of passion where you automatically know if she's involved in something because it's one of the better outcomes or the better teams or the better presentations. You just know when Hana's a part of it."
Cadet Lauren Bradley became very familiar with Hana's meticulous approach and industrious work ethic as her supervisor.
"She's just a really great person to have work for you, because she'll always go above and beyond. Like, you'll give her a benchmark and she moves it much further down the line," Bradley said. "She's never satisfied. Even if it's up to my standards, she's always doing more for her because she has such high standards."
This above-and-beyond mentality is shared by the night's other honoree, Cadet Imani Lipscomb. The Catholic University junior is a nursing major who, in addition to her full course load, spends 12-hour shifts volunteering at a local VA and is also involved in her campus' Black Student Alliance. Lipscomb was awash with an overwhelming mix of shock, gratitude, excitement and relief upon hearing that she'd be receiving a scholarship.
"It's been a long three years and it's nice to know that the hard work you put in is worth something like this," Lipscomb said.
Micah Cooke sees the one-of-a-kind hard work Imani puts in on an everyday basis as her roommate.
"You'll never see Imani give up. Everything she does, she does it with passion and she does it with purpose, which is something I really admire about her," Cooke said. "Even when the odds are against her – which they have been since we've all had a crazy year -- she's still the first person up in the morning, she's still the first person in the car, still the first person to get everything done."
Sidney Walters, friend of Lipscomb and also a member of the junior ROTC class, echoed that sentiment. The applause that broke out after Rivera uttered Lipscomb's name was so loud, so consistent, that it was hard to hear any words followed. There was arguably no one cheering more raucously in that moment than Walters.
"I was head over heels," Walters said. "I've been wanting this for her for so incredibly long."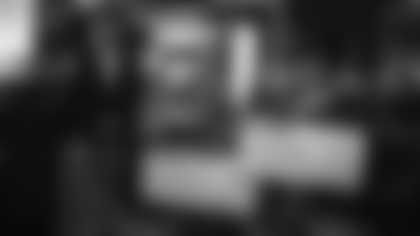 After being singled out for their performances, Bahlawan and Lipscomb spent the rest of the night taking pictures, joking around and just enjoying the company of this uniquely-connected group. The relationships forged via the ROTC was a main reason Bahlawan had wanted to join as a sophomore.
"Just having brothers and sisters for life, going through hell together I think brings people really close together and I love that family aspect," she said.
Bahlawan admits that a $10,000 scholarship is pretty incredible. But, while clutching her cardboard check, she can't help but look around the room, smiling at the flock of 18-to-22-year-olds in army green here with her tonight.
"It's really awesome just to have this community. People who are from different schools, people who are in different grades," Bahlawan said. "We have this bond that brings us together and will keep us together. Having these moments together while we're in college is just great."
2 cadets honored in ROTC Scholarship Surprise presented by Easterns Automative GroupThe Washington Football Team & United States Air Force ROTC Detachment 130 would like to thank Eastern's Automotive Group for contributing $20,000 of scholarships for Cadets Lipscomb and Bahlawan. Click HERE to find out more about Eastern Automotive Group Community give back initiatives.