Washington Commanders wide receiver Terry McLaurin addressed the media Wednesday morning after signing his contract extension. Here are five takeaways from his press conference. 
1. He felt confident that a deal would get done.
There is a long list of receivers around the league who are no longer playing for the team that drafted them, including the likes of Devante Adams, Tyreek Hill and A.J. Brown. 
The fluctuation at the position never deterred McLaurin, who was confident that a deal would get done. He wanted to stay with the team that took him in the third round of the 2019 draft, and he knew that the Commanders wanted to keep him. 
Coach Ron Rivera made sure that much was clear to a player he called an "organizational signing." He made regular calls to McLaurin throughout the negotiations just to check in and see how he was handling the process. As a former player, Rivera has been through contract negotiations before, so he knows all about the roller coaster that one can experience. 
Technically, Rivera didn't have to make that effort, but McLaurin appreciated the conversations they had. 
"He emphasized it was a priority from the ownership down to the coaching staff to get this deal done," McLaurin said. "You never know until you know, but I had a great feeling that we were gonna try to get something done."
2. He got emotional when both sides agreed to a deal.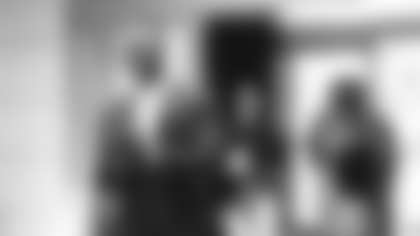 McLaurin was working out in Florida when he got the news from his agent that they had agreed to terms on an extension. It was the culmination of all the hard work he had gone through in his career, and the news made him justifiably emotional.
"I cried some real tears," McLaurin said.
McLaurin had to work for a large portion of his life to get to the point he's at today. He had to endure adversity and doubters, but his faith, support group and work ethic helped him persevere through it all.
Throughout all those years of obstacles, relied on his drive to get better every day.
"One thing I was raised with was extreme work ethic," McLaurin said. "I saw my parents get up and never miss a day of work. And to help them and being in a position where they possibly don't have to work anymore is a blessing for me."
As nice as the money is, the grind that he's had to embrace is what he loves the most. To McLaurin, the contract extension that keeps him in Washington for the foreseeable future is a testament to that.
3. He's excited to work with Carson Wentz.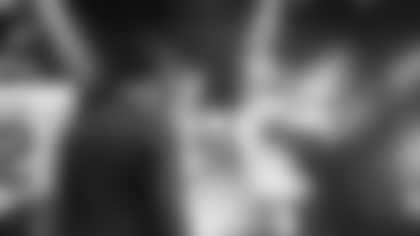 Back when Carson Wentz got traded to Washington in March, the quarterback said he had been hoping to work with McLaurin for a long time.
On Wednesday, McLaurin had the opportunity to return the favor.
"One thing I think that stuck out about Carson is he's a very personable guy. He's somebody that we've connected with on a very personal level, since he's gotten here."
McLaurin said he can't wait to get on the field with Wentz because of what he offers as a quarterback. In fact, McLaurin was "enamored" with Wentz's deep ball and the way he sticks in the pocket.
"He stands back there into the last moment, which really helps receivers get that extra separation or that time to finish their routes off," he said.
McLaurin is so anxious to work with Wentz that he had a flight booked to meet the quarterback and throw together. The two will have the next three weeks develop chemistry, which Rivera hinted is going to be a big part of the offense.
4. He's as unselfish as ever.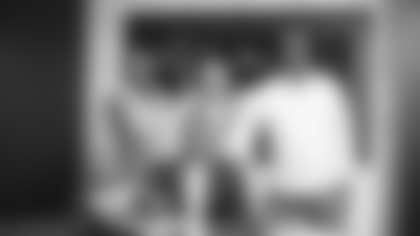 It shouldn't be a surprise to anyone that McLaurin is more focused on helping his team succeed than his own personal goals.
Of course, McLaurin aspires to be one of, if not the best receiver in the league. After all, that competitive nature is part of what helped him get to the NFL. McLaurin still has steps to take before that can happen, but he's heading in the right direction.
McLaurin's philosophy has always been on making sure the Commanders win as many games as possible during the season, and that isn't going to change heading into Year 4.
"I don't really go into this season thinking I need to have 1500 yards," McLaurin said. "I think truly you have the most success individually when you have the most success as a team."
When asked what his goals are for the 2022 season, McLaurin gave two answers: make the playoffs and have a chance to win the Super Bowl. He does want to keep improving certain aspects of his skill set, but making sure the team itself is in the best position to succeed will always supersede that.
And it doesn't hurt that feeding McLaurin a healthy dose of targets gives Washington the best chance to make the postseason.
5. He's excited about what's next for the team.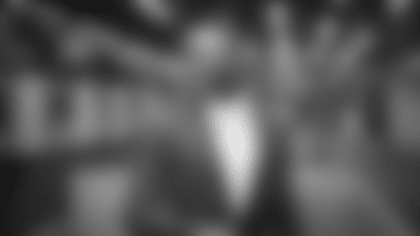 Speaking of the team's hopes in 2022, McLaurin has high expectations for what the Commanders can accomplish. He feels that this year's roster is the most talented he's been a part of over the past three seasons.
The team that Rivera has assembled since he arrived is a big reason why he wanted to remain in Washington.
"We have a really unselfish group of guys in that locker room. And we have a lot of guys who are competitive and hungry, and they want to see Washington be back on top."
Rivera has said Year 3 of his tenure is an opportunity to take a step forward, and McLaurin believes there will be chances to do that, starting with the season opener against the Jacksonville Jaguars.
McLaurin's hopes have less to do with who's on the schedule, though, and more about how his team has developed.
"I'm really excited to see how we've developed this roster and young guys. We are a great group of young guys and some really proven vets and have some great leadership. So I think the pieces are starting to be put in place and now we just gotta go out there and get the job done."