Redskins head strength and conditioning coach Chad Englehart is still a little confused at his recent viral fame.
Last week at the NFL Combine, Englehart's popularity ballooned when he slapped Houston defensive lineman Ed Oliver on the torso a few times before the NFL prospect performed in the bench press.
"I honestly didn't think it was that big of a deal when it happened," Englehart said.
Those unacquainted with weight room culture took the short video clip and posted to social media confused, questioning and laughing at Englehart's preparatory antics. Oliver's status, combined with the semi-performative nature of Englehart's motivational methods, turned the ordinary event into a spectacle seen by thousands on social media.
But don't be confused. The slaps, Englehart explained, are called "heat," and Oliver had asked him backstage to give him some before he pumped the bar.
"Ed was like, 'Hey I want some heat. I want you to slap me good.' So I was like, 'You got it,'" Englehart said. "The first two were pretty much duds, so I came back with the third piece and got him. He still said I hit pretty soft, and looking at the film you think I got him good, but that's a big guy. But it's not like he went out on stage and I was like, 'What's up man? How much are you going for?' and I just smacked him. They ask for it, 'Can I get some heat?'"
"Maybe he squeezed out a couple of extra reps because of that," he said.
At his dismay, Englehart's wife began to read the comments, mostly coming from those naïve to the concept of "heat" and the mechanics of prepping a player to do a max-effort set.
"I guess not a lot of people lifted weights who posted and left comments," Englehart said. "I've been in a weight room my whole life, and even before I have a max effort squat day I have [assistant strength coach] Jake [Sankal] just smack the heck out of me in my back, as hard as he can, two or three times. You don't think about the weight anymore, you're pretty much pissed at the guy who just hit you, so you're not thinking about the weights."
"I think it just locks you in the zone," said Sankal, who traveled to Indianapolis with Englehart and counted every bench press rep beside him. "I don't know if there's actually anything physiologically that happens there. I think it's just a thing where it locks you in, gets you in the zone, and really gets you tense and strong under the bar."
While he's been appropriately ribbed by his colleagues this week – attempts to get more TV time, they text him – Englehart plays it down. He's just glad he and Sankal exhibited a professionalism noticed by the executives that run the combine.
"Even after Chad's slaps [they] said [they loved] how professional we are with running our station at the combine," Sankal said, "so hopefully they keep having us back."
Englehart jumped at the opportunity to run the station eight years ago, but declined to go the last few years. Working his Sankal made the experience much easier, and both enjoyed the thrill of improving prospects' stocks with more reps.
"You try to motivate them and help them out as much as you can," Englehart said. "They go up there and let you know, 'I want the bar off three and I'm going for 21.' The reason I ask for a number is I can get the guys around the bench involved in it, and if you can squeeze out a couple more reps you feel good for the kid."
"Each guy is motivated differently," Sankal adds. "Some guys, they want heat, some guys want loud music and a lot of yelling, some guys want you to really coach them up and talk them through the lifts and make sure they're doing things right. But it's all different ways of motivating. It's just finding what makes each guy tick, and then going at it from that angle."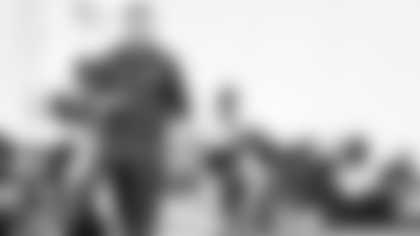 As they've settled back into the routine of preparing their offseason program, combined with the continued rehab work for injured players last year, Englehart and Sankal want to make sure the Redskins don't face the same kind of adversity they've had the least two seasons.
Some of that is out of their control – plenty of injuries in 2018 were the products of bad luck. "It's the National Football League, it's grown men going against each other," Englehart said. "You're going to have injuries, you try to prevent as much as you can, but you're not going to prevent them all, it's a contact sport."
After the season both he, Sankal and assistant strength coach Kavan Latham evaluate the year and make sure everything they do – nutrition, scheduling, lifting – stays ahead of the curve.
"And that's a good thing about the combine," Englehart said. "You get to talk shop with other strength coaches and see what they do. It's not a secret to what we do. If there was, that guy would be here and consulting for every team in the NFL. There's 32 of us in the league, there's 32 assistants, so we get together and it's not like they're holding back. We help them out, they help us out, it's like a fraternity."
With April workouts a month away, the group is preparing another schedule together, one that will probably include some "heat," if anyone asks for it.
"We are always trying to stay cutting edge in what we do," Sankal said. "I think we've got a really good plan that we're going to put in place."