Logan Thomas, four years removed from being an NFL quarterback, lined up in the slot during the biggest game of his seven-year career.
At the snap, the 6-foot-6, 250-pound Thomas steamrolled down the seam, splitting two Philadelphia Eagles linebackers on his way to the right side of the end zone. Thomas was tightly covered, but it did not matter. Quarterback Alex Smith trusted his tight end to make a play with the NFC East title hanging in the balance.
Growing up near Lynchburg, Virginia, Thomas watched in awe as Pro Football Hall of Fame wide receiver Randy Moss routinely made acrobatic catches over defenders. And with the Washington Football Team in need of a jolt Sunday night, Thomas did his best Moss impression, making a leaping, twisting snag for a 13-yard touchdown in the final seconds of the first half. With his team-high sixth receiving score of the season, Washington had all the points it needed to clinch its first division crown since 2015.
In a season filled with breakout performances, Thomas' excellence may have been the most unexpected from an outside perspective. He joined Washington this offseason with just 35 receptions for 317 yards and three touchdowns, and he had never played in more than a third of offensive snaps in a given year.
But new tight ends coach Pete Hoener saw the untapped potential of Thomas, which led to Washington signing the former fourth-round quarterback to a two-year deal and giving him every opportunity to produce in Scott Turner's offense. Historic results followed.
Playing 92.6% of the offensive snaps -- the third-highest on the team -- Thomas became just the third Washington tight end ever to finish a season with at least 70 receptions, 650 receiving yards and five receiving touchdowns. His actual totals (72 catches for 670 yards and six scores) all ranked in the top 10 among this position.
"When you looked at him and the small body of work he had coming into the season, you saw it all there," Turner said last month. "You saw the size, you saw the speed, you saw the physicality. The more he's played, the better he's gotten. I thought he was capable of doing this, maybe not to this extent. But it's good. ...He's definitely growing and expanding his role."
As Thomas starred at Brookville High School in Virginia, he thought that if he ever became an NFL player, it would probably be as a tight end. He had the size and the athletic traits, and some college recruiting outlets agreed. Thomas "never once put his hand on the ground," according to Brookville head coach Jeff Woody, yet Rivals ranked him as the nation's No. 1 tight end for the Class of 2009.
Thomas, who will turn 30 in July, admitted that "it's hard not to think about" what would have happened if he played tight end at Virginia Tech and was drafted as one by an NFL franchise. Would his breakout season have come much sooner?
Still, Thomas said he never thought about making the switch in high school or college, and his coaches did not either.
He was simply too good of a quarterback.
"He was always forced to play quarterback because he was the best one on the field, bless his heart," Woody said. "When all in all, I think we all knew -- and we're seeing it now -- that he was an H-back, tight end, split wide receiver type. He's a Swiss army knife. That's the way I can describe him: a Swiss army knife with great character, great attitude and he's a team player -- and that's what he's always been."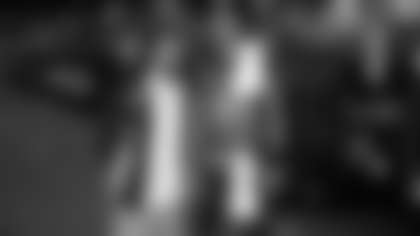 ---
---
From the time Thomas began his football career at age 9, he thought about what it would be like to play in the NFL.
He lined up at running back until eighth grade, then switched to wide receiver and served as the backup quarterback. During his freshman year at Brookville, he split time between positions on the junior varsity team.
"Logan, as a ninth grader, he was tall as all get-out, but he had to run around in the shower to get wet," Woody said with a chuckle. "He hadn't had peanut butter yet, he hadn't had milk yet, and so he was youthful, he was a puppy. He had big ears, he had big feet, and as his high school tenure progressed, he developed into a superhero. By the time he graduated high school, he was 6-6, 230 pounds."
Thomas made his varsity debut the next season and flourished at wide receiver, hauling in 55 catches for nearly 1,000 yards and eight touchdowns in just 10 games. He admitted to having a basketball brain -- "that's always what I thought I would end up doing" -- but his sophomore year was when he truly believed he could eventually play in the NFL. Woody, meanwhile, just wanted to get his young playmaker as many touches as possible.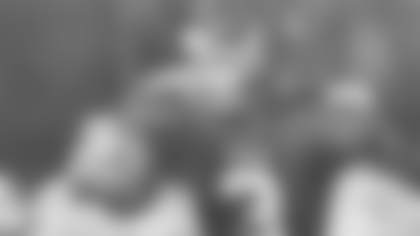 Woody already knew Thomas was by far the best athlete, could throw the ball "a country mile" and could "tap dance," moving and shaking his way down the field while gobbling up yards with his long strides. Now, two games into Thomas' junior campaign, it was time to move him to the game's most important position.
"We had made it to the state semifinals his junior year with him being the quarterback running the option," Woody said of Thomas, who compiled nearly 2,000 total yards and 17 touchdowns, including a 60-yard scamper on a quarterback sneak." This is like the old-school pitch option, but at the same time he's also reading defenses and he can give it or he's going to pull it. And he can also throw it 50 yards flat-footed."
The national spotlight shined on Thomas as a senior when he threw for 1,535 yards and 20 touchdowns while adding 842 yards and 11 scores on the ground.
Those statistics helped Thomas get invited to the 2009 U.S. Army All-American Bowl, but he had the choice of playing quarterback or tight end at the next level. 247Sports ranked him as a four-star recruit and the No. 4 pro-style quarterback in the nation, while Rivals had him as the No. 1 tight end and Scout had him as No. 3.
"For me, because of the NFL, I thought it was going to be the tight end position, just because of size, body type, athleticism -- that's what people had been telling me," Thomas said. "At that time, there really wasn't a whole bunch of quarterbacks with my stature and my look playing quarterback. So, it was kind of one of those things where they said, 'Yeah, you should be a tight end.'"
However, as major Division I programs inquired about Thomas, Woody told them all the same thing.
"He's a quarterback. And I guess that was mainly based on the fact that he can sling it forever, and he could run. He was durable, he was intelligent, he was a leader. The leadership skills more so than anything else was the reason why I would tell all of these college coaches that came in that he's a quarterback, he's an NCAA quarterback."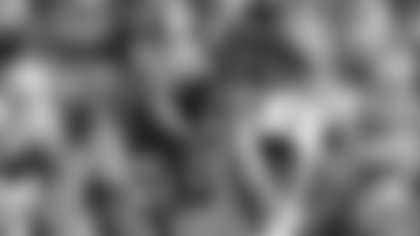 ---
---
Tyrod Taylor faced a 3rd-and goal in the opening minutes against Wake Forest on Oct. 16, 2010. Lined up under center, the Virginia Tech quarterback took the snap, set his feet and lofted a jump ball towards the right corner of the end zone. On the other end was Thomas, who made a one-handed grab while falling to the turf.
It marked the first and only catch of his college career.
Virginia Tech was one of the programs that initially recruited Thomas as a tight end, according to Bryan Stinespring, who served as the Hokies' offensive coordinator from 2010-12. But the more Stinespring watched Thomas, the more he wondered if that was the best fit.
"I'm intrigued by the arm strength, the size, his pocket presence," Stinespring remembers telling head coach Frank Beamer. "We need to take a look and just made sure that this guy that is playing quarterback isn't a quarterback."
"He was always like, 'Keep that arm warm, you never know what could happen. We might need you to play quarterback.' So that alone led me to believe that I was going to make the switch, which I was fine with. Virginia Tech would have been the place I was going to go to whether I was playing tight end or I was playing quarterback because it felt like home and it felt like a family to me."
After redshirting in 2009, Thomas backed up Taylor the next season before taking over as the starter as a redshirt sophomore. Everyone knew of his rushing prowess, and that was on display in the form of 469 yards and 11 touchdowns. But it was his passing efficiency that caught the attention of NFL scouts; he completed nearly 60% of his passes for more than 3,000 yards and 19 touchdowns compared to 10 interceptions.
"Thomas has all the physical capabilities," said ESPN NFL Draft analyst Mel Kiper Jr., who ranked Thomas as the No. 2 prospect in May of 2012. "He has the 'wow' factor from Virginia Tech. He has that 6-5 frame, the howitzer for an arm and if he has a big year, then all of a sudden he ascends up."
Thomas' draft hype never came to fruition -- his accuracy dipped and his turnovers increased over his final two collegiate seasons -- but he still finished as one of the most productive quarterbacks in Virginia Tech history.
"This was never a guy where people wondered, 'Well, why is he playing quarterback?' Because he could, and he won a lot of ball games as a quarterback," Stinespring said. "But you still in the back of your mind felt like if it didn't work out as a quarterback at the next level, he had the ability to transition [to tight end] because he knew the game, he was already a tough guy, he already had good hands. They didn't need to be developed. His skillset, as a recruited hybrid athlete, was still very much in tact."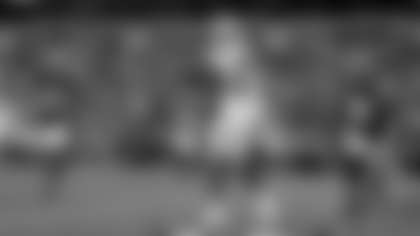 ---
---
Lined up as the H-back, Thomas motioned to the right as Detroit Lions quarterback Jeff Driskel readied to take the snap on Nov. 24, 2019. Thomas was in his third full season as a tight end in the NFL, still trying to make a name for himself after switching from quarterback in 2016. Entering Week 12 at FedExField, he had only found the end zone once.
On 3rd-and-1, Thomas evaded an attempt from Ryan Kerrigan to knock him off course and ran free as the play-action pass was developing. The linebackers were fooled, leaving Thomas wide-open for a 12-yard touchdown against the franchise he grew up rooting for.
After getting tackled in the end zone, Thomas popped up, ran down the Lions' sideline and gave the ball to his high school fullback, Jared Bateman, in the first row. The gesture did not surprise Woody at all because "that's the type of guy Logan is."
"I could spend days talking goodness about Logan," Woody said, "and there's nothing bad about him that I can find. The work ethic, I mean, all of it. He's top-notch, man ...He's one of the best."
Amid all his success, Thomas never had an ego, Woody said, which he believes is one of the biggest reasons for his successful transition to tight end.
He persevered through his failed attempt at becoming an NFL quarterback, which included nine passes in his rookie campaign followed by two years on and off the practice squads for the Miami Dolphins and New York Giants, who eventually released him in November of 2016.
Faced with the choice of switching positions or falling out of the league for good, he chose the former -- then signed with the Detroit Lions' practice squad six days later. About 36 hours after that, he was back on an active roster with the Buffalo Bills. He caught his first career touchdown the next year from none other than Taylor.
"I didn't have to focus on understanding pass game," Thomas said about the position change. "I could focus on my timing, techniques and route running, and then also run blocking and run fits and hand placement and all of the things that come along with the run game of playing tight end."
For that, he relied on Bills tight ends coach Rob Boras, who Thomas lists as one of the two biggest mentors when it comes to getting where he is now. Boras helped teach Thomas how to become a professional tight end in 2017 and 2018, while Hoener, in his first season in Washington, helped Thomas "take that next step," in 2020.
"You know Logan Thomas is a guy that we see some glimpses of Greg Olsen's] athletic ability," head coach **[Ron Rivera** said shortly after Washington signed him in free agency. "Pete Hoener, our tight ends coach, felt very strongly about this guy's abilities, mostly because he thought he was a very smart and savvy football player. He's a tremendous athlete, and he's just learning and getting the position right now. Remember he is a converted quarterback, a guy that has a skillset that is a little unique because of his understanding of the way offenses work."
The strides Thomas has made as a tight end are far longer than those he takes on the football field. Despite playing with four different quarterbacks, Thomas doubled his previous career totals combined. And he was even better down the stretch, averaging 7.6 receptions for 68.4 yards to go along with two touchdowns in five games.
This entire season has been Thomas' delayed introduction to the NFL, and no moment was more significant than Week 17 in Philadelphia, which marked the first time in nearly seven years in the league that he played on Sunday Night Football.
"I was like, 'Yeah, you have to make something happen," rookie running back Antonio Gibson said in response to the surprising remark.
"You know I will," Thomas assured, foreshadowing the perfect ending to a season he always envisioned.