Redskins Salute would like to thank all of it's members, sponsors, and supporters for a fantastic 2019-20 season! Through your support of our programs, events, and the USO-Metro Club, we were able to break records on attendance, financial contributions, and reach across the region. We thank the tens of thousands of service members, military spouses, and veterans that allowed us to say thank you and continue a revered tradition in being the NFL's marquee military platform.
Find below a compilation of our favorite military moments this season. Stay tuned, as we'll soon release our 2020-21 Redskins Salute schedule highlighting a variety of new initiatives, events, and opportunities to get involved!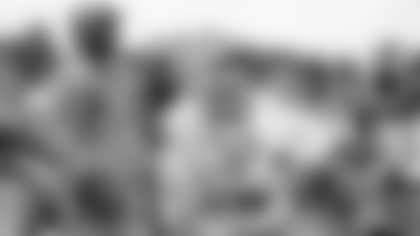 Redskins Salute OTA Day presented by USAA
Redskins Salute and USAA hosted current and former military members at the Inova Sports and Performance Center at Redskins Park to watch practice and meet the players. The day featured Chalk Talks with Voice of the Redskins, Larry Michael, and Redskins alumni, Santana Moss. Over 150 active-duty service members and veterans joined the team for lunch on the fifth day of voluntary practices at their training facility. At the conclusion of practice, service members were given the opportunity to meet players and take photos with the team. "What we do is nothing compared to what they have to do or go through." Redskins Defensive Lineman Jonathan Allen said afterward.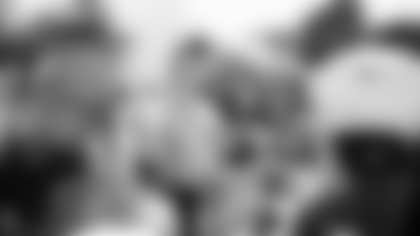 Redskins Salute Military Appreciation Day at Training Camp presented by GEICO Military
Saturday, July 27th, 2019
Over 200 active, reserve and retired military members attended practice for Redskins Salute Military Appreciation Day presented by GEICO Military. Service members were treated to breakfast and lunch, had a meet and greet with Voice of the Redskins Larry Michael and received sideline passes for a behind-the-scenes look at Day 3 of training camp. Redskins players showed their appreciation for the military members by interacting with and signing autographs for them following practice.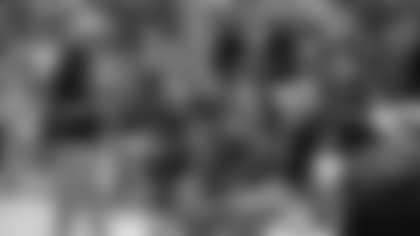 Redskins Salute Training Camp Bootcamp presented by USAA
*Monday, August 1st, 2019 *
Before the Redskins took the field for Day 8 of training camp, 50 local military members crowded the practice fields for the "USAA's Salute to Service NFL Boot Camp." Each service member participated in football drills similar to what prospective players go through at the annual NFL Combine. Split teams competed for points in the 40-yard dash, receiving gauntlet, quarterback arm challenge, three-cone shuffle and vertical jump.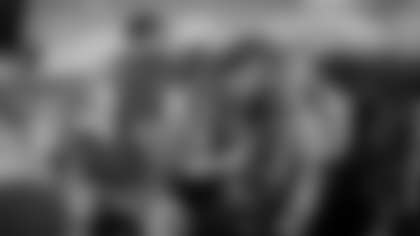 Redskins Practice at Joint Base Andrews presented by USAA
Wednesday, August 14th, 2019
With the help of USAA, the Redskins held a walk-through exclusively for the military at Joint Base Andrews. Service members received an inside look at the team's final preparations for its FedexField debut against the Cincinnati Bengals in week 2 of the preseason. "We're really blessed here at Joint Base Andrews to be in Prince George's County and to have the Redskins' home just up the street, and so we get to interact with them throughout the year," Colonel Andy Purath said.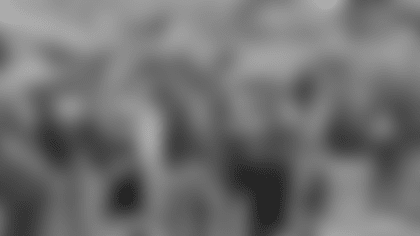 GEICO Military Appreciation Takeover | Redskins vs. Ravens
Thursday, August 29th, 2019
GEICO Military and Redskins Salute took over the final preseason game of the year as the Redskins faced off against the Baltimore Ravens. GEICO Military generously donated 1,000 tickets to active-duty service members and military families throughout the National Capital Region. 50 of the guests got the full player experience when they ran out of the cheerleader tunnel and welcomed the team onto the field during team introductions.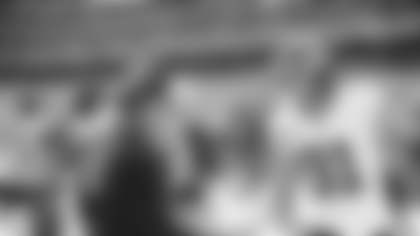 Celebrating the United States Air Force's Birthday
Sunday, September 15th, 2019
The Washington Redskins opened their home schedule this season in exciting fashion featuring United States Air Force service moments and ceremonies during pregame activity in honor of the U.S. Air Force's 72nd birthday. Flyovers, enlistment ceremonies, in-game recognitions, and a guest appearance by Four-Star General & Chief of Staff of the United States Air Force, David Goldfein, heightened anticipation prior to kickoff. All service members were met with a warm welcome from the sold-out crowd in attendance; as well as in-game officials, Redskins players, and our very own Redskins coaching staff.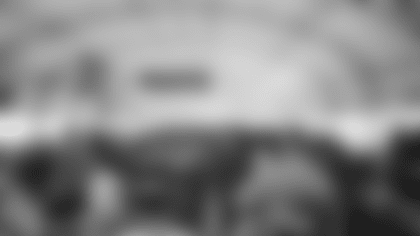 USO-Metro Club Presented by Lockheed Martin
Redskins Salute hosted the USO-Metro Club presented by Lockheed Martin for every home game throughout the season. Thanks to Lockheed MArtine, GEICO Military, MOAA, Safeway, and Pepsi, active-duty service members, spouses, dependents, and veterans were able to enjoy a pregame party in the USO-Metro Club two hours prior to every home game for the third consecutive year. The club, open only to current/former military families, served over 3,670 total guests in the 2019-20 season. All of which were able to enjoy a complimentary BBQ plate from Famous Dave's BBQ, a complimentary beverage, music styling's of DJ Glam, Redskins alumni appearances, photos with the First Ladies of Football, raffles, and so much more!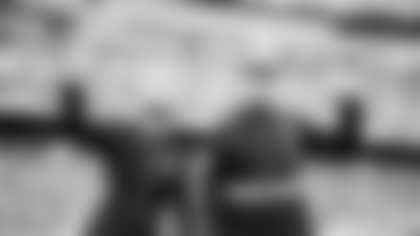 Honoring Service Members with FedEx and USAA
Throughout the 2019-20 NFL Season, the Redskins were pleased to honor three service members every home game prior to kickoff. In partnership with FedEx, a selected service member was honored for his commitment to his community where he was presented a designated football by a Redskins alumni and received a standing ovation from FedExField as he was projected on the Redskins HDBoard. During the first quarter of each home game, the Redskins teamed up with USAA to honor two service members from a designated branch as the In-Game Service Moment. The two service members were also projected on the Redskins HDBoard where the FedExField crowd gave them an ovation in appreciation for their sacrifice and service to our country.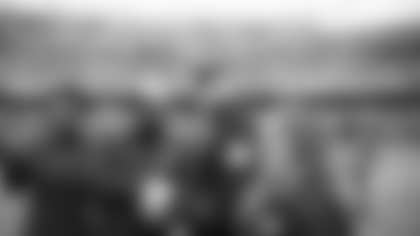 FedEx Football Fellows
For the second consecutive season, Redskins Salute collaborated with the USO and FedEx to organize the FedEx Football Fellowship. This experience gave recently transitioned service members the opportunity to gain hands-on professional experience as they transition from military to civilian life. Ms. Charnecia McGee and Ms. Emily Arnsberg joined FedEx Football Fellowship in the fall and were great additions to the team. The two Fellows led three Chalk Talks, managed the USO-Metro Club at FedExField, and took leadership roles within four Washington Redskins Departments.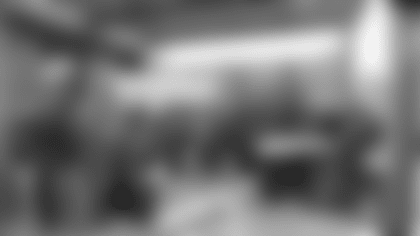 Huddle for 100 Redskins Salute teams up with the Redskins Charitable Foundation on $50,000 Renovation of USO Warrior & Family Center
Saturday, October 19, 2019
In honor of its 100th season, the NFL invited fans to partner with them, the players, and the teams in Huddle for 100 this past season. Each participant would choose a cause, donate 100 minutes of their time, and help shape what their community will look like for the next 100 years. Redskins Alumni and Lowe's Heroes, the company's volunteer program, came together in honor of the NFL's Huddle for 100 and did their part renovating the USO Warrior & Family Center Sports Lounge located on Fort Belvoir Army Installation.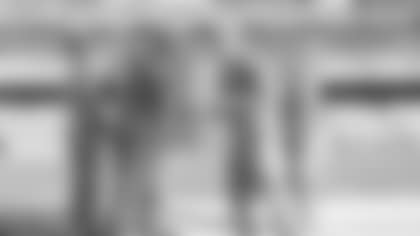 Redskins Salute to Service Month
Redskins Salute celebrated Salute to Service Month with the third annual Salute to Service Military Combine at Redskins Park on Saturday, November 2 where over 100 service members were put through the drills and exercise all NFL prospects experience during the NFL Combine in April. On Sunday, November 3, Redskins Salute hosted the first re-enlistment ceremony of the 2019-20 season, and then teamed up with the Military Officers Association of America to host the Redskins Salute Pack4Troops event where 2,000 USO-Metro Care Packages for service members traveling overseas. On Tuesday, November 5, Redskins Salute hosted the fourth annual Pro's vs. GI Joes event at Marine Barracks Washington where 200+ Marines competed for an XBOX One game council. Participants ate lunch by Mission BBQ and enjoyed music by DJ P Knock. On Thursday, November 7, the Redskins opened the 2019 RecruitMilitary Job Fair with a Chalk Talk featuring two-time Super Bowl Champion, Gary Clark, and Redskins personality, Gabe Henderson. The first week of Redskins Salute concluded with a Lowe's Workshop in collaboration with USO-Metro.
The second week of Salute to Service Month consisted of the second annual USO-Metro Podcast Party at the Warrior & Family Center on Fort Belvoir on Tuesday, November 12. On the same day, Redskins Salute teamed up with Easterns Automotive Group to surprise the mother of a U.S. Army Soldier battling cancer with a check for $10,000. On Saturday, November 16, one lucky airman won the Groundscrew Sweepstakes and painted the field in preparation of the Washington Redskins Salute to Service Game (vs. New York Jets). On Friday, November 22nd, the second class of United States Army Re-Enlistees were welcomed on FedExField to commit thirty more years of service to our country. On Tuesday, November 26, Redskins Salute teamed up with BEDGEAR to donate 30 performance beds to Operation Homefront. Salute to Service Month came to a close on Sunday, December 1, when five families with Tuesday's Children were brought on a tour of Redskins Park and enjoyed a watch party of the Redskins vs. Panthers away game.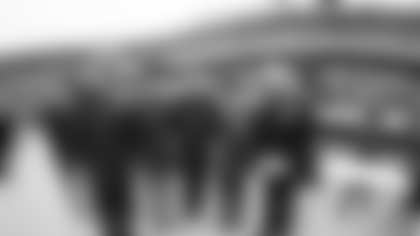 Salute to Service Game
Sunday, November 17, 2019
On Sunday, November 17, the Redskins celebrated their Salute to Service Game at FedExField as they squared off against the New York Jets.
Crowds took a detour before entering FedExField as two marquee displays captivated fans entering at all gates on Sunday: an Army Blackhawk Helicopter Static Display was featured in the RedZone Lot and a 9/11 Rescue Vehicle was featured at Gate A.The USO-Metro Club, an area open to service members, veterans, and military families, each and every home game featured a record breaking 780 guests from 11:00 AM to kickoff on Sunday. Five senior leaders in the United States Military representing each branch were present at the Redskins' Salute to Service Game: LT General Brian Kelly of the United States Air Force, Rear Admiral Thomas B. Allan of the United States Coast Guard, LT General Walter Piatt of the United States Army, LT General Charles C. Chiarotti of the United States Marine Corps, and Vice Admiral James W. Kilby of the United States Navy.
Minutes before kickoff, 160 uniformed service members representing all five branches of the United States Military from military installations across the National Capital Region lined the field. Americas Got Talent 2019 Finalists, the Voices of Service, began singing the National Anthem. At the conclusion, four U.S. Army Blackhawks flew across the field as the crowd erupted in cheers celebrating the service and sacrifice of so many.
Later in the first quarter during the second break, a video highlighting Friends of the National World War II Memorial and the 75th Anniversary of World War II played on the Redskins HDBoard. Followed by the video was a live shot of 10 World War II Veterans attending the game in their suite. During the second quarter of the game, fourteen United States Airmen/women were featured in the East Endzone as LT General Kelly read them their oath of enlistment once again.During the Halftime Break, fans were treated to a special halftime show which featured ten Silver Wings, or the United States Army Maneuver Center of Excellence Command Exhibition Parachute Team, fly into the stadium from Army Blackhawks above.