On Day 15 of Commanders training camp, staff from USAA, the official Salute to Service partner of the Washington Commanders, set up a memorable experience for a group of young, local military members.  
"This is definitely a unique, great opportunity to give back to the military and just show them how much we appreciate them," said Ronney Wright, one of USAA's military affairs representatives. "When I say 'we,' that's USAA along with the Commanders, because we're partners, and we work together."  
Guided by a shared goal of giving back to the military community, the collaborative day of fun made possible by the Commanders and USAA mixed together many different elements of fun, competition and family.   
After breakfast and a practice viewing, the special military guests were able to get in a huddle with the Commanders' head coach. 
"One thing that really stood out was that Coach Rivera took time out of his super busy schedule to come talk to us," said USAA military affairs representative Keith Long. "That right there is not only a huge thing for them but, in my eyes, there was no other thing that was going to happen today that was going to top that."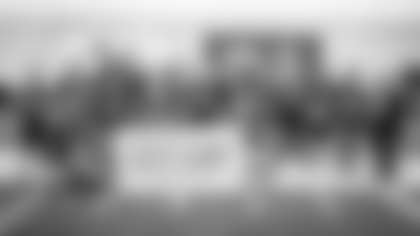 The excitement from that moment propelled the group's walk into the bubble for the main event of the day: Boot Camp. Here, the young service members were split up into groups to participate in six drills that NFL prospects go through at the actual NFL Combine. The drills included a quarterback throw, broad jump, 40-yard dash, and three-cone drill.
Senior Airwoman Xei Flores admitted with a laugh that the hour of going through drills was a "big wakeup call." Even though members of the military are expected to keep pretty fit, this boot camp offered up a different challenge, and she appreciated the energy she received from everyone around her to make the exercises just as fun as they were competitive.
"Honestly, I loved how enthusiastic the coaches were and definitely all the support I got from people who I just met today. It was an amazing experience. I'd love to do it again so many times over," the 24-year-old said. "I'm grateful to be in the position that I'm in right now. The Commanders and USAA have given me a service as well as all my other peers."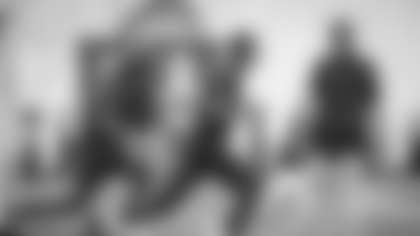 The drills that the military member-athletes were put through weren't just fun and competitive; they were also recorded. At the end of the drill rotation, prizes, including game tickets and signed footballs, were given out to individual and team winners.
"I didn't really prepare, I was just having fun," said Airmen Gaffne Harris, winner of the 40-yard dash and overall boot camp winner Team 3. "I love that we got a prize."
The boot camp closed out with a surprise appearance by Commanders Team President Jason Wright who emphasized the importance of the team's partnership with USAA as a way to investing in and being in meaningful relationship with the military community.
From the young military members watching Commanders, to getting to sweat themselves, Monday in Ashburn was a reminder of the impact a thoughtful, values-focused event can have.
"Getting to provide them with this once-in-a-lifetime experience with an NFL team, it's tremendous," Long said. "This is something that these guys and girls are never, ever, ever going to forget."