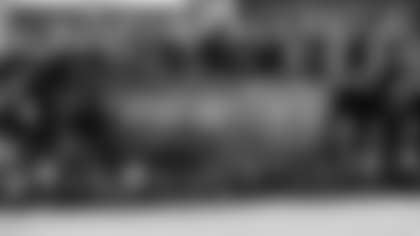 On Thursday, July 28, 2016, USAA and the Washington Redskins hosted 50 service members for an NFL Boot Camp at the Bon Secours Washington Redskins Training Center in Richmond, Va.
It was quite a day for the participants. They competed in five skills drills, followed by brunch and VIP seating to watch the team's walkthrough. In addition, the service members had a special meet and greet with the players.
The service members were able to watch the Redskins put in work, but not before they put some work in themselves in the skills drills, which consisted of Pass and Catch, The Gauntlet, Tackling Dummy 5 Man Relay, Sled Push and Kneeling Power Ball Launch. There were 10 teams of five service members across all five service branches who took part in the competition.
"Hosting service members at today's USAA NFL Boot Camp with the Washington Redskins is an honor and demonstrates USAA's commitment to creating memorable military appreciation experiences through our status as the Official Military Appreciation Sponsor of the NFL and the Washington Redskins," said Ronney Wright, a USAA military affairs representative for the greater Washington D.C. area. "The participating service members are receiving a unique NFL skills competition experience, along with an exclusive inside look at the Redskins practice and a chance to spend time with the players after practice concludes. This is an once-in-a-lifetime experience that USAA is proud to deliver."
The service members got a small taste of what life is like in the NFL thanks to USAA's NFL Boot Camp. In all, it was an experience that they won't soon forget.