On Wednesday, November 10th, the Washington Football Team hosted over 500 veterans and transitioning military members at FedExField for the  annual Greater Washington, DC Veterans Job Fair presented by RecruitMilitary. The Chalk Talk was hosted by GeNienne Samuels featuring Washington Football Legends Tim Hightower and Gary Clark, as well as the Senior Vice President of RecruitMilitary, Chris Stevens. The Chalk Talk, presented by Black Rifle Coffee, featured a 40-minute discussion covering the parallels between transitioning military members and football players nearing the end of their careers.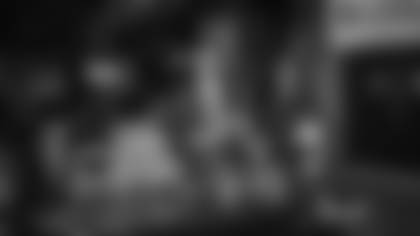 As nearly eighty veterans and transitioning military members filtered into FedExField's Deleon Lounge to enjoy the Chalk Talk kicking off the renowned RecruitMiltary Job Fair, they were greeted with Black Rifle Coffee and product kickoff a day of valuable conversations and give them an appropriate boost to meet recruiters. The audience was excited to participate and begin their job search with a fun panel discussing relevant topics in a relaxed setting. Retired SFC Derrick Hastings of the United States Army was excited to participate in the panel discussion "Hearing from the Senior Vice President of RecruitMilitary (Mr. Stevens) discuss transition, making connections with some of my hometown heroes from a professional football perspective, while also sprinkling in advice on applicable transition resources was the perfect start to my day."
The Chalk Talk, which has traditionally kicked off the annual Job Fair since 2016, has been well received from attendees, participating recruiters, and RecruitMilitary executives alike. Executive Director of Alumni Relations and panelist, Tim Hightower, stated "It's a privilege to participate in a military event like this. Engaging with veterans the week of Veteran's Day alone is a privilege, but to be a panelist and apart of a discussion that could alleviate the nerves of so many preparing to put themselves out there…it's just a great feeling and we're proud to support."