On Tuesday, November 17th, the Washington Football Team's military appreciation club and female empowerment platform continued the month-long celebration of Salute to Service Month hosting CHAIRity Yoga with Blue Star Families and SweatNGlow. The hour-long virtual connection event is in-part with the team's effort to honor the empowerment pillar in the NFL's Salute to Service mission – empowering and leveraging organizations committed to serving those that serve. Blue Star Families, founded in 2009, is committed to strengthening military families by connecting them with their neighbors – individuals and organizations – to create vibrant communities of mutual support.
CHAIRity Yoga was in-part with Blue Star Families long-time partnership with SweatNGlow, the world's largest hot yoga network. Petra Smeltzer, Founder & CEO of SweatNGlow, was featured for 30-minutes hosting yoga session live from FedExField describing techniques to keep military families (and more specifically children) focused, engaged, and healthy. While families continue working and learning from home during the national pandemic, there is more pressure on families to be situated at home.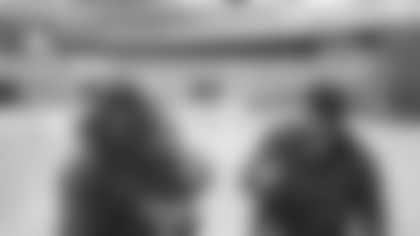 Following Petra's yoga session, CNN personality and expert on nutrition and wellness, Mark MacDonald was introduced to discuss best practices in meal preparation – and a well-balanced diet of proteins, carbs, and fats. Featuring a brand he trusts and advocates for, Mark discussed the benefits of ZEN and the ZEN Project 8 have had on military families he's worked with – detailing the benefits of eating healthy and living a healthier lifestyle and it's correlation to mental wellness and strong communication among families. MacDonald concluded the event telling all participating military families they'd be sent products to help them get through the holiday season fast approaching!
Included in both 30-minute sections, special guests were introduced by Washington Football Team personality, GeNienne Samuels including Washington Football Team legend (and 2x Super Bowl Champion) Mike Nelms and two First Ladies of Football as well as an Air Force family – who all participated in the yoga session and discussed the benefits of yoga especially around the holiday season! Military families across the National Capitol region participated in the event posting questions and comments to all panelists throughout the event!