The Redskins Charitable Foundation has awarded a $25,000 college scholarship to Kiana Hardy, a recent graduate of Oxon Hill High School in Maryland.
Hardy joined Redskins owner Daniel M. Snyder and 2009 scholarship recipient Clayton Armstrong in a press conference on Wednesday at Redskins Park.
"This is really special for me to say congratulations to Kiana and last year's recipient Clayton," Snyder said. "We're just thrilled that we can help. We're looking forward to Kiana having a great collegiate career."
Said Hardy: "I'm so appreciative, as is my family. I was worried about how I was going to pay for college, so this helps me so much. When I found out, I was in tears. I couldn't wait to tell my family and my friends. Thank you so much."
The Redskins have offered the annual scholarship, administered by the District of Columbia College Success Foundation, since 2009. High school seniors in Washington, D.C., and Prince George's County were eligible.
Hardy, 17, plans to attend Spelman College in Atlanta this fall.
The scholarship is distributed in $5,000 increments annually. Recipients are required to work with a mentor during freshman year.
Hardy was an accomplished student at Oxon Hill High School. She was senior class president, a varsity cheerleader and assistant editor for the school yearbook.
Hardy found out she won the Redskins' scholarship last Thursday, May 27, when Snyder telephoned her with the news.
"For a second, I thought it was one of my friends playing a joke, but then when I looked at the phone number [on her cell phone], it was a Virginia number," she said. "I thought, 'Okay, maybe this is real.' Then as he started talking, I was like, 'This is real!'"
When it finally sunk in, Hardy said she "was in tears."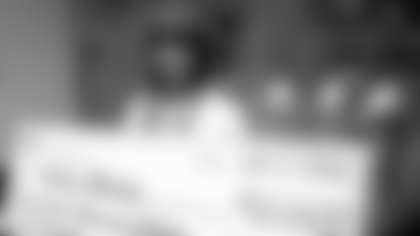 "It makes a difference for me because my mom won't have to work as hard now," she said.
It was also another way for Hardy and her family to celebrate being life-long Redskins fans.
"After I found out, I couldn't wait to call my grandfather," she said. "He just loves the Redskins. He was like, 'Really?' He was about to faint. He was just so excited. He said, 'The Redskins came through for you, so you can't say you like anyone else.' That's all he keeps telling everyone now."
Her career goal is to become a bilingual pediatrician and eventually work at Children's National Medical Center in Washington, D.C.
"I just love kids," Hardy said. "For the last two summers, I worked with kids at the Maryland-National Capital Park and Planning Commission and I just loved their energy and how they love to be around you."
Armstrong, last year's recipient, said he completed his freshman year at the University of Arizona with a 3.5 grade point average.
"I want to thank the Redskins organization, the Redskins Charitable Foundation and especially the D.C. College Success Foundation because without this funding, I would not have been able to pursue my dream of higher education," he said.
Armstrong graduated from Ballou Senior High School in 2009.