The Redskins teamed up with Coca-Cola to host a PLAY 60 youth flag football clinic on Tuesday at FedExField.
The event was part of the "Live Positively: Get the Ball Rolling" partnership between Washington, D.C.-area pro sports teams and Coca-Cola.
Approximately 200 boys and girls from across the region, including students from Kelly Miller Middle School and John Hayden Johnson Middle School in Washington, D.C., Kenmoor Middle School in Maryland and Seneca Ridge Middle School in Virginia, participated in the clinic.
Redskins players Lorenzo Alexander, Ryan Torain, Brandon Banks, Kevin Barnes and Anthony Armstrong participated as coaches and instructors.
Following the clinic, Redskins team nutritionist Jane Jakubczak talked to participants about the importance of a balanced diet and making smart food choices.
The Redskins joined Coca-Cola and the Capitals, Nationals, Wizards and Mystics on Capitol Hill to announce the partnership to combat childhood obesity in the Washington, D.C., area.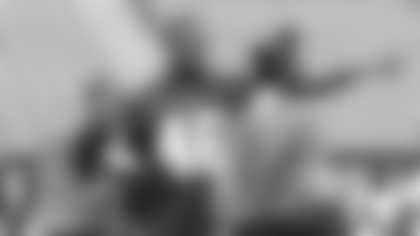 Each team hosted events that allowed area youth to interact with professional athletes and learn about staying active and eating right.
Thirty percent of children nationally, 40 percent of children in Washington, D.C., and 50 percent in D.C. Wards 7 and 8 are considered overweight or obese. Obesity is linked to chronic diseases like diabetes.
The Redskins and the NFL have emphasized the PLAY 60 movement, which encourages children to exercise 60 minutes every day.
"Childhood obesity is obviously a critical issue for this country," Redskins owner Daniel M. Snyder said. "When we were growing up, we enjoyed going out and playing. The world is changing a little bit, but if you look at what you need to do from a child's perspective every day, 60 minutes of exercise is a minimum.
"In today's world, we need to remind ourselves that at least 60 minutes is critical for our children's health."