Once again, the Redskins are putting the "giving" in Thanksgiving this year.
All around the Washington, D.C., community on Tuesday, the Redskins helped distribute Thanksgiving meals to families in need.
At FedExField in Landover, Md., the Redskins partnered with Harris Teeter, Ryan Homes, Operation Blessing and Prince George's County Department of Social Services for the eighth annual "Harvest Feast" to hand out Thanksgiving meals to 3,500 Prince George's County families in need.
And in Washington, D.C., quarterback Donovan McNabb helped distribute Thanksgiving meals to more than 100 families at Martha's Table, a non-profit community organization devoted to helping families in need and breaking the cycle of poverty.
McNabb and his entire family, including his wife Racquel, his parents Sam and Wilma and brother Sean, were on hand, as was Zelda Westbrook, the mother of Redskins cornerback Byron Westbrook.
"There's a joy that comes with this – to help or aid in any way so that people can enjoy the day," McNabb said. "It gives families an opportunity to just relax and have a great meal."
The McNabb family partnered with Martha's Table to give away food baskets that included a turkey, stuffing, gravy, cornbread, sweet potatoes, collard greens, green beans, salads, soups and fresh fruit.
The baskets were filled with food from local Martha's Table supporters and volunteers and the produce was donated from the Philadelphia Regional Produce Market.
McNabb, who celebrates his 34th birthday on Thursday, received a birthday surprise from the children in Martha's Table after-school program. They made him homemade birthday cards and recorded a video birthday wish.
Said McNabb: "If it's single parent moms, or if it's kids who are adopted or in a foster home, whoever it may be – to be able to spend time with them, find out their goals and find out what they want to do in life, and also provide a hot meal for them.
"It's just knowing that on a special day like Thanksgiving that they have been provided a meal and they can sit back and enjoy the day like everyone else."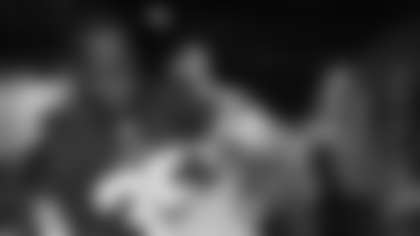 Redskins players at "Harvest Feast" included London Fletcher, Albert Haynesworth, Rocky McIntosh, Phillip Daniels, Keiland Williams, Nick Sundberg and Mrs. Tanya Snyder, wife of owner Daniel M. Snyder.
The Redskins provided a total of 42,000 pounds of turkey – courtesy of Harris Teeter – as part of the event. In addition, more than 95,000 pounds of packaged and fresh food was provided by Operation Blessing.
All children in attendance received a special visit with Santa Claus and a children's gift bag which included a Redskins Read activity book, toys and treats.
FedEx Special Delivery featured Redskins players H.B. Blades and Perry Riley delivering turkeys and Thanksgiving food baskets to the Prince George's County Transitional Housing Department in Greenbelt, Md., Largo Landing Fellowship House for Seniors in Upper Marlboro, Md., and Victory House of Palmer Park in Landover, Md.
More than 400 volunteers from Ernst & Young, FedEx, Harris Teeter, Junior League of Washington, London's Bridge, Prince George's County Department of Social Services, Ryan Homes, U.S. Army and Wachovia joined the Redskins in distributing the meals.