The Redskins 49th annual Welcome Home Luncheon looked forward to the 2010 season while it also peeked back at the team's championship-studded past.
The event, which benefits the club's Charitable Foundation and the Redskins Alumni Association, introduced the players and coaches of the current incarnation of the Redskins while also giving shout-outs to the many alumni gracing the ballroom at the Tyson's Corner Ritz-Carlton on Friday.
Former Redskins tight end and radio and TV personality Rick "Doc" Walker served as master of ceremonies. More old Hogs in the house included George Starke, Fred Dean and Raleigh McKenzie.
Among other past Redskins attending: Mike Bragg, Ravin Caldwell, Gary Clark, Ricky Ervins, Ken Harvey, Len Hauss, Roy Jefferson, Mark Moseley, Ted Vactor, Clarence Vaughn, Otis Wonsley.
Newly acquired quarterback Donovan McNabb got the loudest ovation when this year's squad was introduced.
The Redskins have won five NFL championships, three of those in the form of Super Bowls, in their long history. Bringing back the emotion and heat generated for and by greatness seemed to be foremost on new coach Mike Shanahan's mind.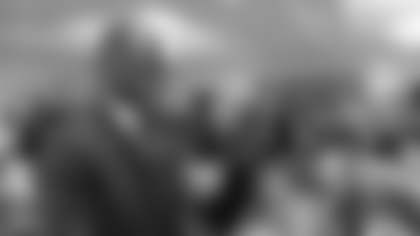 "The one thing I'm looking for is passion," he told a crowd of 800. "The only thing that matters is to win the Super Bowl."
He spoke to an audience featuring numerous people with Super Bowl rings, such as Walker and Mitchell and Clark and Moseley.
Shanahan himself coached the Denver Broncos to back-to-back championships and won another Super Bowl as offensive coordinator of the San Francisco 49ers.
Shanahan thanked general manager Bruce Allen for taking on so much of the detail work, the dealings with agents and contracts, and freeing him to do what he does best.
"All I have to do is get out of his way," Shanahan said. "He has a plan. I can concentrate on football."
Hauss, the long-time center, started the presentation of the 2009 Player of the Year Awards. The offense's honors went to center Casey Rabach, who was one of two offensive linemen to start all 16 games last year.
Generally, when a center picks up a trophy for being an MVP, an offense had problems. Rabach acknowledged the rough road of a 4-12 season and offered up one promise.
"I guarantee you next year there will not be an offensive lineman up here," he said.
Linebacker London Fletcher earned the defensive nod for the third consecutive year; long-time cornerback Pat Fisher served as his presenter.
Brian Mitchell, who holds most of the NFL's kick-return records, handled Lorenzo Alexander's introduction as the special teams player of the year.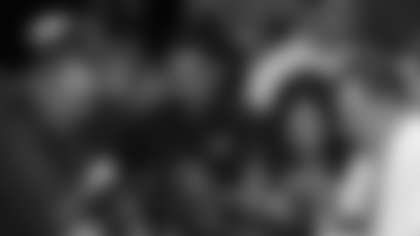 Mitchell said it was the first Welcome Home Luncheon he had attended since 1999 and lauded Alexander's versatility.
Alexander not only excels on special teams but has lined up as a defensive lineman, a linebacker and an offensive lineman.
A live auction that preceded the formal program raised $12,600 for the Charitable Foundation, Walker said. Silent auction proceeds were still being computed.
Among the prizes bid for: Jerseys, posters and helmets signed by LaRon Landry, Santana Moss, Chris Samuels and Sonny Jurgensen and a Super Bowl trip to Dallas (including game tickets, hotel and airfare).
---
Larry Weisman, an award-winning journalist during 25 years with USA TODAY, writes for Redskins.com and appears nightly on Redskins Nation on Comcast SportsNet. Read his Redskinsblitz blog at **Redskinsrule.com* and follow him on *Twitter.com/LarryWeisman*.*