The Washington Redskins and PepsiCo partnered together to give fans an opportunity to show their appreciation to military service members that have inspired them.
After looking through the nominees of active U.S. Military service members, the Redskins chose Sgt. Steven Johnson to win the annual Helmet for Helmet promotion, which included a couple days of VIP treatment and access.
Sgt. Johnson joined the United States Army in 2012, attending Basic Training and Advanced Individual Training at Fort Jackson, S.C. He was then stationed in Fort Riley, Kan., until 2016.
Within that time Sgt. Johnson deployed with his unit to Kuwait in support of Operation New Dawn for nine months. He then left Active Duty to the United States Army Reserve from Jan. 2017 through June 2018, when he joined the Active Guard Reserve. He is currently stationed at Fort Meade with the 611th Quartermaster Unit in Baltimore, as the Human Resources NCO.
The opportunity to be selected was particularly rewarding for Johnson, a big Redskins fan, whose favorite memory was the "Monday Night Miracle" in 2005. "The resilience that Santana Moss showed was amazing to beat the same two guys twice for TDs to put the Redskins ahead to win the game!" he said.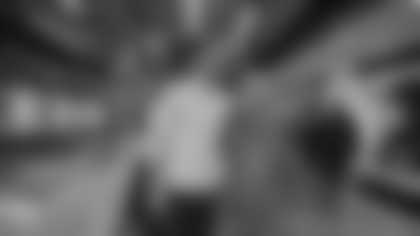 His reward began with tickets to the Redskins' game against the Falcons last Sunday, as he and his teammates were honored before the game on the field. During the national anthem, he also had the opportunity to hold the field-size American flag. He enjoyed the rest of the game joined by family and friends, including his brother, Dave Johnson, who nominated him for the prize.
Two days later, he received a special invitation to the Inova Sports Performance Center at Redskins Park, where he met with players such as Jonathan Allen, Josh Norman, Alex Smith, Kerrigan and many others, who greeted him and posed for photos.
Walking around the facility, he was joined by family and friends, including his wife and nine-month old daughter. For lunch, he ate in the team dining room and then Allen escorted him to the player's locker room, typically off limits to guests, and showed him around.
To cap off the day, Johnson made a guest cameo on "The Alex Smith Report" podcast, familiar territory for Johnson, who hosts his own podcast "Let's Talk Redskins."