In part with the Washington Redskins Salute to Service Month Initiatives to further engage local military communities and bases, the Redskins partnered with Lowe's and USO-Metro in hosting a Do-It-Yourself Workshop for active-duty service members, veterans, and military spouses across the region at FedExField. The Do-It-Yourself Workshop is the first of four interactive workshops to be held this season designed to help service members and their spouses learn a variety home improvement skill-sets better equipping them for the challenges most military families experience during PCS/deployment periods.
The workshop began at 10 AM in the Club Level of FedExField where Lowe's experts, refereed to as Lowe's Heroes (a company-wide volunteer initiative that provides Lowe's associates the opportunity to participate in local community improvement projects) taught the course and engaged with the military families. Saturdays course specifically focused on Drywall Patching and best practices to repairing walls at home yourself.
The Washington, D.C. Lowe's store manager & United States Marine Corps veteran, Frank Guidry, opened the workshop with opening remarks: "It's widely known across our organization that Lowe's leadership supports our military and makes it a primary initiative to extend our hand to transitioning service members in need of civilian jobs and professional training. Look around at all associates wearing a camouflage vest - these individuals (including myself) have served in our armed forces and have a vast understanding of what life in the military means. We'll be teaching the workshop and our hope is that we're able to use our vast knowledge of the military and expertise to make the workshop more valuable and tailored around your needs - and best practices with your own situations."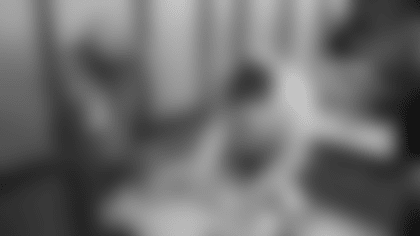 The workshop concluded after an hour and fifteen minutes of instructions on how to repair different types of wall damage. An incredibly beneficial workshop to the attending service members, spouses, and one very interested military child! At the conclusion of the instructional, all service members and Lowe's Heroes were treated to coffee, snacks, and a tour of FedExField (seeing Owners Clubs, Media Rooms, Locker Rooms, and touching Turf).
The tour concluded with Redskins Salute Manager, Alec LaCorazza, giving closing remarks: "If you took anything away from our workshop, tour, or any aspect of your day with us - it's that both Lowe's and the Washington Redskins are looking for different ways to bridge the gap between our organizations and the men and women working on base everyday. We have leadership that cares and our programs are focused on connection, job creation, and improving your quality of life. Do not stop communicating with us. Continue utilizing our platform, our events, our programs to assist the greater masses among you."
We'd like to express our gratitude to both the Lowe's Heroes that instructed the event on Saturday and USO-Metro for recruiting our participating service members. Our collaborative efforts during Salute to Service Month will touch every base in the region. Thank you!