In honor of its 100th season, the NFL invited fans to partner with them, the players, and the teams in Huddle for 100 this past month. Each participant would choose a cause, donate 100 minutes of their time, and help shape what their community will look like for the next 100 years. On Saturday, October 19, 2019, Redskins Alumni and Lowe's Heroes, the company's volunteer program, came together in honor of the NFL's Huddle for 100 and did their part renovating the USO Warrior & Family Center Sports Lounge located on Fort Belvoir Army Installation.
The USO Warrior & Family Center at Fort Belvoir is the largest Warrior & Family Center in the world. It plays an incremental role on the Army Installation as a 'Home Away from Home' to service members of all ranks and backgrounds. The USO-Metro employees and volunteer staff that manage the location are committed to connecting service members with family, home, and country in the form of providing a welcoming, relaxing environment on base. Additionally, the 22,000 square feet Warrior Center features over 100 programs focused on professional development, family connection, mental health stability, food assistance programs, and much more.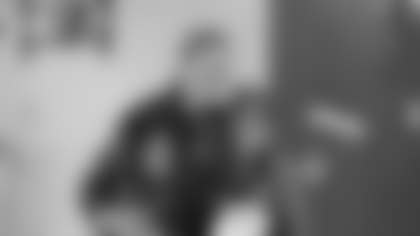 In response to the outstanding Huddle for 100 Initiative and USO renovation project, Lowe's was proud to partner with the Redskins and give back to the hundreds of thousands of service members and military families that step foot in the Warrior Center every year. Community Partner and Manager of the renovation, John Churchill said "On behalf of Lowe's, it's a pleasure to be apart of the Huddle for 100 campaign and further our impact on this military region. Nationwide, we staff nearly 20,000 associates in the Military Community, and make it a priority to assist transitioning service members and spouses in every military region. Today, we couldn't be more excited to use our skills and resources to directly benefit our local men and women in uniform." In addition to financially supporting the project, donating furniture, and brand new appliances - Lowe's promised a $1,000 contribution to be allocated to more furniture in the spring.
We can't thank the Washington Redskins Charitable Foundation, the Washington Redskins Alumni Association, and Lowe's enough for coming together and supporting our local military community. Here's to another 100 years of impact.