In partnership with the Military Officers Association of America (MOAA), the Washington Redskins and Redskins Salute welcomed former and current service members and their families to join them Sunday at FedExField in packing 2,000 care packages for troops deployed overseas.
The event -- which came in support of the USO-Metro's Pack4Troops initiative that aims to deliver thousands of care packages to deploying service members at BWI Airport this holiday season -- kicked off at noon, with attendees lining up single-file to stock bags with chips, granola bars and other snacks. Items that were included have been identified by military officials as essential items that deploying service members find beneficial, as the process of deploying can take anywhere from 36 to 48 hours at once.
Among those present were former players Ravin Caldwell and Clarence Vaughn, both of whom played for the Redskins during their Super Bowl runs in 1987 and 1991.
"I'm just glad to be able to help these guys," said Vaughn, the son of a former Navy officer. "We couldn't do this without people like that sacrificing their lives for us. They're on the front line doing everything, keeping our country in a great democracy that it's supposed to be."
Vaughn, who has traveled to places like Kuwait, Iraq, and Spain in support of the military, said his sense of duty stems from the potential impact he knows he can have as a one-time Redskin.
"Some of the soldiers when they see players, or former players, it really helps them take away from the things that they have to deal with in their daily lives with what they're doing for our country," he said.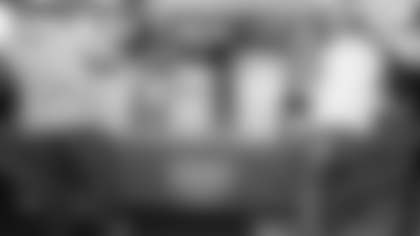 That is also true for Rhonda Killmon, a retired Coast Guard officer who's been a fan of the team for more than 40 years.
"Anything I [can] do with the Redskins, I definitely will," she stated.
Besides getting to work with some of those players she's watched, Killmon enjoyed meeting some of her fellow service members, too.
"In the line here, talking with other service members, we swap stories of where we were stationed and our experiences," she said. "I got to talk to a Navy guy and an Army guy. There's a girl here that was in the Air Force. I think Marines is the only one that we didn't hit. It was just good to interact with that military community again."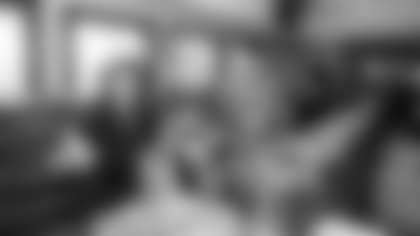 Those interactions continued even after all of the bags were packed and ready for shipping, as players and volunteers alike had the opportunity to enjoy some lunch and watch the Redskins-Bills game on a projector.
Jonathan McCoy was one of those volunteers who chose to stick around and root on the Burgundy and Gold.
"Overall, I think it's been a great experience," McCoy stated, touching on his day at the facility, which started with his reenlistment back into the U.S. Army that morning. "While I was on range, I would always look forward to care packages."
Just knowing his efforts would make an impact for others currently on assignment meant everything.
"To be a part of this -- to do this for others -- is definitely humbling," he added.