Maci Hill
Marketing Manager, Engagment Platforms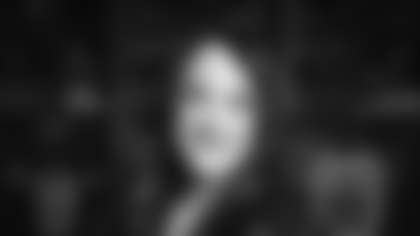 Title: Marketing Manager, Engagement Platforms
Time at the Commanders: 1.5 years
Describe what you do at the organization. What's your favorite part about what you do?
"I am a marketing Jack of All Trades. I help plan and execute media buying, assist with tentpole initiatives, and heavily support Pride and Salute programs. I also work closely with group ticketing, sponsorship, media partners, creative services, and our community relations team. It is hard to say what my favorite part is, but recently getting to spend a lot of time growing our fanbase and team fandom by helping to implement Major Tuddy and our Rally platform has been a career highlight."
What inspires you to come to work each day?
"Our fans inspire me to come to work each day. We would be nothing without them. Our players would have nobody to play for, and we would have an empty stadium. I love hearing their stories and their passion for this organization."
What's a work-related accomplishment that you're really proud of?
"Attending Pro Bowl alongside Joey Colby-Begovich to introduce Major Tuddy to the rest of the NFL has been a huge accomplishment. To see NFL fans from around the world in one place and to have them want to take photos with him and learn about him was something I will never forget."
What motivated you to want to join the WIN leadership team?
"I take great pride in my passion for this industry, and in turn my passion for the Commanders organization. I wanted to be able to connect with other team members here and help create and foster a collaborative and welcoming environment."
What is a current, past or future W.I.N. project or initiative that has excited you?
"This W.I.N. leadership team is fired up with great ideas. But I think I am most excited to provide W.I.N. members with some leadership and personal development training."
What type of impact are you looking to have with W.I.N.?
"I think above all I hope to make an attitudinal impact with W.I.N. This type of impact can enhance our communication system by being open to our team members' thoughts and ideas. I want to show others that they can come to me for support."