Since the day he was drafted by the Washington Redskins, outside linebacker Ryan Kerrigan has made a name for himself as one of the team's most productive players.
On or off the field, he's never going to be considered the flashiest guy on the team. But his team-high 13 sacks since 2011 and his ability to never miss a down show he's a highly-effective playmaker who the franchise can build around.
But don't let his squeaky-clean image fool you because there's more to Kerrigan than he lets on. Like, for example, the fact that his birth name is actually Patrick Ryan Kerrigan. Here Redskins fans thought they knew a little bit about the guy and it turns out most of them don't even know his real first name.
"That was actually my parents' decision," he said. "My dad's middle name is Patrick and they wanted to name me after my dad, but they didn't want to have too much confusion. They did the same thing with my brother because my dad's name is Brendan and they named my brother Brendan Kyle Kerrigan. They wanted to name him after my dad without too much confusion, so they call him Kyle."
Quirky family traditions aside, Kerrigan swears his childhood in Muncie, Indiana, was completely normal. Sure, it's not the biggest city out there, but there was still plenty of ways for him to have a good time.
"It was fun for me growing up there because I knew everybody," Kerrigan said. "I wouldn't really call it a tourist destination, but it was a fun place for me and I still have lots of friends and family back there.
"I was just like every kid – I wanted to play outside," he continued. "Growing up, I liked playing any sport and I lived next door to a swimming pool. My friend also had a lake house that I spent a lot of weekends at during the summer. I really liked swimming."
Kerrigan's father, Brendan, played football at Ball State and his mother, Anita, was a solid athlete as well, which helps explain why Ryan has always been so athletically gifted and enjoys playing sports so much. In high school, he excelled at football, baseball, basketball and swimming.
"It was great having parents with athletic backgrounds because they got me into it and they helped me appreciate sports more," he said.
While he's regularly lauded for his standout play on the gridiron, there was once a time when Kerrigan was known as a basketball player as well. During his high school days, he even played against future NBA players like Greg Oden and Mike Conley Jr. But was he actually any good?
"I liken my game to that of Ben Wallace," Kerrigan said. "I can rebound, do the dirty work and block shots. I can even add in the occasional dunk, but I don't really have much of a shot. I was only out there to do the dirty work."
At least he knew his place on the basketball court and was honest about what he brought to the table. Although he was much more of a role player on the hardwood court than he is on a football field, Kerrigan's mentality remained the same.
"I just tried to come in, do my job and help my team win however I could," he said.
That practical mindset has served him well over the years -- including when it was time to decide where to go to college.
"Purdue was the best opportunity for me, both academically and athletically," he said. "They had a bunch of defensive ends who were upperclassmen when I was being recruited and that was a big selling point for me because I knew I'd be able to play early and often there. And it worked out really well for me there. You know, I didn't win as many games as I would have liked to, but I still really enjoyed my time there."
Even though he's been playing football since he was in the first grade, it wasn't until his second year at Purdue that Kerrigan began to believe playing football for a living was a distinct possibility.
"I started to think maybe I could have a shot at the NFL," he said. "By that point, I had played a couple seasons and had a pretty good year my sophomore season. I started to see a lot of my college teammates go pro, so I thought, 'If they can do it, then why can't I?' That's when I really began to focus in on taking this thing as far as I could."
Kerrigan was named a unanimous All-American and his 33.5 sacks rank second in the school's history. He was voted the 2010 Big Ten Conference Defensive Player and Lineman of the Year and led the nation with 26 tackles for loss. And yet, when it was time for the NFL Draft, he still couldn't help but feel nervous about the entire ordeal.
"It's such a stressful time," Kerrigan admitted. "You've got one person saying you're going to picked here and then another guy saying you're going to be picked there. You might think one team likes you, but you're never really sure. It was especially stressful for me because I was told I was going to need to be able to play both defensive end and outside linebacker so that I'd be more valuable to more teams.
"But towards the end of the process -- after the combine, all the pre-draft interviews and whatnot -- I just tried to enjoy it all because it was only going to come around once," he said. "I just tried to enjoy the process and once draft night came, I was pretty relaxed because I felt like I had done all I could to get to this point. Whoever was going to take me, was going to take me."
While Kerrigan wasn't sure where he was going to end up, he did walk away impressed after meeting with members of Washington's coaching staff and front office prior to the draft.
"No teams really wanted to tip their hand too much as far as who they were going to take," Kerrigan said. "But it's kind of funny. I remember calling my mom after meeting with the Redskins and telling her that I thought I'd fit in pretty well here. Some teams will ask you funny questions and try to get a reaction out of you, but they didn't. They just asked me football questions and for basic information about myself, so I really appreciated that because I feel that's what ultimately matters at the end of the day instead of some weird question about if you were an animal, would you consider yourself more of a cat or a dog."
In his NFL debut, Kerrigan made a great first impression by intercepting a pass by New York Giants quarterback Eli Manning and returning it nine yards for the eventual game-winning touchdown. While many rookies struggle as they learn what it take to make it in the NFL, the 24-year-old actually believes going from high school to college was more difficult.
"When you go to the pros, it's like facing the best player you ever played against in college every single week," Kerrigan said. "That's the toughest part about the NFL. But going to college was a really, really big jump. When you're in high school, the size and speed of the guys you're playing against doesn't compare to what you face in college football. I was one of the bigger guys in high school and then I got to college and I'm just an average-sized guy. In terms of size, speed and skill level, I'd say going to college was the bigger jump."
Once again there's that practical mindset kicking in. It's also why the 6-foot-4, 260 pound linebacker managed to play 1,751 consecutive snaps before finally earning a few plays off last weekend against the Philadelphia Eagles.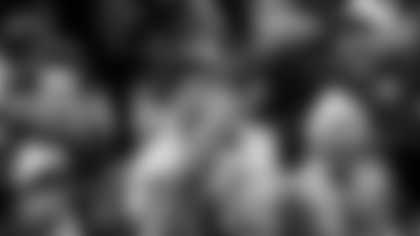 "It's important to me because I want to be out there making plays," he said. "They didn't draft me to sit on the sidelines. So I feel like if I'm not tired, I want to be out there. I really take pride in my conditioning and what I eat. I take care of myself and do what I can to ensure my body feels great every Sunday."
It goes without saying that the coaching staff is only going to let a player like Kerrigan be an every-down player if they believe he can contribute. You can have the best conditioning in the world, but if you're not making plays, they're going to find someone else to do your job.
"He's really good on the run. He's really good in pass coverage," said head coach Mike Shanahan. "He's a guy that has power and strength, and when he uses that, he can turn that power into speed and then he's much more effective on the rush."
Earlier this season, Shanahan summed up his thoughts on the second-year pro with two brief sentences.
"Kerrigan's the real deal," he said. "He can do everything."
It's those kind of statements that mean the most to Kerrigan. Knowing the investment this franchise made in him is what motivates Kerrigan on Sundays, he said.
"It definitely humbles me," he said. " I want to reward their faith in me for taking me so high. I want to live up to the expectations they have for me and that I have for myself because I know it's a great opportunity to play out here in Washington, the fanbase is tremendous and we have the chance to do something special. I really want to be the best I can be and, ultimately, reward Coach Shanahan and the Redskins for drafting me."
While the blue-collar persona has obviously served Kerrigan well, it still sounds too good to be true. There had to be someone in the Redskins locker room with dirt on him. Like, maybe tight end Logan Paulsen, his closest friend on the team.
"That's just who he is," Paulsen said. "And he brings that mentality to work every day. You look at him and say, 'Maybe it's too good to be true,' but he's been so consistent over the last two years. There's been no deviation. That's just who he is. I don't want to call him robotic, but every day he comes in and when he works out he does extra abs, he gets in the cold tub. He does it all. You'd think one day he'd need some 'me time,' but he just powers through it. That's why he makes me want to do a little more.
"Ryan is a really easy guy to get along with," Paulsen continued. "Not only is he a great guy, but he makes me want to be a better football player and a better person because of how good he is. I like having people like that around me."
That's probably a good thing for guys like Paulsen, because Kerrigan is likely going to be a fixture in Washington for a long, long time.