Guam Tour, Jan 30th – Feb 7th 2012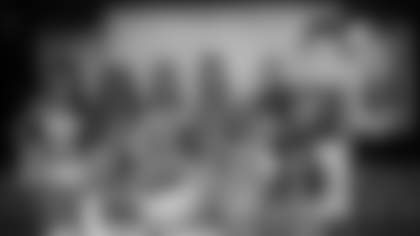 Hello from the beautiful island of Guam! This past week, I traveled to Guam on my 11th military appreciation tour with seven other Pro Bowl cheerleaders: Allie from Cardinals, Tiffany from Ben-gals, 'Moe' from Texans, Millie from Bucs, Peyton from Vikings, Becky from Broncos, Brooke from Titans (and the mascots from the Vikings and Falcons, who had me laughing all week)! We were the lucky eight who had the opportunity to extend our Pro Bowl experience and visit our heroes of the Armed Forces.
We've spent the last week visiting the troops and their families at Anderson Air Force Base and Naval Base Guam. The other cheerleaders and I put on several cheer clinics for the children of military members and visited local schools to talk to the children about the importance of a healthy lifestyle. We toured a US Warship, visited the pilots on the flight line, went bowling with the troops and even judged a karaoke contest! This turned into a serious competition - Guam has some amazing talent! The last performance of Baby Got Back was the most fun. Everyone was up and dancing!
We also spent a morning working out with the troops! The Broncos Pro Bowl Cheerleader Becky is a fitness instructor, so she taught a Zumba/workout class for the military wives, (although several of the guys snuck in and actually rocked the Zumba! I heard a couple groans coming from the back, "Man, this is hard, who knew?" and "She's a beast!"). Becky had the whole class in quite a sweat and I was sore for three days! We were on a workout high, so we wandered over to the TRX class and joined in with the troops. I saw several surprised faces at how quickly we mastered the exercises. NFL Cheerleaders don't mess around!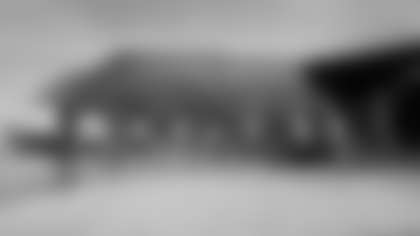 We were able to enjoy a few meals with the troops, play pool and have a night out on the town! A group of pilots had organized a LMFAO themed night out - complete with costumes, license plate necklaces, wigs and one guy even wore the box head the whole night! Our service members make so many sacrifices for our country & work extremely hard, so it was so nice to see them having some fun. Party rocking!
Our favorite day was Super Bowl Monday! With a 15-hour time difference Super Bowl is Monday morning in Guam. We had breakfast with the troops at their Super Bowl party and performed at quarter breaks and halftime. We handed out hundreds of photos, hats and other prizes.
Today we were able to enjoy some beach time before packing up for our 24 hours of travel home! We leave Guam at 9am on Tuesday and I arrive in DC at about 11am on Tuesday, after 20 or so hours in the air!
Thank you to all our service members for your sacrifice and service to our Country. We appreciate all you do. For as long as you're deployed, until you all come home, the Washington Redskins Cheerleaders will always follow to bring a small piece of home to you all. You're our heroes!
We had a great time, thanks for having us!