Aloha, Redskins Fans! I can't believe today is the day! I'm off to the Pro Bowl in Hawaii!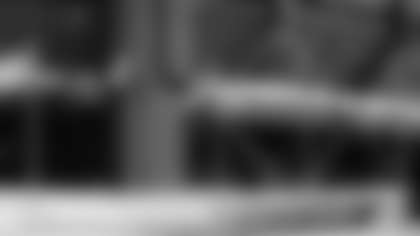 Today, I had an early flight out. Andrea, the Pro Bowl cheerleader for the Ravens, travelled with me the entire way. We live so close to each other that we were able to practice our dances together before we left. I feel like I already have a lifelong friend before I even arrived.
After two long flights, we arrived in Hawaii to a fantastic surprise – a welcoming committee of local cheerleaders! An entire local middle school cheerleading team met us at the airport, in uniform, to welcome us to the Island. The kids made beautiful welcome signs and brought us flower leis. It was a great surprise!
We were picked up by our security team and arrived at our incredibly beautiful hotel, the Hilton Hawaiian Village. We had all been anticipating finding out our roommates for the week – my roommate is Andrea from Ravens! This is a friendship meant to be! We were just in time to meet up with most of our new teammates at dinner. After a quick bite and hello's we were all off to bed. It's going to be a long day tomorrow!
---
Tuesday, January 24, 2012
Good Morning, Redskins Nation! Today we were up very early to start our first official day at the 2012 Pro Bowl. At 6 a.m. we had orientation, breakfast, and introductions to our teammates and staff. The directors and choreographers running the cheerleaders are such inspiring and talented people. They immediately made us all feel welcome and excited for the week to come.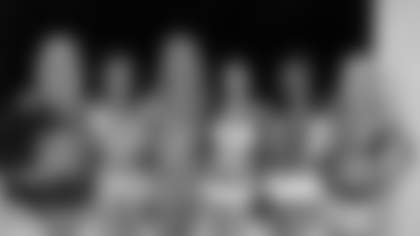 We had rehearsal all day long, with a 45 minute break for lunch. We rehearsed our 13 routines that we all learned off a DVD before arriving, and they set us in our lines that we will dance in all week long, at the game, and at promos. My line is NFC 2 and includes: Ally from Dallas, Danielle from the Saints, Christa from the Rams, Laura from the Panthers, and Carmen from the 49ers. We also learned that our pregame routine will be performed with Hot Chelle Rae! "I like it like that...Yea, windows down, chillin with the radio on..."
Around 5 p.m., we all met at the pool to shoot our PBC team photo! It was so fun to see everyone's uniforms. We posed on a rocky waterfall during sunset and this made it feel official – we are all a team now! We did individual video shoot intros, signed some photos for fans watching our shoot, grabbed a quick dinner and then it was back to rehearsal. Yup, back to rehearsal!
It's about midnight and has been such a long day, but what an unbelievable experience so far! I'm so grateful to be representing the Redskins at this exceptional event & can't wait for tomorrow! Day 1 is a wrap & I've already had the time of my life!
---
Wednesday, January 25, 2012
We were up early again for a team breakfast and then it was back to rehearsal in the hotel. A bunch of us sat outside by the penguins on our quick lunch break – yes, our hotel in Hawaii has penguins! Back at rehearsal we were surprised with a reveal of our PBC team photo. It's official! I'm part of the Pro Bowl Cheerleader history!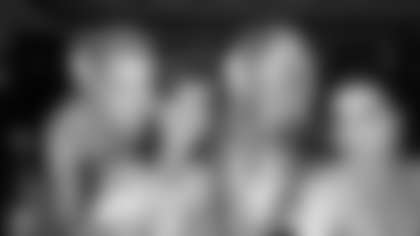 After practice we went to get our PBC rings! It has become tradition for each Pro Bowl Cheerleader class to purchase the same engraved rings to symbolize the PBC experience and bond. This was something we all had been looking forward to for a long time. The jeweler who makes these rings has been doing so for many years & they were very excited to meet this year's class.
This evening we went to the NFL Welcome Luau with all the Pro Bowl players and NFL staff. They had fire dancers and hula girls perform for us and we enjoyed a yummy traditional luau dinner. After some dancing, (yes more dancing – we couldn't resist,) we headed back to our hotel to call it a night.
I can't wait to see what tomorrow has to bring! Night!
---
Thursday, January 26, 2012
Hi Redskins fans! It's day 3 here at the Pro Bowl in Hawaii!
After an early morning team breakfast and bonding time, we headed out to Aloha Stadium for our first field rehearsal!! How exciting! It was surreal walking into the Stadium and out onto the field where so many all stars played. Under the very hot Hawaiian sun,we set formations and practiced our pre-game routine on the stage built for the show. We ran our dances in our lines and set the player intros formations.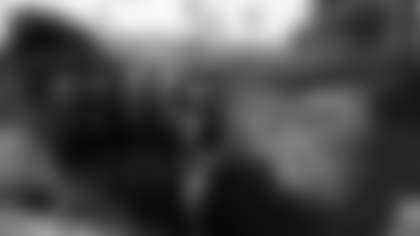 After practice my line had to quickly change and head out to a promo at the Play 60 event at Pearl Harbor. What a beautiful view! The Play 60 campaign is the NFL's nationwide movement to encourage kids to be physically active 60 mins a day in an effort to combat childhood obesity. Our part in this event was to teach a cheerleader clinic to local children of active duty military members.
Several football players, including our very own London Fletcher, were also in attendance to run football drills & play a game of flag football with the kids. We taught the kids a routine we will be performing on the sidelines during the game and then spent some time chatting about nutrition and health. They were so excited to meet us and had such a great time dancing with us. I know we made a positive impact on the community and it warms my heart to know we made even a little difference. This is one of the best parts of my job as an NFL Cheerleader!
After our promo we headed back to the hotel for some down time and joined our teammates out on the beach for some fun and sun. This evening we had a team dinner at Dave and Busters. Danielle from the Saints surprised us with a traditional New Orleans Mardi Gras King cake! This cinnamon roll cake is frosted with traditional colors in celebration of Mardi Gras. Yum! Thank you Danielle!
---
Good Morning Redskins Nation!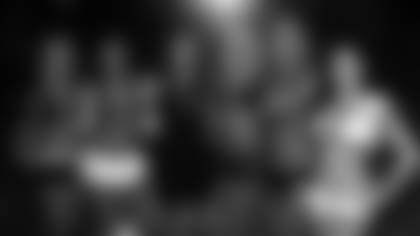 Today was mostly a free day to relax on the beach, go for a swim, do some shopping and catch up on rest! Each line had a different promo throughout the day. NFC 2's promo was this evening at the NFL Japan's Welcome Reception. We spent some time taking pictures and signing team photos with the Japanese cheerleaders who came to participate in the week's events at the Pro Bowl.
Even though we didn't speak Japanese and they didn't speak English, it was nice to meet other young women who share the same passion. See you tomorrow!
---
Saturday, January 28, 2012
Aloha! Today we got an early start to a fun filled day - Ohana Day! Ohana means "family" in Hawaiian culture. Ohana Day is basically an all-day long tailgate party that takes over the city of Honolulu!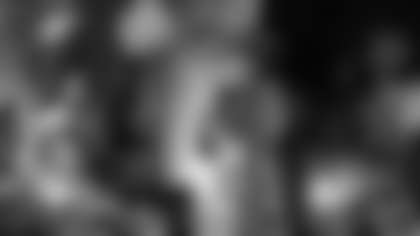 Aloha Stadium opened up to the public for the morning. We performed a few routines on the field for the first time and introduced ourselves to the crowd. I got a few cheers from our Redskins fans-I heard you all! Thanks for representing the Burgundy and Gold with me! Then the players came out onto the field for an AFC/NFC scrimmage. Our first performance for the fans was a success!
After the scrimmage and some crowd participation events on the field, we had our 1st field rehearsal with Hot Chelle Rae! It was incredibly exciting to see the whole pre-game show coming together, hear the live band, watch the moving stages & fireworks!
In the evening we performed at the Block Party. This was the most exciting tailgate I've ever seen! My line performed on one of the six stages set up along the mile long party route for a crowd of 70,000 people!
What an exciting, fun filled, memorable experience today has been! Today was full of goose bumps and I'm so fortunate and grateful for all the opportunities I've been given to do what I love – dance!
Tomorrow is Gameday!! Good night!
---
Aloha Redskin fans! It's GAMEDAY! And the official kickoff to Super Bowl week!
Today was our final day and I can't believe how fast the week has gone by. All the hard work from the past week definitely paid off with a fantastic day.
Today was a beautiful day, perfect weather. We arrived at Aloha Stadium early to participate in the pre-game activities. All the cheerleaders performed together at the VIP Tailgate and then spent some time greeting fans in the crowd. I was so excited to see burgundy jerseys and meet Redskins fans who came to support our team!
After a quick pre-game rehearsal, it was time for the big game! Performing our pre-game routine with Hot Chelle Rae and hundreds of other dancers was one of the most incredible performances of my life!
The entire show seemed to be in slow motion, and I had chills the entire time. So fun! I still haven't stopping singing, "I like it like that, yea..." and doing the dance in my head!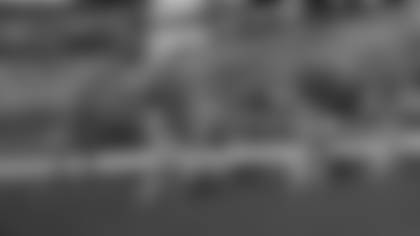 Player intros were next, followed by the anthem and a flyover of F22's in formation. Cheering on the sidelines was so fun and laid back. We were able to interact with the fans in between dances. We performed routines on the field and on platforms in the stands, which gave us the most amazing view of the game and beautiful Hawaii.
This week has been such a thrilling experience! I've made lifelong friends in one week and created fantastic memories that will last a lifetime! I want to thank our Pro Bowl staff and choreographers for making sure we all got the most out of this experience as possible and inspiring us to reach higher.
Thank you to my 25 Pro Bowl teammates who made this experience what it was. As we were told several times this week...you are lucky to meet one or two incredible people in your life and we were fortunate to be sitting in a roomful of inspiring, talented, beautiful, intelligent people who share the love of dance and performance. I feel like the luckiest girl in the world!
The biggest thank you goes to my teammates and director Stephanie for making this dream possible.
And thank you to all you Redskins fans! Without all of you, this wouldn't have been possible.
Click Here to view complete photo gallery from Abby's trip to the Pro Bowl.