Our group chat was started almost immediately and our anticipation started building by all 10 Cheerleaders, who had been selected to go on the next military appreciation tour by Armed Forces Entertainment and Geico Military. It would be an exciting tour during the final part of our season and leading up to the Holidays.
Many questions were still to be answered; which countries were we visiting, which alumni players were joining us, yet one thing we knew for certain, there was nothing we'd rather be doing during the Holiday season.
Each tour is unique and always brings so much fulfillment into our hearts, as we sit and talk to hundreds of military men and women who are sacrificing their lives for our safety and freedom back home.
It takes roughly two days of travel, about 13 hours of flight time, to arrive in Kuwait. This particular trip took us through Frankfurt, Germany for our layover.
I was excited to be returning to Kuwait and Bahrain for my second tour as a First Lady, as well as many of the other cheerleaders returning to these countries for a second or third time. We jump at any opportunity to travel with Armed Forces Entertainment. It is the most rewarding times spent talking with each service member we encounter. 
12/13 Day One - Camp Buhering
We kicked off our base visits with Camp Buhering. It had been just over a year since I did my first tour in November of 2017, which started in Kuwait.
Camp Buhering is such an amazing place to visit as there are thousands of military men and women we get to visit with throughout each day.
When we first got to camp, we unloaded the buses and headed into the dining facility (DFAC). Imagine, a large portable building that is set up like a cafeteria and seats a couple hundred service men and women every hour. The opportunity to sit down and talk with so many service men and women during meals is some of our favorite memories. We get to learn about where they're from, what they do and share lots of stories.
This particular lunch, I met a large group of army national guard soldiers, who are on a 9 month deployment from Mississippi. Many had just come back from countries north of Kuwait helping with the war.
Following our lunch we had the opportunity to meet with Lieutenant Colonel Conkey and her Sargent Major Foos. Their staff hosted us for a briefing on Camp Buhering's mission and we had an amazing Q&A between both groups! She shared her journey to becoming the commanding officer of the base and it was truly inspiring.
The final part of our day was our first show! We had the most electrifying crowd of service members that gave us so much energy, and also a few special guests we were able to include in the line up!
After introducing the show, I was able to call up Lieutenant Stillwell, who we had met in Colonel Conley's office, to the stage for a special birthday song from Stephanie and Javai!
During our holiday section, we were able to witness the pinning of a new rank for Jim Ross a long time Redskins fan! It was such an incredible moment for all of us to be a part of. He also had the most epic selfie on stage with us and the troops behind us all!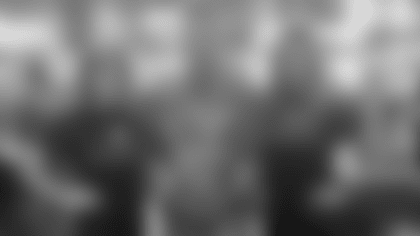 12/14 Day Two - Camp Arifjan
We traveled to another base about an hour away to visit Camp Arifjan or AJ for short.
Our day started with lunch at DFAC where I met a 15 year military police officer. He said he originally joined to help his parents through a tough time when his mom was very sick. The stories shared over meals are some of the most memorable parts of our visits. It gives us just a small insight of what the service members do, but it leaves a large impact on our hearts.
Following lunch we had a quick practice to stage our final show in Kuwait! Then were shown around the medical facilities on base. They treat so many service members with anything from medical needs to therapy treatments.
Colonel Nielsen welcomed us into their HQ joined by a large group of service members for a Q&A between the Alumni players and cheerleaders. They were so excited to ask us about our experiences as cheerleaders and players in the NFL. It was an incredible opportunity to share our stories as well as interact with each of them. They were also so gracious to present us with a certificate of appreciation for our visit to Camp "AJ". We are so grateful for their kindness and camaraderie.
Finally we ended the night with another incredibly fun show! The audience was so much fun, and the ladies and alumni players really boosted the morale of the service members who spent a few hours of their time with us tonight!
We are leaving Kuwait after two days, incredibly grateful for everyone we were able to meet and hang out with during our time here. These men and women pay the ultimate sacrifice so we can enjoy the freedoms back home. I will always continue to support our troops any opportunity I can.
Thank you to Armed Forces Entertainment and Geico Military for having us on another trip around the world. Until next time..