"Hail to the Redskins", a simple and yet powerful four words that will forever lift my heart and emotionally take me to a place of love, support and family. It saddens me to announce I will not resume my position on the field this year among my teammates but will watch lovingly and supportively from the stands. After 6 years with the Washington Redskins Cheerleaders and having the honor of being a Captain, it's time to "hang up the pom poms." It would be very easy to write a farewell novel (versus a speech) to thank all of those who have made this journey so memorable, but I will stick to those who have had the greatest influence on me. Regardless, the depth of my appreciation for the last 6 years, cannot be summed up in one letter but here is my best shot... 
Dad and Mom- Without you both, I would never be where I am today. You brought me into this world and then you gave me the world (plus the moon and the stars). Thank you for 18 years of cheerleading support and 24 years of life support. Thank you for all the uplifting words of encouragement and thank you for being my cheerleaders! Dad- thank you for all the boot shining and jumping up and down in the stands so I would know the difference between you and all the other fans! Mom- thank you for all the meals and snacks to go, eyelash runs and mending my last minute uniform needs. As parents, you are the epitome of perfection in my eyes and thank you for instilling in me the insight and judgment to know the right thing to do. I'm honored to be your daughter. 
To my dedicated leader and director, Stephanie. Thank you for selecting me!! I am forever grateful to you for picking me out of hundreds of other ladies to be a member of this wonderful family. Thank you for being a great example of how important it was to not just excel on the field, but also in life for the past 6 years. I will miss seeing you but know you are always there. Thank you.
A quick shout out and thank you to the men and women who serve our country! As a cheerleader, I was given the great honor of touring many countries and visiting what seems like hundreds of bases all over the world...to include Iraq and other deployed locations. You are the reason why I kept cheering so many years. Without our servicemen and women, the freedoms we all enjoy as Americans would not exist, and neither would the NFL. GOD BLESS AMERICA and GOD BLESS YOU! I am one of YOUR biggest fans! 
Last but certainly not least, thank you to Redskins Nation and every Redskins fan out there! I became a Redskins Cheerleader at 18 and have grown through adulthood with such a strong identity. Thank you for making this journey worthwhile. The burgundy and gold will always hold a special place in my heart and I hope I have made each and everyone of you proud. You are fan-tastic!  HTTR!
... And to my teammates- As I wipe away tears writing this letter, all the words that come to mind are that I love each and every one of you. "Once a Redskins Cheerleader, always a Redskins Cheerleader!" It has been the greatest honor to dance with all of you. I cannot wait for the alumni reunions and celebrations of life that we will share in the years ahead. I'm always here for you. 
As I say farewell, I would like to conclude this message by saying... All things in life worth having, are worth sharing. Thank you for sharing in this special journey with me. I am forever grateful. 
With Love and Appreciation,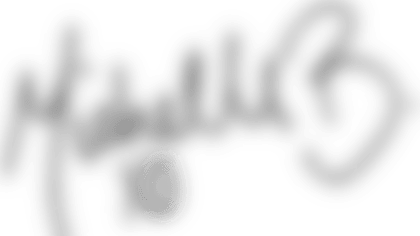 07, 08, 09, 10, 11, 12* *