It's Lee here, writing all the way from Camp Lemonnier in Djibouti. I still can't believe I'm here! I have to stop every day and remind myself that I'm on the other side of the world in Africa! Our schedule has been so hectic, we've been on the go non-stop since we arrived two days ago, but so far it's been the best adventure and it's going to be so hard to leave tomorrow. Everyone we've met on the base has been so excited to see us - all the service men and women I've spoken with have been nothing short of amazing. Not that I have anything to compare it to, but it's a little different touring when you're with eight professional cheerleaders and only two of them are Redskins. There are also two girls from the Tennessee Titans, Minnesota Vikings and the Oakland Raiders here. It's funny how we've come from all over the country, different organizations, different conferences, but we have so much chemistry and more in common than you would think. I can honestly say I've made six new girlfriends in two days (Kristie doesn't count :).
Aside from doing meet and greets with the various units, we've gotten to do so many neat things - from trying on bomb suits with the EOD, to learning about the giant C-130 aircraft from the air force, to wearing the heavy body armor vests and parachutes that the pararescuemen use when they go on missions. So cool. We even got to play some ultimate frisbee with the pararescuemen, when they weren't on rescue alert status and let's just say that the cheerleaders held their own!
Our performance last night was a complete success. Most of the base showed up to support us and watch us perform, so it was a lot of pressure, but we did great. It was a completely different rush than being on the field during gamedays at FedEx and I even got a little choked up when I took a minute to speak to the crowd and express how grateful and honored I was to be on that stage and dancing for them. We received a standing ovation and during the meet and greet after the performance (the line was wrapped around the entire building!) almost everyone thanked us and complimented us on the show. 
As a rookie, an overseas tour has been a dream come true and its something that I will remember for the rest of my life. I can't explain how rewarding its been to bring a little piece of home over here and feel like I've made a difference, however small, in someone's day just doing what I love to do. That's it for now, until next time...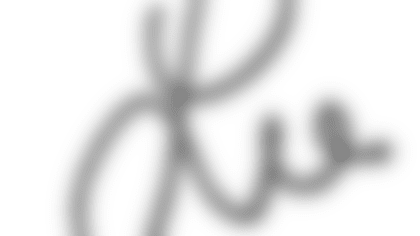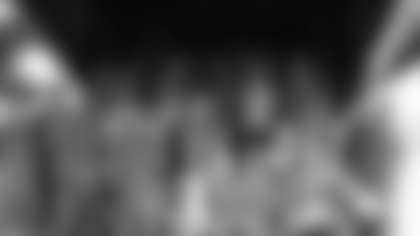 Lee (far left) poses with fellow First Lady, Kristie (front center), and other NFL Cheerleaders