I can't believe it was only yesterday I was roaming the Occidental Grand Payagayo Resort in Costa Rica. The seven days spent there flew by! It was my third calendar trip and I have to say the location was different and very intriguing.  Every day I would be awakened by the exotic birds chirping outside my window.  I felt as if I was surrounded by a tropical jungle! It was quite the experience, and I  have to say the uniqueness of the location gave the photographers some great ideas for the photo shoots!
Overall the trip was absolutely amazing!  Though we were in a breathtaking vacation spot, we were working the entire time.  However we did get time to see other local spots, and for some of the photo shoots our team went to a beautiful secluded waterfall in Coco Beach.  After all of the ladies were done with their shoots, we got the opportunity to go zip lining through the forests that overlooked the water. That was definitely an experience I will never forget!
My photo shoot this year was also very different than my past two.  I was selected to shoot with another girl on the team, Mila. I had so much fun with her!  She actually made me feel a lot more comfortable being in front of a camera instead of being a complete nervous wreck.  We both had Redskins themed outfits that were made from the same type of jersey, just cut differently. I thought we complimented each other very well!
Lastly I would like to give a big thank you to the Occidental Resort! They were so friendly and very welcoming.  We appreciate the staffs kindness and hospitality all throughout the week.  I can't wait to see the final product and share it with all the fans.  After witnessing 36 beautiful women photograph, I can say the 2013-2014 calendar will be the best one yet so make sure to get yours later this summer!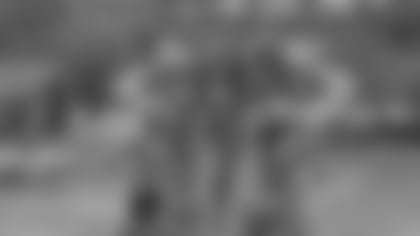 Megan, Lindsey, Maya, Charo, and Maigan pose at the pool.