Redskins fan and Junior Redskins Cheerleaders' father Derek Gaskins shares his "Dance With Your Daddy" JRC experience.
My daughter has been a part of the Junior Redskins Cheerleaders (JRC) organization for 8 years now. As a native Washingtonian born and raised in Southeast, I have always been a lifelong fan of the Redskins. So, when my daughter Gigi expressed interest in joining the JRC, I jumped at the opportunity. We are also season ticketholders, and gamedays have always been a special time for our family to connect and celebrate our passion for football, food, and the city we love.  The past 8 years have been even more special, as I have had the opportunity to witness her perform on the field numerous times. Seeing how professional the JRC organization is from top to bottom has been a true delight. Gigi has blossomed from the experiences, and shows such grace, maturity, stage presence, and rhythm during the performances!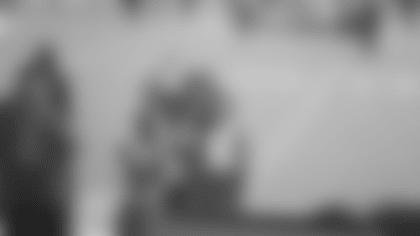 Last week, I had an opportunity to perform on the field with Gigi and the JRC organization. They were doing a special tribute to dad's and our daughters, and the theme was "Dance with your Daddy". I was literally a nervous wreck when I first heard I would have to go on the field and perform.  And at the first practice, the other dads all shared that they also felt the same apprehension. We have such beautiful, talented, AND bossy daughters. Clearly, we didn't want to let them down. We now fully understood the pressure of having to learn a choreographed routine, and go out on the field in front of thousands of fans to perform. Gigi also added a little extra pressure, as she made sure I took it seriously. I was actually out of the country traveling on business the week before the performance, and she would send me email and text reminders to make sure I was practicing the routine.
On game day, I could barely contain the excitement. After practicing the routine, I felt I was ready to go out and represent with Gigi strong! Waiting in the tunnels, then running onto the field with her was euphoric. The instruction from the Redskins cheerleaders could not have been better. All the dads literally rocked it, and the smiles, hugs, and high fives after the performance are memories that will last a lifetime. I cannot thank the JRC organization enough for making this experience possible. It strengthened the bond between me and my daughter, and even helped me prove that I have enough rhythm to perform in front of a packed stadium. #HTTR #HailYeah