Pro Bowl 2020 was one for the books. My Redskins PBC sisters shared that it changed their lives. That it gave them lifelong sisters. I couldn't wrap my head around how until I experienced it for myself.
Feeling inspired after our first dinner officially as a team on Monday, we put our game faces on complete with lashes and lipstick for our team photoshoot. I was star-struck seeing all the ladies in their signature uniforms - their superwoman outfits. Yes, everyone was beautiful and so natural in front of the camera, but what impressed me even more was what was happening behind the scenes. It was 40 degrees and windy with the sun barely peeking out. We were so cold waiting for the right lighting to hit all 26 of us. I was the last one holding my pose. But instead of complaining and being negative, all we could do is smile and laugh in each other's company. Now, when I look at our team poster, the temperature is the last thing I remember.
That positive energy continued throughout a full day of practice on Tuesday. Each of us were responsible for learning 10 pieces of choreography to prep for our first practice - a full SIX hours of dancing. By hour 2, we figured out our game day groups and set formations for routines. By hour 3, we were drilling each routine back to back. By hour 5, we started to lose energy. But we stuck it out for each other. The beautiful part of that practice was going from being strangers who had never danced together, to sisters working together and dancing as a team in just one day. How incredible it was to be part of that.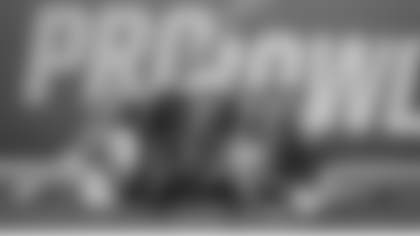 The unity we already established bled into our debut as a team at the Pro Bowl Skills Challenge. It was the first time we'd dance with our groups on the sidelines and perform routines for fans. We had huge smiles on our faces while cheering on all the players, nailing our routines, and meeting awesome fans - and you wouldn't have even known it was chilly and raining. It was only Wednesday and I felt like I had been dancing with my PBC sisters for much longer than I had.
The exciting week continued with performances at special events such as the NFL Pro Bowl Experience, Pro Bowl Opening Night, and the Youth Flag Football Championship. There were also events that allowed us to connect deeper with fans. I got to know people of all ages at the NFL Fan Huddle on Friday, a service event where the Orlando community made care packages alongside players for local nonprofits. That's my favorite aspect about community service we do as cheerleaders – fostering positive relationships with good humans across the country and even overseas on military tours. I had the opportunity to speak to fans about my full-time career in the nonprofit sector at The All-Star Pep Rally at Disney Springs. I felt on top of the world that I had touched people's lives through my passion.
After a full week of experiences, game day was finally here. Stepping foot on the field for our pregame performance was when it hit me – "I'm an NFL Pro Bowl Cheerleader." It only got better from there. Seeing what each cheerleader brought from their team to the sidelines was really cool. Even though we had our own individual styles, they meshed effortlessly because we were just having fun together. But the best part about being on the sidelines was looking up in the stands and seeing my Redskins teammates and family members who flew out for me. There's no greater feeling than knowing I have an amazing support system who loves me and celebrates my successes, and I'm so thankful to have grown that system by gaining many more sisters through this experience.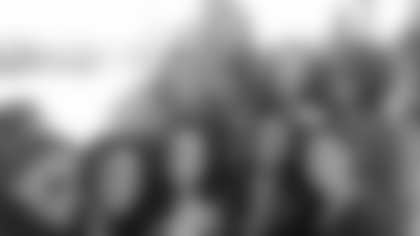 I cried at the end of the game not because I was sad it was over, but because I've never been happier. I've never been happier knowing I did IT. I made it to the Pro Bowl, and I did it by staying true to myself. From my first prep class to now, I was just me. The future is bright and I am going to use this amazing experience as a Pro Bowl Cheerleader to aid in my mission to help young women who want to become a professional cheerleader realize you don't have fit the mold to inspire others. To accomplish your dreams. To make an impact in this world. I've learned to be proud of who I truly am, and I have my entire support system of friends, family, directors, teammates, and now PBC sisters to thank for that. I can't wait to see what's next on my cheer journey – and beyond.