This is Lizbeth and I have always been extremely proud of being Latina. Latino culture is as rich as its delicious food. It is loud; full of laughter and joyful conversation. It is big on family. Tios and Tias are always joking about something and bringing life into every moment. For me though, what is most unique and most beautiful about Latino culture is its music and dance. From an early age, I grew up listening to the sounds of Gloria Estefan, Ricky Martin, Marc Anthony, and Celia Cruz. Salsa, Bachata, Cumbia, and Merengue were always filling the halls of every party. Oh, and let's not forget about Sunday mornings! That was the sacred day of the week where Mami would blast music from a tiny boombox, and we would get to scrubbing! Nothing helps you clean a kitchen faster than a little Bidi Bidi Bom Bom! Right along with our intoxicating music is our dancing. Every genre of Latino music has its own dance to go right along with it. You can dance Salsa on 1 or on 2. Bachata is passionate and sensual, and Merengue will make you jump out of your seat to wiggle around. I have never seen a Latino that has been able to contain themselves when hearing great music. I myself must break into dance when I hear a song that I love and that's why I dance.
As a first generation Mexican-American, I faced many struggles and sacrifices growing up. My mother worked very hard to provide a better life for us, but she could not afford to put me in dance training. From an early age, she raised me to understand that I was not like the other children I was growing up with. We did not have the means to afford the wants in life and had only what we needed. She helped me understand that if I wanted more, I had to go to college and build a financially fit life.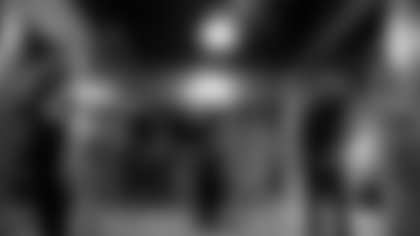 No one outside of my family knew that dancing was my secret dream. I never auditioned for my high school dance team because I didn't believe I would make it. I had no technical training whatsoever. I would sit in the bleachers and watch them perform, wishing I was out there with them. My focus was to get into college, graduate, and build a career so that my mother's sacrifices would be worth it.
I embody "The American Dream" because I relentlessly pursued my ambitions and graduated from Tulane University in 2015 with a degree in Business Administration. Currently, I work as a Fundraising Sales consultant and am able to secure the financial freedom my mother wanted me to have. With that freedom, I decided to take dance classes as an adult because I didn't want to give up my dream of dancing. From those dance classes, I decided to overcome my fears of auditioning for a dance team and pursue my dream becoming a professional cheerleader for the Washington Redskins!
Because of President Ronald Reagan, we celebrate Hispanic Heritage Month, which starts on September 15 and ends October 15. This is our time to honor the histories and cultures of our ancestors who came from Spain, Mexico, the Caribbean, as well as Central and South America.
Who knew the Latino community would become such a big influencer in today's society, impacting both the Music Industry and the Justice System. In fact, many of today's chart-topping hits are performed by Hispanic artists. The collaborative song "I Like It" by Dominican and Trinidadian artist Cardi B, featuring Puerto Rican artist, Bad Bunny, and Colombian artist, J Balvin, is a perfect example of Latinos dominating the U.S. Music Charts. As for the Supreme Court, in 2009, Sonia Maria Sotomayor became the first Latina to serve as an Associate Justice. Talk about Women Empowerment!
My culture has instilled a lot of passion, resilience, and ambition in me. I am not only proud to be a Latina but also proud to add to the diversity of the First Ladies of Football & still honor my passion through dance. I am so happy I get to Hail To The Redskins while honoring my culture! Thank you for celebrating Hispanic Heritage Month with me.