Stop number three of First Ladies Tour 61 was Bahrain! Known for their pearls and 18 carat gold, this country is surrounded entirely by water. Bahrain is also comprised of a small archipelago and sits in the Arabian Sea not far off the coasts of Qatar and Saudi Arabia.
Upon arrival, we saw the Bahrani red and white flag all along the roads alongside red and white decorative lights wrapped around trees for miles and miles. Our MWR (Morale, Welfare & Recreation) representative informed us that the country was celebrating their National Holiday, which annually celebrates the accession of His Majesty King Hamad bin Isa Al Khalifa to power. Bahrain is such a beautiful country filled with gorgeous Islamic-architecture buildings and a warm sun year-round. Lucky for us, we were there during the winter season with temperatures into the mid 80s as opposed to the 110+ weather they encounter during the summertime.
Our first stop on base was to an airfield in Bahrain. There, we toured a Navy surveillance aircraft, sat in a Harrier fighter jet and learned more about what our service men and women do day in and day out to fight for our freedom. We learned how long specific missions are, how many persons can fit on various aircrafts at a time, a little bit about what it takes to build various aircrafts, how long it takes to learn how to man them and the hours put into maintaining their upkeep. What was intriguing to learn was the history behind different planes and the wars they had been in over the last several decades.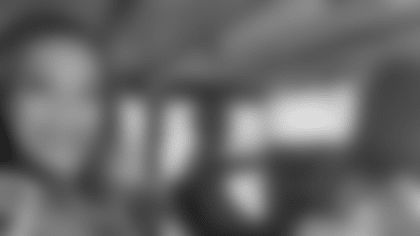 That day we also saw missiles, rode around base on a humvee, were briefed on numerous defense mechanisms, ate in the galley while getting to know more about some of our service men and women, and put on our 5th show of the tour! During our show, not only do we dance routines in a variety of styles, but we also invite people on stage while two of our cheerleaders sing their favorite Christmas carol, have a trivia session with our alumni NFL players and invite members of the audience participate in a dance contest! Our goal is to entertain our service men and women and bring them a little piece of home during the holidays. We also have meet and greets with the audience before we wrap up the evenings.
Day two in Bahrain was just as fun and exciting as day one. For day two, we toured a naval base called NSA Bahrain. NSA stands for Naval Support Activity. We learned more about Humvees, tested our skills on remote controlled vehicles, tried on a bomb suit, toured ships on the water and learned from a dive team. A few of a naval ship's engineers even let Katy and I help work on their ships engine! It was a lot harder than it looked. The dive team showed us their compression chamber, which uses hyperbaric oxygen therapy to treat injured divers ...so cool! After a full day of meet and greets and eating meals in the DFAC to get to know our troops better, we put on a surprise performance for guards who were about to begin their 12-hour shift for the day. They showed us so much praise and gratitude even though we were there to show them our appreciation. After the pop-up performance, we put on our final show of Tour 61 for not only the service men and women, but also their families who live in Bahrain. What an amazing trip.
I was fortunate enough to have this military appreciation tour serve as my fifth with The First Ladies of Football and my third time visiting our troops in Bahrain. Every time I learn more and more and grow an even greater appreciation for our troops. Thank you Armed Forces Entertainment and Geico Military for this incredible experience. To all of our military men and women, thank you for your service. To everyone else, God bless our precious home we get to call, The United States of America.
Happy Holidays Redskins Nation!