I'm Washington Redskins Cheerleader Ambassador, Kaitlin, and I'm also part of this year's Fab Flags group! If you haven't been to a game yet this season, or if you haven't made it into the stadium before kickoff, I highly suggest you do! That's because this year's games are preceded by a highly energized pregame production complete with performances from your beautiful First Ladies of Football, the marching band (really, doesn't "Hail to the Redskins" sound so much better with these guys?!), and six ambassadors. We call ourselves the Fab Flags because, maybe you've guessed it, we twirl large Redskins flags on the field alongside the cheerleaders.
Though slightly intimidated by spinning and twisting a flag pole that's one whole foot taller than me, I was thrilled by the opportunity to step on the field and look out at the best fans in the NFL before each game. Anyone can feel the energy in the stands during a game, and trust me, I've been to many Redskins games before my time as an Ambassador, so I've felt this energy first hand. But being down in the center of it all, between the fans cheering us on and my teammates yelling encouraging words throughout the performance, the energy felt on the field is unmatched.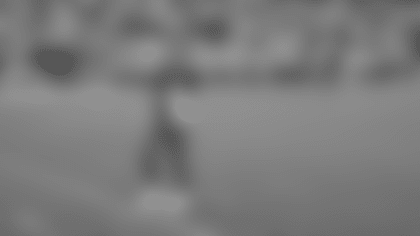 The entire Fab Flags experience has enhanced my job as an Ambassador and allowed me to really experience the NFL on another level. From late-night practices at Redskins Park the Thursday before a game to practicing in the rain five hours before kickoff, I'm grateful for each opportunity. So, if you haven't yet caught one of our pregame performances, I hope to see you in the stands before kickoff at our next home game!
Keep hailing, Redskins nation!