Gameday Graphic for Game on 8/12/2010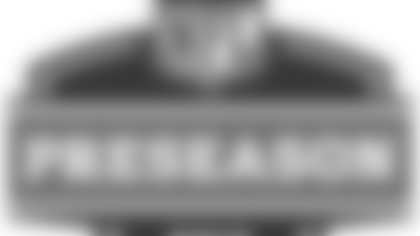 The Redskins open their 2010 preseason schedule in early August when they host the Buffalo Bills at FedExField.
FedExField is a natural grass surface. The stadium seats 91,704.
The Redskins are coming off a 4-12 campaign last season while the Bills posted a 7-9 record for the third consecutive year.
The Bills preseason game marks the debut of Mike Shanahan as Redskins head coach. Shahanan interviewed for the Bills head coaching job prior to accepting the Redskins' job on Jan. 6.
The game also marks the debut of new Redskins quarterback Donovan McNabb, who joined Washington as part of a trade with the Philadelphia Eagles on April 4.
The game will be televised locally on NBC-4 and Comcast SportsNet. It will be televised nationally on NFL Network. Kenny Albert handles the play-by-play with color commentary provided by Joe Theismann. Former Redskin Rick 'Doc' Walker reports from the sidelines.
On radio, the game will be broadcast locally on ESPN 980 and the Redskins Radio Network. Larry Michael calls the play-by-play with former Redskins and Hall of Famers Sonny Jurgensen and Sam Huff adding color commentary. Chris Russell reports from the sidelines.
The Redskins are 111-115-2 in preseason play since 1961.
In Week 2 of preseason, the Redskins host the Baltimore Ravens at FedExField.
The Redskins' first preseason road trip is to the East Rutherford, N.J., on the New York Jets at the new Meadowlands Stadium.
In Week 4 of preseason, the Redskins go west to take on the Arizona Cardinals at University of Phoenix Stadium.
---
PROJECTED STARTING LINEUPS
OFFENSE
Pos.
Redskins
Bills
WR
89 Santana Moss
83 Lee Evans
LT
72 Trent Williams
77 Demetrius Bell
LG
66 Derrick Dockery
67 Andy Levitre
C
61 Casey Rabach
63 Geoff Hangartner
RG
75 Artis Hicks
70 Eric Wood
RT
74 Stephon Heyer
74 Cornell Green
TE
47 Chris Cooley
88 Jonathan Stupar
WR
84 Joey Galloway
13 Steve Johnson
QB
5 Donovan McNabb
5 Trent Edwards
FB
45 Mike Sellers
38 Corey McIntyre
RB
26 Clinton Portis
22 Fred Jackson
DEFENSE
Pos.
Redskins
Bills
DE
94 Adam Carriker
99 Marcus Stroud
NT
96 Ma'ake Kemoeatu
95 Kyle Williams
DE
64 Kedric Golston
98 Dwan Edwards
OLB
99 Andre Carter
90 Chris Kelsay
ILB
59 London Fletcher
54 Andra Davis
ILB
52 Rocky McIntosh
51 Paul Posluszny
OLB
98 Brian Orakpo
53 Reggie Torbor
LCB
23 DeAngelo Hall
24 Terrence McGee
RCB
22 Carlos Rogers
29 Drayton Florence
SS
30 LaRon Landry
20 Donte Whitner
FS
41 Kareem Moore
31 Jairus Byrd
SPECIAL TEAMS
Pos.
Redskins
Bills
P
6 Josh Bidwell
8 Brian Moorman
K
4 Graham Gano
9 Rian Lindell
H
6 Josh Bidwell
6 Josh Bidwell
LS
57 Nick Sundberg
65 Garrison Sanborn
KOR
11 Devin Thomas
13 Steve Johnson
PR
31 Phillip Buchanon
13 Steve Johnson
---
Washington and Buffalo have met 12 times in preseason play, with the Redskins holding a 7-5 edge.
The last time the Redskins and Bills met in preseason was in 2008 at FedExField, with the Redskins winning 17-14.
In the regular season and postseason, the Redskins and Bills have met 11 times, with Buffalo holding the overall advantage 7-4.
The Bills have won the last five regular season meetings since falling to Washington 37-24 in Super Bowl XXVI.
In that game, Super Bowl MVP Mark Rypien threw touchdown passes to Earnest Byner and Gary Clark and Gerald Riggs rushed for two touchdowns. The Redskins' defense dominated, limiting Thurman Thomas to just 13 yards on 10 carries and sacking Jim Kelly five times.
The last time the two teams played in the regular season was Dec. 2, 2007 at FedExField.
The Bills won 17-16 in an emotional game that occurred five days after the death of safety Sean Taylor. Rian Lindell connected on a last-second 36-yard field goal to give the Bills the win.
---
REDSKINS 2009 RANKINGS
Offense
Rank
Yards/Game
Total Offense
22
312.5
Rushing Offense
27
94.4
Passing Offense
16
218.1
Defense
Rank
Yards/Game
Total Defense
10
319.7
Rushing Defense
16
112.4
Passing Defense
8
207.2
 </tbody>

BILLS 2009 RANKINGS
Offense
Rank
Yards/Game
Total Offense
11
359.8
Rushing Offense
16
116.7
Passing Offense
30
273.9
Defense
Rank
Yards/Game
Total Defense
19
340.6
Rushing Defense
30
156.3
Passing Defense
2
184.2
---
FAMILIAR FACES ON THE BILLS
Defensive coordinator George Edwards served in the same role with the Redskins in 2003 working under then-head coach Steve Spurrier. He was previously assistant defensive coordinator and linebackers coach for the Redskins in 2002.
Secondary coach George Catavolos was defensive backs coach for the Redskins from 2002-03.
Wide receivers coach Stan Hixon served in the same role with the Redskins from 2004-09. He coached under Joe Gibbs from 2004-07 and Jim Zorn the last two years.
Offensive tackle Cornell Green was with the Redskins during 2000 training camp.
---
REDSKINS-BILLS NEWS & NOTES
-- A New And Improved FedExField
The Redskins have announced new improvements to FedExField for the 2010 season.
Among the improvements to the facility include the installation of new HD video boards, a complete replacement of the stadium's video control room, a new text message traffic alert system, installation of the locker of the late Sean Taylor for viewing on the club level, and club level party decks.
"Everything we are doing is focused on continuing to improve the gameday experience for fans at FedExField," Redskins chief 0perating officer David P. Donovan said. "We believe fans will really feel the impact of these improvements."
The HD video boards are accompanied by eight new digital ribbon boards to provide fans with out-of-town scores, statistics and more, all monitored and operated from a state-of-the-art control room located on the Owner's Club Level.
The improvements will allow for simultaneous multi-angle game highlights and replays, game graphics and other high definition content.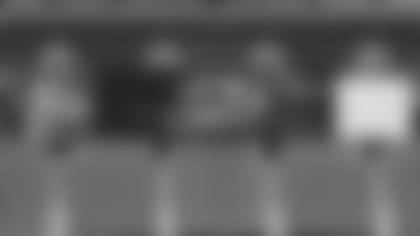 "When the stadium was first built, high definition didn't exist at the time in this capacity," Redskins owner Daniel M. Snyder said. "So we said, 'Hey, this is a real opportunity,' so we upgraded it...It's important that we keep up with the quality of entertainment. This is really state of the art."
-- Traffic Alerts Via Text Messaging
For the 2010 season, the Redskins will provide traffic alerts via text message, giving fans access to regular updates on the best routes to use to get to FedExField on gameday.
The service will provide information on gameday bottlenecks to avoid up until kickoff, as well as announcements on any post-game traffic issues that arise to help fans get to and from the stadium for every home game.
Redskins staff will monitor traffic on the Beltway, Landover Road, Arena Drive and Central Avenue to provide up-to-the-minute updates. Fans can opt-in to these alerts by completing the signup form at www.redskins.com/trafficalerts.
The Redskins also have updated route guidance to the stadium to give fans alternatives to Beltway exits 15, 16 and 17, including turn-by-turn guidance so fans from Washington, D.C. and Northern Virginia can enter the stadium grounds from the west on either Landover Road or Central Avenue. This information and more can be found online at www.redskins.com/parking.
-- How the Redskins' 80-Man Roster Was Built
The Redskins have 25 players on the roster that the team drafted, including 2010 first-round pick Trent Williams and 2009 supplemental draft pick Jeremy Jarmon.
Mike Sellers is the longest-tenured Redskins. He had a stint with the Redskins in 1998-2000 and rejoined the team in 2004.
Washington has used unrestricted free agency to acquire 28 players, including Casey Rabach in 2005, Andre Carter in 2006, London Fletcher in 2007, DeAngelo Hall in 2008, Albert Haynesworth in 2009 and Ma'ake Kemoeatu in 2010.
Nine Redskins players were acquired as undrafted rookie free agents. This group includes offensive linemen Stephon Heyer and Edwin Williams and cornerback Byron Westbrook, all local products.
The team has acquired six players via trade, including Clinton Portis, Santana Moss, Donovan McNabb, Adam Carriker and Jammal Brown.
The Redskins have claimed just one player off waivers: cornerback Ramzee Robinson.
Middle linebacker London Fletcher played for the Bills from 2002-06 and led the team in tackles every season.
He had his best season with the Bills in 2006, recording 157 tackles, two sacks and four interceptions, one of which he returned for a touchdown.
Fletcher has been one of the NFL's most consistent and productive defensive players throughout his 10-year career.
That continued last season, his third in the nation's capital, as the 5-foot-10, 245-pound Fletcher earned his first Pro Bowl berth after starting all 16 of the team's games and leading the Redskins with 172 tackles.
Last year also marked the 11th straight in which he recorded at least 100 tackles, dating back to 1999 when he was in his second season with the St. Louis Rams.
In March 2006, Derrick Dockery signed a lucrative free agent contract with the Buffalo Bills.
Dockery spent two years with the Bills but never truly felt at home.
So when the Bills released him two years ago, he quickly signed back with the Redskins, the team that drafted him in 2003.
"I just believe it was meant to be for me to be here," Dockery admitted. "Everything happens for a reason and I'm just elated to be back. This is where I belong."
Before Jim Haslett was a high-profile head coach and defensive coordinator in the NFL, he was a 1979 second-round draft pick by the Buffalo Bills.
Haslett was an inside linebacker for eight seasons in the NFL, seven with Buffalo.
As a rookie, he would go on to win Associated Press Defensive Rookie of the Year in 1979 and followed that up with an All-Pro selection in 1980.
Haslett is a Pittsburgh native.
He got his coaching start at the University of Buffalo in 1988 where he served as a linebackers coach. He was named defensive coordinator at the University of Buffalo in 1989 and served in that role for two years.
-- Gailey Takes Over In Buffalo
When last the Redskins saw Chan Gailey, he was the head coach of the Dallas Cowboys in 1998-99.
Gailey guided the Cowboys to four wins over the Redskins in that span.
Now Gailey is the head coach of the Bills. He had a stint with the Miami Dolphins from 2000-01 and was head coach at Georgia Tech from 2002-07.
He was with the Kansas City Chiefs as offensive coordinator in 2008.
-- Wang An Ashburn Native
In the fifth round of last April's NFL Draft, the Bills selected offensive tackle Ed Wang from Virginia Tech.
Wang grew up in Ashburn, Va., where the Redskins have their year-round practice facility. He attended Stone Bridge High School in Ashburn, Va.
Wang is the first Chinese-American player drafted into the NFL.
He is not expected to play in Friday's preseason game, however. He is out indefinitely after undergoing surgery on his hand on Aug. 5.
FedExField is the largest stadium in the NFL with 91,704 seats.
It is more than 11,000 seats ahead of the second biggest stadium, the new Cowboys Stadium. (Cowboys Stadium is expandabe to seat up to 100,000.)
The Redskins set a single-game attendance record--90,910--in a Dec. 30, 2007 game against the Cowboys.
After the Bills preseason game, the Redskins host the Baltimore Ravens at FedExField.
It's the fifth time in the last six years that the Redskins play the Ravens in preseason.
Last year, the Ravens defeated the Redskins 23-0 at M&T Bank Stadium.