Gameday Graphic for Game on 8/19/2010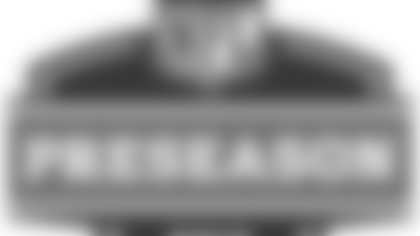 The Redskins host the Baltimore Ravens on Saturday, Aug. 21 at FedExField in the second preseason game for both teams.
FedExField is a natural grass surface. The stadium seats 91,704.
It's the fifth time in the last seven years that the Redskins and Ravens have squared off in preseason.
The Redskins are coming off a convincing 42-17 victory over the Buffalo Bills at FedExField in their preseason opener.
The Ravens opened their preseason with a 17-12 win over the Carolina Panthers at M&T Bank Stadium.
The game will be televised locally on NBC-4 and Comcast SportsNet. It will be televised nationally on NFL Network. Mike Patrick handles the play-by-play with color commentary provided by Joe Theismann. Former Redskin Rick 'Doc' Walker reports from the sidelines.
On radio, the game will be broadcast locally on ESPN 980 and the Redskins Radio Network. Larry Michael calls the play-by-play with former Redskins and Hall of Famers Sonny Jurgensen and Sam Huff adding color commentary. Scott Linn reports from the sidelines.
The Redskins are 112-115-2 in preseason play since 1961, including last week's victory over the Bills.
The Redskins' first preseason road trip is to the East Rutherford, N.J., on the New York Jets at the new Meadowlands Stadium.
In Week 4 of preseason, the Redskins go west to take on the Arizona Cardinals at University of Phoenix Stadium.
---
PROJECTED STARTING LINEUPS
OFFENSE
Pos.
Redskins
Ravens
WR
89 Santana Moss
85 Derrick Mason
LT
72 Trent Williams
74 Michael Oher
LG
66 Derrick Dockery
66 Ben Grubbs
C
61 Casey Rabach
77 Matt Birk
RG
75 Artis Hicks
73 Marshall Yanda
RT
74 Stephon Heyer
71 Jared Gaither
TE
47 Chris Cooley
86 Todd Heap
WR
84 Joey Galloway
81 Anquan Boldin
QB
5 Donovan McNabb
5 Joe Flacco
FB
45 Mike Sellers
33 Le'Ron McClain
RB
26 Clinton Portis
27 Ray Rice
DEFENSE
Pos.
Redskins
Ravens
DE
94 Adam Carriker
92 Haloti Ngata
NT
96 Ma'ake Kemoeatu
97 Kelly Gregg
DE
64 Kedric Golston
93 Cory Redding
OLB
99 Andre Carter
55 Terrell Suggs
ILB
59 London Fletcher
53 Jameel McClain
ILB
52 Rocky McIntosh
52 Ray Lewis
OLB
98 Brian Orakpo
95 Jarret Johnson
LCB
23 DeAngelo Hall
25 Chris Carr
RCB
22 Carlos Rogers
31 Fabian Washington
SS
30 LaRon Landry
26 Dawan Landry
FS
41 Kareem Moore
20 Ed Reed
SPECIAL TEAMS
Pos.
Redskins
Ravens
P
6 Josh Bidwell
4 Sam Koch
K
4 Graham Gano
17 Shayne Graham
H
6 Josh Bidwell
4 Sam Koch
LS
57 Nick Sundberg
70 Matt Katula
KOR
11 Devin Thomas
34 Jalen Parmelee
PR
31 Phillip Buchanon
25 Chris Carr
---
The Redskins and Baltimore Ravens have played five times in the preseason, with the Ravens leading the series 3-2.
The Redskins and Ravens have played three times at FedExField, the most recent being on Aug. 25, 2007, when the Redskins won 13-7. The game was called early in the third quarter due to an incoming thunderstorm.
Last year at M&T Bank Stadium in Baltimore, the Ravens defeated the Redskins 23-0 in the preseason opener for both clubs. It was just the second time the Redskins and Ravens played a preseason game in Baltimore.
In the regular season, the two franchises have played four times, with the Ravens holding a 3-1 series lead.
On Dec. 7, 2008, the Ravens defeated the Redskins 24-10 at M&T Bank Stadium in the last regular season matchup between the I-95 rivals.
---
REDSKINS 2009 RANKINGS
Offense
Rank
Yards/Game
Total Offense
22
312.5
Rushing Offense
27
94.4
Passing Offense
16
218.1
Defense
Rank
Yards/Game
Total Defense
10
319.7
Rushing Defense
16
112.4
Passing Defense
8
207.2
 </tbody>

RAVENS 2009 RANKINGS
Offense
Rank
Yards/Game
Total Offense
13
351.2
Rushing Offense
5
137.5
Passing Offense
18
213.7
Defense
Rank
Yards/Game
Total Defense
3
---
FAMILIAR FACES ON THE RAVENS
Quarterbacks coach Jim Zorn served as head coach of the Redskins from 2008-09. He was relieved of his duties as head coach following the 2009 season as the Redskins finished with a 4-12 record. In two years, Zorn posted a 12-20 record with the Redskins.
Senior offensive consultant Al Saunders served as associate head coach-offense for the Redskins in 2006-07. He called offensive plays on Joe Gibbs' staff during those two years and helped guide the Redskins to a playoff berth in 2007.
Offensive coordinator Cam Cameron was the quarterbacks coach for the Redskins from 1994-96. He helped develop the skills of quarterbacks Trent Green and Gus Frerotte during his tenure in Washington.
Assistant strength and conditioning coach John "Mother" Dunn served as head strength and conditioning coach for the Redskins from 2004-05.
Director of player personnel Eric DeCosta had his first NFL experience with a 1995 internship with the Redskins' player personnel department.
Cornerback Doug Dutch, a Washington, D.C., native, was on the Redskins' practice squad in 2009. He rejoined the team for 2010 training camp but he was traded to the Ravens on Aug. 3 for quarterback John Beck.
---
REDSKINS-RAVENS NEWS & NOTES
-- A New And Improved FedExField
The Redskins have announced new improvements to FedExField for the 2010 season.
Among the improvements to the facility include the installation of new HD video boards, a complete replacement of the stadium's video control room, a new text message traffic alert system, installation of the locker of the late Sean Taylor for viewing on the club level, and club level party decks.
"Everything we are doing is focused on continuing to improve the gameday experience for fans at FedExField," Redskins chief 0perating officer David P. Donovan said. "We believe fans will really feel the impact of these improvements."
The HD video boards are accompanied by eight new digital ribbon boards to provide fans with out-of-town scores, statistics and more, all monitored and operated from a state-of-the-art control room located on the Owner's Club Level.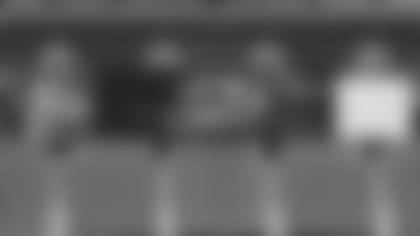 The improvements will allow for simultaneous multi-angle game highlights and replays, game graphics and other high definition content.
"When the stadium was first built, high definition didn't exist at the time in this capacity," Redskins owner Daniel M. Snyder said. "So we said, 'Hey, this is a real opportunity,' so we upgraded it...It's important that we keep up with the quality of entertainment. This is really state of the art."
-- Traffic Alerts Via Text Messaging
For the 2010 season, the Redskins are providing traffic alerts via text message, giving fans access to regular updates on the best routes to use to get to FedExField on gameday.
The service provides information on gameday bottlenecks to avoid up until kickoff, as well as announcements on any post-game traffic issues that arise to help fans get to and from the stadium for every home game.
Redskins staff monitor traffic on the Beltway, Landover Road, Arena Drive and Central Avenue to provide up-to-the-minute updates. Fans can opt-in to these alerts by completing the signup form at www.redskins.com/trafficalerts.
The Redskins also have updated route guidance to the stadium to give fans alternatives to Beltway exits 15, 16 and 17, including turn-by-turn guidance so fans from Washington, D.C. and Northern Virginia can enter the stadium grounds from the west on either Landover Road or Central Avenue. This information and more can be found online at www.redskins.com/parking.
-- How the Redskins' 80-Man Roster Was Built
The Redskins have 25 players on the roster that the team drafted, including 2010 first-round pick Trent Williams and 2009 supplemental draft pick Jeremy Jarmon.
Mike Sellers is the longest-tenured Redskins. He had a stint with the Redskins in 1998-2000 and rejoined the team in 2004.
Washington has used unrestricted free agency to acquire 29 players, including Casey Rabach in 2005, Andre Carter in 2006, London Fletcher in 2007, DeAngelo Hall in 2008, Albert Haynesworth in 2009 and Ma'ake Kemoeatu in 2010.
Nine Redskins players were acquired as undrafted rookie free agents. This group includes offensive linemen Stephon Heyer and Edwin Williams and cornerback Byron Westbrook, all local products.
The team has acquired six players via trade: Clinton Portis, Santana Moss, Donovan McNabb, Adam Carriker, Jammal Brown and John Beck.
The Redskins have claimed just one player off waivers: cornerback Ramzee Robinson.
Casey Rabach got his NFL start with the Ravens, the team that drafted him in the third round of the 2001 draft.
In 2004, the year before he signed with the Redskins, Rabach started 15 games at center and one at left guard for the Ravens.
The 6-1, 305-pounder had paved the way for Jamal Lewis's third consecutive 1,000-yard rushing season in 2004 and helped the Ravens' offense compile more than 2,000 rushing yards on the season.
At the time, the Ravens were committed to Mike Flynn as their long-term answer at center, though.
"I knew the day was coming when I would leave [Baltimore]," Rabach said after signing with the Redskins. "[The Ravens] had their starting center up there and they made that clear when they signed Mike back. There are no ill feelings toward them. It was just time to move on.
"What a great feeling it was to come down here to Washington. Everything kind of fell into place."
Since joining the Redskins, Rabach has missed just one game. Flynn has since moved on from the Ravens. He was with New England in preseason earlier this year.
Cornerback Kevin Barnes grew up in Glen Burnie, Md., and played college football at the University of Maryland, so one would expect he might feel a connection to the Baltimore Ravens. That could not be further from the truth.
"I was never a Ravens fan," Barnes said. "In fact the Ravens weren't even [in Baltimore] when I first moved to Maryland. It has always been the Redskins."
The Ravens were the team that Barnes played against in his first NFL preseason game last year. He found himself getting blocked by 6-year veteran cornerback and fellow Maryland alum Domonique Foxworth on punt coverage.
"He definitely introduced me to the NFL," Barnes said, smiling. "But now I'm a year older, a year stronger, and a year more experienced, so I'm ready for anyone."
Foxworth, incidentally, is on Ravens' injured reserve with a knee ligament injury.
The Landry brothers -- Redskins' LaRon and Ravens' Dawan -- had hoped to play against each other in an NFL regular season game for the first time on Dec. 7, 2008.
But Dawan suffered a neck injury earlier that season. He was eventually placed on injured reserve.
They played together on the same NFL field for the first time last year at M&T Bank Stadium. The Ravens won that game 23-0.
LaRon was the Redskins' first-round draft pick in 2007. Dawan Landry was the Ravens' fifth-round draft pick in 2006.
Last year, LaRon's third as a starter in the Redskins' secondary, he recorded 90 tackles, one sack, one interception and six passes defended.
One of his three career interceptions was off Ravens' quarterback Joe Flacco in the Dec. 7, 2008 game at M&T Bank Stadium.
In early August, the Redskins acquired quarterback John Beck from the Ravens in exchange for cornerback Doug Dutch.
Beck, a 2007 second-round draft pick by the Miami Dolphins, is a fourth-year quarterback competing for a backup job on the Redskins.
He admits it's going to feel weird competing against a team he played for just a few weeks ago.
"When I was watching tape of them, I felt like I was watching practice tape," Beck said. "I'm so used to watching the Ravens defense in practice every day during the offeeason. So I'm very familiar with them.
"You know what's awesome is that in just two weeks, I feel like a Redskin. That quick. I spend all my time here, I'm really trying to be the best I can be for this team. And the Ravens are my old team.
"I'll be out there watching my old team, but I don't feel like a part of that team. I feel like a Redskin."
-- Maryland O-Line Connections
Redskins' offensive linemen Stephon Heyer and Edwin Williams and Ravens' offensive tackle Jared Gaither were all teammates at the University of Maryland from 2005-06.
Heyer joined Washington as an undrafted rookie in 2007 and has emerged as a starting-caliber right tackle.
Williams started two games as a rookie last year.
Gaither joined the Ravens as a fifth-round selection in the NFL's Supplemental Draft in 2007. He started 11 games at left tackle for the Ravens last season.
-- PLAY 60 With Redskins and Playworks!
Playworks, a national non-profit organization dedicated to giving every child the chance to play every day, will share its expertise in play and physical activity just before the Redskins-Ravens game.
Playworks will be running fun games for children ages 4-12 just outside the Sprint Gate from 3 p.m. until kickoff. This area will be called the Redskins PLAY 60 Playzone.
Games played in the Playzone will include classic and new games like "Four-Square," "Switch," and variations of tag. The games will be easy to learn and fun. The Playzone environment will be high-energy, inclusive of everyone regardless of skill level, and accessibility.
FedExField is the largest stadium in the NFL with 91,704 seats.
It is more than 11,000 seats ahead of the second biggest stadium, the new Cowboys Stadium. (Cowboys Stadium is expandabe to seat up to 100,000.)
The Redskins set a single-game attendance record--90,910--in a Dec. 30, 2007 game against the Cowboys.
After the Ravens preseason game, the Redskins travel to North Jersey to take on the New York Jets on Friday, Aug. 27 at the new Meadowlands Stadium.
It's the second time in the last three years the Redskins and Jets have played in the preseason. In 2008, the Redskins prevailed 13-10 over the Jets.
The third preseason game is a pivotal one for many on the roster. First preseason cuts are due on Aug. 31, four days after the Jets game.