Gameday Graphic for Game on 8/22/2009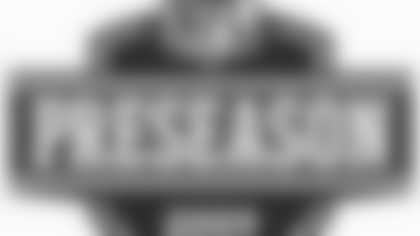 Saturday evening began with a steady rain and an uneven performance by the Redskins' first-teamers.
It ended with excitement in the team's core of reserves and roster hopefuls.
Fourth-string quarterback Chase Daniel threw two second-half touchdown passes as the Redskins came from behind to defeat the Pittsburgh Steelers 17-13 at FedExField.
The win evened the Redskins' preseason record at 1-1.
Daniel, who finished the game 6-of-8 for 58 yards, tossed a 3-yard touchdown pass to rookie Marko Mitchell and an 18-yard TD to second-year tight end Fred Davis to provide the winning points.
It was a far different outcome than Washington's preseason opener. The Redskins lost to the Baltimore Ravens 23-0 on Aug. 13 and Jim Zorn referred to some players' performances as "soft."
After Saturday's win over Pittsburgh, Zorn said he was thrilled to see his team "come out and play with a little more enthusiasm."
Jason Campbell's statistics were nothing to get enthusiastic about--he completed just 1-of-7 passes for 10 yards in three offensive series--but he did guide the offense into scoring range on the Redskins' opening possession.
"We got into a rhythm," Campbell said. "We were moving the ball and we were feeling comfortable. We tried to make quick decisions and take what they were giving us."
Overall, the Redskins compiled 304 yards of offense and 20 first downs and converted 9-of-18 third-down plays. Clinton Portis was solid with 26 yards on five carries and backup Marcus Mason added a team-high 45 yards on 11 carries.
The defense allowed just 238 yards, including 139 passing yards. Brian Orakpo was active again, recording four tackles, and Chris Wilson added a sack in the second half.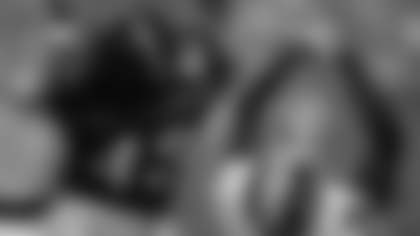 Four hours before kickoff, there was thunder and lightning in the Landover, Md., region and a steady rain fell into the evening.
Inclement weather would not deter Zorn's aggressive play-calling, though.
Campbell's first pass of the game was a deep toss downfield to Malcolm Kelly, who made the start ahead of Devin Thomas.
Kelly had a step on his closest defender and the ball was on target, but safety Troy Polamalu sped across field and swatted the pass away.
Two incomplete passes later, the Redskins lined up to punt. Ethan Albright's snap went to punt protector Rock Cartwright. Cartwright sped around right end and picked up 15 yards and a first down.
Momentum on their side, Campbell threw a 10-yard pass to Chris Cooley for his only completion and a first down. Then the Redskins turned to the ground game. Ladell Betts picked up seven yards on a 3rd-and-4 play and Clinton Portis picked up 11 yards and eight yards on consecutive carries.
On 3rd-and-1 at the Steelers' 2-yard line, Betts ran to the left but he was quickly swarmed by a group of Steelers led by linebacker Keyaron Fox.
The Redskins had to settle for Shaun Suisham's 20-yard field goal.
With Pittsburgh quarterback Ben Roethlisberger sidelined due to a foot injury, the Redskins' defense faced off against backup Charlie Batch.
The front four got strong pressure right off the bat.
For the second preseason game in a row, Andre Carter swatted away the first pass of the game by the opposing quarterback. (The play was ultimately nullified due to an offensive holding call.) Later, rookie Brian Orakpo pressured Batch into an incomplete pass.
Late in the first quarter, Batch engineered a drive deep into Redskins' territory. He tossed a 24-yard pass to wide receiver Hines Ward to the 13-yard line and a 10-yard pass to tight end Heath Miller to the 3-yard line.
One play later, running back Willie Parker took a handoff and ran a sweep to the right. He avoided a tackle by LaRon Landry and raced into the end zone for a 3-yard touchdown run.
The Steelers moved into scoring range again with quarterback Dennis Dixon at the helm late in the first half.
Dixon completed a 17-yard pass to wide receiver Limas Sweed, then scrambled to the Redskins' 14-yard line for another 17-yard pickup. The drive stalled, though. Kicker Jeff Reed converted a 34-yard field goal for the final points of the half.
In the second half, Daniel took the helm at quarterback for the first time in preseason.
His first pass was off the mark, but his second throw was a 13-yarder to Davis along the right sideline. Then Marcus Mason reeled off an 18-yard run to move the offense into scoring range.
Faced with a 4th-and-2 at the Steelers' 17-yard line, Jim Zorn opted to go for it. On a run to the right, Rock Cartwright pushed through tacklers for the necessary 2 yards.
Daniel was faced with another critical play on a 3rd-and-goal at the Steelers' 3-yard line.
He dropped back and threw a fade pass to the left corner of the end zone. Mitchell leaped up for the ball ahead of cornerback Joe Burnett. Mitchell, who at 6-4 has five inches on Burnett, kept both feet in bounds for a game-tying touchdown catch.
Special teams erred on the ensuing kickoff as returner Stefan Logan brought back the kick 60 yards to the Redskins' 45-yard line.
Then Dixon completed an 18-yard pass to wide receiver Martin Nance. The Redskins' defense clamped down after that, limiting the Steelers to a field goal. Kicker Piotr Czech converted a 41-yarder to give Pittsburgh a 13-10 lead.
The Redskins' special teams made up for its gaffe when, on a punt return early in the fourth quarter, Davis jarred the ball loose from Burnett's hands. Darrel Young pounced on the fumble at the Steelers' 18-yard line.
Next play, Daniel dropped back and saw Davis had beaten coverage on a downfield route. Daniel threw a wobbly pass but it had enough distance to reach Davis for an 18-yard touchdown catch.
The score gave the Redskins a 17-13 lead.
Colt Brennan replaced Daniel midway through the fourth quarter and converted two third-down throws, including a 20-yard pass to Robbie Agnone to the Steelers' 15-yard line.
Two plays later, Brennan tried to fire in a pass to Todd Yoder at the Steelers' 10-yard line and linebacker Tom Korte picked it off.
The Steelers had one last chance to drive downfield for a game-winning score, but could not convert with fourth-string quarterback Mike Reilly at the helm.
So the Redskins pulled out a win.
Now they need their starters--specifically Jason Campbell--to retake the spotlight from the reserves.
[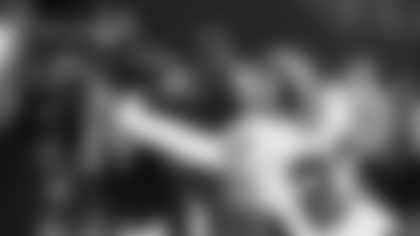 Photo Album: Redskins-Steelers](/media-gallery/photos/preseason-week-2-redskins-steelers/02AF09CB-B791-46FD-BD84-FE8FF53DE3FA)
---
The Redskins host the defending Super Bowl champion Pittsburgh Steelers on Saturday, Aug. 22 in the presason home opener at FedExField. Kickoff is 7:30 p.m. ET.
FedExField is a natural grass surface. The stadium seats 91,704.
In the first week of preseason, the Redskins lost to the Baltimore Ravens 23-0 on Aug. 13 while the Steelers defeated the Arizona Cardinals 20-10 in a rematch of Super Bowl XLIII.
The Redskins are 110-113-2 all-time in preseason games, including the club's loss to the Ravens. Last year, the Redskins were 3-2 in preseason.
The preseason game vs. Pittsburgh is the second of four exhibition contests against the AFC.
The Redskins also host the New England Patriots on Aug. 28 and close out preseason with a road game at Jacksonville on Sept. 3.
Last year, Washington finished at 8-8--including 1-3 against the AFC North--while Pittsburgh was 12-4 en route to winning the Super Bowl.
The Redskins-Steelers game will be televised on NBC-4 and Comcast SportsNet. Mike Patrick calls the play-by-play with Joe Theismann providing the color commentary. Lindsay Czarniak and Kelli Johnson serve as sideline reporters.
On radio, the game will be broadcast locally on the Redskins Radio Network. Larry Michael calls the play-by-play with former Redskins and Hall of Famers Sonny Jurgensen and Sam Huff adding color commentary. Former Redskin Rick 'Doc' Walker reports from the sidelines.
---
PROJECTED STARTING LINEUPS
OFFENSE
Pos.
Redskins
Steelers
WR
89 Santana Moss
86 Hines Ward
LT
60 Chris Samuels
78 Max Starks
LG
66 Derrick Dockery
68 Chris Kemoeatu
C
61 Casey Rabach
62 Justin Hartwig
RG
77 Randy Thomas
72 Darnell Stapleton
RT
74 Stephon Heyer
74 Willie Colon
TE
47 Chris Cooley
83 Heath Miller
WR
82 Antwaan Randle El
10 Santonio Holmes
QB
17 Jason Campbell
16 Charlie Batch
FB
45 Mike Sellers
34 Carey Davis
RB
26 Clinton Portis
39 Willie Parker
DEFENSE
Pos.
Redskins
Steelers
DE
99 Andre Carter
91 Aaron Smith
DT
96 Cornelius Griffin
98 Casey Hampton
DT
92 Albert Hayneworth
99 Brett Keisel
DE/LB
93 Phillip Daniels
56 LaMarr Woodley
LB
98 Brian Orakpo
51 James Farrior
LB
59 London Fletcher
94 L. Timmons
LB
52 Rocky McIntosh
92 James Harrison
LCB
22 Carlos Rogers
24 Ike Taylor
RCB
23 DeAngelo Hall
26 DeShea Townsend
SS
48 Chris Horton
43 Troy Polamalu
FS
30 LaRon Landry
25 Ryan Clark
SPECIAL TEAMS
Pos.
Redskins
Steelers
P
3 Hunter Smith
9 Daniel Sepulveda
K
6 Shaun Suisham
3 Jeff Reed
H
3 Hunter Smith
9 Daniel Sepulveda
LS
67 Ethan Albright
60 Greg Warren
KOR
31 Rock Cartwright
21 Mewelde Moore
PR
82 A. Randle El
21 Mewelde Moore
---
The Redskins and Steelers have met a total of 18 times in preseason, with Washington holding a 12-5-1 edge.
The two franchises last faced off in the preseason in 2007, with the Steelers pulling out a 12-10 victory at FedExField.
In the regular season, the Redskins and Steelers have played 76 times, with Washington holding a 42-31-3 edge in the series.
The last time the two clubs met in the regular season was last year, on Nov. 3, 2008, when the Steelers defeated the Redskins 23-6 in a Monday Night contest at FedExField.
The Redskins jumped ahead 6-0 on a pair of Shaun Suisham field goals in the first quarter, but the Steelers with 23 unanswered points. Ben Roethlisberger scored on a 1-yard dive, but he later suffered a shoulder injury. He was replaced by Byron Leftwich, who guided the Steelers to two second-half touchdowns.
Jason Campbell completed 23-of-43 passes for 206 yards and two interceptions. He was sacked seven times by the ferocious Steelers defense.
---
REDSKINS 2008 RANKINGS
Offense
Rank
Yards/Game
Total Offense
19
320.0
Rushing Offense
8
130.9
Passing Offense
23
189.1
Defense
Rank
Yards/Game
Total Defense
4
288.8
Rushing Defense
8
95.4
Passing Defense
7
193.4
 </tbody>

STEELERS 2008 RANKINGS
Offense
Rank
Yards/Game
Total Offense
22
311.9
Rushing Offense
23
105.6
Passing Offense
17
206.3
Defense
Rank
Yards/Game
Total Defense
1
236.2
Rushing Defense
1
80.2
Passing Defense
2
156.0
---
FAMILIAR FACES ON THE STEELERS
Free safety Ryan Clark played for the Redskins from 2004-05 and established himself as a starting caliber defender with the Redskins.
Defensive backs coach Ray Horton began his NFL coaching career as an assistant defensive backs coach with the Redskins in 1994-96.
Running backs coach Kirby Wilson served in the same capacity with the Redskins in 2000.
---
REDSKINS-STEELERS NEWS & NOTES
Antwaan Randle El, who played for the Steelers from 2002-05, faces off against his former team. Randle El was a second-round draft choice by the Steelers in 2002. He has plenty of great memories in Pittsburgh.
In four seasons in Pittsburgh, Randle El developed his skills as a wide receiver and was a key component in the Steelers' run to Super Bowl XL in 2005.
Randle El's Steelers beat Seattle that year by a score of 21-10. Jim Zorn was a quarterbacks coach on the team.
Randle El's most memorable play? On a wide receiver option, he threw a 43-yard touchdown pass to Hines Ward to provide the final points of Super Bowl XL. He became the first wide receiver to throw a TD pass in a Super Bowl game.
Randle El, who signed with the Redskins as a free agent two months after Pittsburgh won the Super Bowl, said the '05 Steelers were a confident group, mostly because they knew they could compete with any team in the AFC that year.
"We had played Cincinnati twice already and we knew we could beat them [in the Wild Card round]," he said. "We played Indianapolis and we knew we could stay with them [in the Divisional Playoff round].
"And then there was Denver [in the AFC Championship game]--that was the only team we weren't sure about. But we had a game plan going against Denver like never before--on offense and on defense. It certainly worked out on the field."
-- How the 80-Man Roster Was Built
The Redskins have 28 players on the roster that the team drafted, including 2009 first-round pick Brian Orakpo and 2009 supplemental draft pick Jeremy Jarmon. Draft picks account for 35 percent of the Redskins roster.
Chris Samuels is the longest-tenured Redskins. He has played for the franchise since 2000.
Washington has used free agency to acquire 34 players, including Mike Sellers in 2004, Casey Rabach in 2005, Andre Carter and Antwaan Randle El in 2006, London Fletcher in 2007, DeAngelo Hall in 2008 and Albert Haynesworth and Hunter Smith in 2009. Free agents account for 42.5 percent of the roster.
Fourteen Redskins players were acquired as undrafted rookie free agents. This group includes offensive lineman Stephon Heyer.
The team has acquired two players via trade. Clinton Portis was acquired in a 2004 trade with the Denver Broncos and Santana Moss joined the Redskins as part of a 2005 trade with the New York Jets.
The Redskins have claimed just two players off waivers: Anthony Alridge and Marcus Mason.
Danny Smith, born in Pittsburgh, has guided the Redskins' special teams unit since 2004. Kickoff returns and kick coverage have been a strong suit for the Redskins in that span.
The Redskins have given up only 20.5 yards per kickoff return, the second-best mark in the league during that span. The unit has been nearly as successful on kickoff returns, ranking seventh in the league in that span with a 23.2-yard average.
Last year, Washington's kickoff unit was among the league's top groups.
The Redskins allowed opponents an average starting field position of the 25.7-yard line, the sixth-best mark in the league. The Redskins' kickoff return unit also ranked sixth in the league with an average starting field position of the 29.0-yard line.
Pittsburgh Steelers head coach Mike Tomlin began his coaching career in 1995 at Virginia Military Institute in Lexington, Va. He entered the NFL as a defensive backs coach with the Tampa Bay Buccaneers in 2001.
Tomlin was defensive coordinator of the Minnesota Vikings in 2006 and he coached current Redskin Fred Smoot.
As a player, Tomlin was a three-year starter at William & Mary froom 1990-94 and he finished his career with 100 receptions for 2,046 yards and a school-record 20 TD catches.
Tomlin was born in Hampton, Va. He attended Denbigh High School in Newport News, Va.
Since 2000, the Redskins' defense has finished in the top 10 in yardage allowed seven times.
Last year, in Greg Blache's first season leading the defense, the Redskins were ranked fourth overall in the NFL. They were ranked eighth against the run and seventh against the pass.
The Redskins also finished fourth in 2000, 10th in 2001, fifth in 2002, third in 2004, ninth in 2005 and eighth in 2007.
Since 2004, when Blache joined the Redskins as defensive line coach, the Redskins have the NFL's fourth-ranked defense.
In 2008, Chris Cooley's 83 catches ranked 11th in the NFL and Santana Moss's 75 catches ranked 18th.
The Redskins were one of four teams last year, along with Arizona, Denver and Kansas City, to have two of the top 18 pass catches in the league.
Cooley has led the Redskins in receptions each of the last three years, while Moss led the team in catches in 2005.
-- Roethlisberger Unlikely to Play
Pittsburgh Steelers quarterback Ben Roethlisberger suffered a foot injury on Thursday and he is not expected to play against the Redskins on Saturday night.
Roethlisberger did travel with the team to Washington, indicating that the injury is not serious. Charlie Batch is expected to start in his place.
Roethlisberger was injured when left tackle Max Starks inadvertantly stepped on his foot during a training camp practice.
Look for Steelers undrafted rookie running back Isaac Redman to get plenty of carries in Saturday's game.
Redman played college football at nearby Bowie State and finished his career at the college's all-time rushing leader.
Redman finished his career with 3,300 rushing yards on 613 carries, a 5.3 yards-per-carry average.
FedExField is the largest stadium in the NFL with 91,704 seats.
It is more than 11,000 seats ahead of the second biggest stadium, the new Cowboys Stadium. (Cowboys Stadium is expandabe to seat up to 100,000.)
The Redskins set a single-game attendance record--90,910--in a Dec. 30, 2007 game against the Cowboys.
The Redskins host the New England Patriots on Friday, Aug. 28 in the third preseason game for both clubs.
Kickoff is 8 p.m. The game is televised nationally on CBS.