Gameday Graphic for Game on 08/26/2010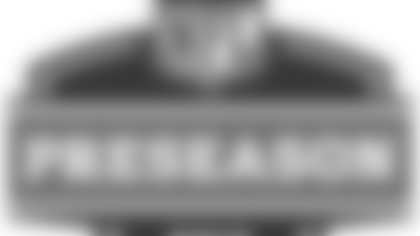 The Redskins' first preseason road trip is to New Meadowlands Stadium in New Jersey where they take on the New York Jets on Friday, Aug. 27. Kickoff is 7 p.m. ET.
New Meadowlands Stadium has FieldTurf as its playing surface. The stadium seats 82,500.
It's the Redskins' first appearance at the New Meadowlands Stadium, which opened this year. The stadium has hosted two preseason games this year.
The Redskins are 1-1 in preseason, having beaten the Buffalo Bills 42-17 on Aug. 13 and lost to the Baltimore Ravens 23-3 on Aug. 21.
The Jets are also 1-1 in preseason. They lost to the New York Giants 31-16 on Aug. 16 and defeated the Carolina Panthers 9-3 on Aug. 21.
The game will be televised locally on NBC-4 and Comcast SportsNet. Kenny Albert handles the play-by-play with color commentary provided by Former Redskin Joe Theismann. Former Redskin Rick 'Doc' Walker reports from the sidelines.
On radio, the game will be broadcast locally on ESPN 980 and the Redskins Radio Network. Larry Michael calls the play-by-play with former Redskins and Hall of Famers Sonny Jurgensen and Sam Huff adding color commentary. Scott Linn reports from the sidelines.
The Redskins are 112-116-2 in preseason play since 1961, including last week's loss to the Ravens.
The Redskins close out preseason on Sept. 2 when they go west to take on the Arizona Cardinals at University of Phoenix Stadium.
---
PROJECTED STARTING LINEUPS
OFFENSE
Pos.
Redskins
Jets
WR
89 Santana Moss
89 Jerricho Cotchery
LT
72 Trent Williams
60 D. Ferguson
LG
66 Derrick Dockery
68 Matt Slausen
C
61 Casey Rabach
74 Nick Mangold
RG
75 Artis Hicks
65 Brandon Moore
RT
69 Jammal Brown
67 Damien Woody
TE
47 Chris Cooley
81 Dustin Keller
WR
84 Joey Galloway
17 Braylon Edwards
QB
5 Donovan McNabb
6 Mark Sanchez
FB
45 Mike Sellers
49 Tony Richardson
RB
26 Clinton Portis
23 Shonn Greene
DEFENSE
Pos.
Redskins
Jets
DE
94 Adam Carriker
92 Shaun Ellis
NT
96 Ma'ake Kemoeatu
77 Kris Jenkins
DE
64 Kedric Golston
91 Sione Pouha
OLB
99 Andre Carter
58 Bryan Thomas
ILB
59 London Fletcher
52 David Harris
ILB
52 Rocky McIntosh
57 Bart Scott
OLB
98 Brian Orakpo
97 Calvin Pace
LCB
23 DeAngelo Hall
31 Antonio Cromartie
RCB
22 Carlos Rogers
20 Kyle Wilson
SS
30 LaRon Landry
22 Brodney Poole
FS
41 Kareem Moore
36 Jim Leonhard
SPECIAL TEAMS
Pos.
Redskins
Jets
P
6 Josh Bidwell
9 Steve Weatherford
K
4 Graham Gano
2 Nick Folk
H
6 Josh Bidwell
9 Steve Weatherford
LS
57 Nick Sundberg
46 Tanner Purdum
KOR
11 Devin Thomas
16 Brad Smith
PR
31 Phillip Buchanon
36 Jim Leonhard
---
The Redskins and Jets have played eight times in preseason, with the series tied at 4-4.
The two clubs last played in the 2008 preseason at the Meadowlands. The Redskins won 13-10 when quarterback Colt Brennan tossed a fourth quarter touchdown pass to tight end Jason Goode.
In the regular season, the Redskins and Jets have played nine times since the series began in 1972. Washington leads the all-time series 8-1, including a perfect 4-0 mark at the Meadowlands.
The last time the two clubs played was on Nov. 4, 2007 at the Meadowlands. The Redskins won 20-17 as Shaun Suisham kicked a game-winning 46-yard field goal in overtime. It was the fifth field goal of the game for Suisham.
Clinton Portis rushed for 196 yards and one touchdown on 36 carries in the Redskins' win. In all, the Redskins pounded out 296 rushing yards against the Jets, with a lofty 6.2 yards-per-carry average.
---
REDSKINS 2009 RANKINGS
Offense
Rank
Yards/Game
Total Offense
22
312.5
Rushing Offense
27
94.4
Passing Offense
16
218.1
Defense
Rank
Yards/Game
Total Defense
10
319.7
Rushing Defense
16
112.4
Passing Defense
8
207.2
 </tbody>

JETS 2009 RANKINGS
Offense
Rank
Yards/Game
Total Offense
20
321.0
Rushing Offense
1
172.2
Passing Offense
31
148.8
Defense
Rank
Yards/Game
Total Defense
1
---
FAMILIAR FACES ON THE JETS
Offensive coordinator Brian Schottenheimer served as quarterbacks coach of the Redskins in 2001. He coached for his father Marty Schottenheimer while in Washington.
Defensive line coach Mark Carrier played safety for the Redskins in 2000.
Wide receivers coach Henry Ellard played wide receiver for the Redskins from 1994-97. He led the Redskins in receptions his first three seasons with the club.
Quarterback Mark Brunell played for the Redskins from 2004-07. He joined the Redskins in March 2004 as part of a trade with the Jacksonville Jaguars. He played in 35 games with the Redskins, completing 59 percent of his passes for 6,033 yards, 38 touchdowns and 20 interceptions.
Wide receiver Laveranus Coles played for the Redskins from 2003-04. He was acquired by the Redskins as a restricted free agent from the Jets in March 2003. He caught 172 passes and seven touchdowns in two seasons in Washington. His 90 receptions in 2004 rank as the third most in one season in franchise history.
Linebacker Jason Taylor played for the Redskins in 2008. In his one season in Washington, Taylor played in 13 games, with eight starts, and posted 29 tackles and 3.5 sacks.
---
REDSKINS-JETS NEWS & NOTES
-- How the Redskins' 80-Man Roster Was Built
The Redskins have 25 players on the roster that the team drafted, including 2010 first-round pick Trent Williams and 2009 supplemental draft pick Jeremy Jarmon.
Mike Sellers is the longest-tenured Redskins. He had a stint with the Redskins in 1998-2000 and rejoined the team in 2004.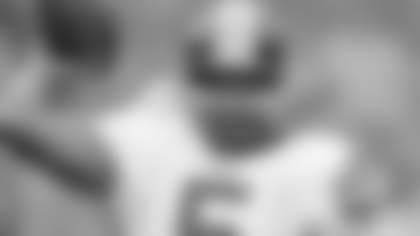 Washington has used unrestricted free agency to acquire 40 players, including Casey Rabach in 2005, Andre Carter in 2006, London Fletcher in 2007, DeAngelo Hall in 2008, Albert Haynesworth in 2009 and Ma'ake Kemoeatu in 2010.
Nine Redskins players were acquired as undrafted rookie free agents. This group includes offensive linemen Stephon Heyer and Edwin Williams and cornerback Byron Westbrook, all local products.
The team has acquired six players via trade: Clinton Portis, Santana Moss, Donovan McNabb, Adam Carriker, Jammal Brown and John Beck.
The Redskins have claimed just one player off waivers: cornerback Ramzee Robinson.
-- Redskins Offensive Preseason Leaders
Rex Grossman leads the Redskins' quarterbacks with a 97.7 rating in the first two preseason games. He has completed 25-of-39 passes for 335 yards, two touchdowns and one interception.
Ryan Torain leads the Redskins' running backs with 64 yards on 18 carries. Rookie Keiland Williams has 57 yards and two touchdown runs on 13 carries.
Anthony Armstrong has posted six catches for 91 yards to lead the Redskins' receivers. He is followed by Chris Cooley and Roydell Williams, who have five catches each.
Brandon Banks has a 20.0-yard average on five punt returns. That average is boosted by his 77-yard punt return for a touchdown against Buffalo on Aug. 13.
-- Redskins Defensive Preseason Leaders
LaRon Landry leads the Redskins' defense with nine tackles (seven solo) in two preseason games. He is followed by London Fletcher and Lendy Holmes, who have eight tackles each.
Albert Haynesworth and Robert Henson have posted the defense's only sacks of preseason -- both came in the fourth quarter against Baltimore on Aug. 21.
DeAngelo Hall has an interception and a forced fumble in two preseason games. Holmes has also recorded an interception and Rocky McIntosh has also forced a fumble.
On special teams, Henson has made an impact, leading with three tackles on kick coverage. Kevin Barnes and Fred Davis have two tackles on kick coverage.
Redskins long snapper James Dearth returns to face the Jets, the team he played for from 2001-09. He signed with the Redskins on Aug. 15.
Dearth served as the Jets' long snapper for 144 consecutive regular season games and eight postseason contests. He registered 32 special teams tackles over that span.
In 2001, Dearth caught three passes for 10 yards and a touchdown while playing tight end for the Jets.
Dearth is competing for the Redskins' long snapper job with first-year player Nick Sundberg. He did not play in the Redskins' preseason game against Baltimore on Aug. 21.
New York Jets nose tackle Kris Jenkins played college football at the University of Maryland from 1997-2000.
He was a three-year starter for the Terps and earned All-ACC recognition as a senior with 62 tackles, eight sacks and a fumble recovery.
Jenkins was a second-round draft pick (44th overall) of the Carolina Panthers in 2001. He joined the Jets in 2008 as a free agent.
Jenkins played with Redskins nose tackle Ma'ake Kemoeatu and Lorenzo Alexander from 2006-07 while in Carolina.
The Redskins and Jets made a draft day deal in 2006 that appears to have worked out well for both clubs.
The Redskins sent their 2006 second- and sixth-round picks and a 2007 second-round pick to the Jets for their second-round pick (35th overall).
The Redskins selected linebacker Rocky McIntosh with their second-round pick.
The Jets used their picks to eventually acquire quarterback Kellen Clemens (after additional trade with Dallas), linebacker David Harris (after additional trade with Green Bay) and cornerback Drew Coleman (after additional trade with Dallas).
Santana Moss and New York Jets wide receiver Laveranues Coles were traded for each other in March 2005. The results?
Since 2005, Moss has played 76 games for the Redskins with 349 catches for 5,027 yards and 27 touchdowns. He set a Redskins franchise record in 2005 with 1,483 receiving yards.
In the same span, Coles has played 76 games for the Jets and Cincinnati Bengals with 332 catches for 3,953 yards and 29 touchdowns.
Friday's preseason game against the New York Jets is the Redskins' first of two trips to the New Meadowlands Stadium in 2010.
The Redskins will play the New York Giants at the stadium on Sunday. Dec. 5 in an NFC East clash.
New Meadowlands Stadium opened on Aug. 16 with a preseason game between the Giants and Jets. The Giants won the inaugural game 31-16.
The Redskins will travel 11,124 miles in 2010, the 25th most in the NFL. For the second year in a row, they have the shortest travel schedule in the NFC East.
The San Francisco 49ers travel 35,219 miles, most in the NFL. The Cincinnati Bengals travel 6,688 miles, least in the NFL.
The total distance traveled by all NFL teams is 507,050 miles. This is 71,862 fewer miles than 2009, when teams traveled a total of 578,912 miles.
The Redskins close out preseason with a trip to the West Coast to take on the Arizona Cardinals on Thursday, Sept. 2 at University of Phoenix Stadium. Kickoff is 10 p.m. ET.
The Redskins and Cardinals franchises have met just once previously in the preseason when the St. Louis Cardinals visited Washington in 1971. The Redskins won 20-13.
The trip will be the farthest for the Redskins for a preseason games since playing San Francisco in the American Bowl in Osaka, Japan, in 2002. It will mark Washington's longest trip in the United States for a preseason contest since playing at the Los Angeles Raiders in 1992.
The fourth preseason game is the last chance for many roster hopefuls to make an impression on coaches. Final cuts are mandated by the NFL on Sept. 4.