Gameday Graphic for Game on 09/02/2010


The Redskins wrapped up preseason in the Arizona desert.
Appropriate, considering this was a dry run.
The finale? It was Arizona Cardinals 20, Washington Redskins 10, Thursday night at University of Phoenix Stadium.
Most of the Redskins' starters did not play in the game. Head coach Mike Shanahan opted to play most of his backups – including Albert Haynesworth – the entire game.
Richard Bartel started the game at quarterback and completed 12-of-14 passes for 125 yards and one touchdown, a 21-yarder to rookie wide receiver Terrence Austin.
Bartel alternated at quarterback with John Beck, who was 11-of-21 for 132 yards and one interception.
Willie Parker showed some flash in the run game, compiling 35 yards on seven carries. And Austin led the passing game with five receptions for 94 yards to go along wit his touchdown.
On defense, Robert Henson was seemingly all over the field in his time on the field, recording a team-high seven tackles and a sack. He suffered a knee injury in the third quarter and did not return.
Darrion Scott and Rob Jackson also posted sacks and Justin Tryon had an interception late in the fourth quarter.
The Redskins finished preseason with a 2-2 record.
The Redskins and Arizona Cardinals were tied at 3-3 at the end of the first quarter.
Washington opened the game with its second-string offense and defense on the field, while Arizona went with most of their first-teamers.
The Cardinals drove downfield on the opening possession with quarterback Derek Anderson completing a 20-yard pass to wide receiver Stephen Williams and a 27-yard pass to wide receiver Early Doucet.
The big plays set up a 42-yard field goal by kicker Jay Feely, giving the Cardinals a 3-0 lead.
On the Redskins' first possession, Willie Parker started and had a 13-yard run to get the offense going. Then Richard Bartel, who started at quarterback, tossed a 7-yard pass to Devin Thomas to convert a 3rd-and-3.
The drive stalled at the Cardinals 22-yard line and Graham Gano converted a 40-yard field goal.
Hold on. Robert Henson was called for a holding penalty.
The ball was moved back 10 yards, but Gano was still good. He connected on a 50-yarder to tie the game.
The Redskins trailed the Cardinals 10-3 at halftime.
Early on in the quarter, it was a defensive struggle as neither offense had success moving into scoring range.
Robert Henson was active on the Redskins' defense, logging four tackles and a sack. Rob Jackson also posted a sack.
Late in the first half, Cardinals quarterback Max Hall started guided the offense downfield, completing a 17-yard pass to tight end Stephen Spach and a 16-yard pass to wide receiver Onrea Jones.
At Washington's 19-yard line, Hall threw a short pass to Jones, who burst down the left side sideline for 16 more yards.
Next play, running back Alphonso Smith bulldozed behind right tackle for a 3-yard touchdown, giving the Cardinals the lead.
The Redskins trailed the Cardinals 20-3 at the end of the third quarter.
Max Hall continued to connect with receivers for big gains. He tossed a short pass to Onrea Jones who turned it into an 18-yard gain. Then Hall threw a short pass across the middle to Alphonso Smith, who turned upfield for a 21-yard gain.
The drive stalled at the Redskins' 4-yard line, so the Cardinals settled for a 22-yard field goal.
Midway through the third quarter, the Cardinals were back in scoring range. Hall connected on a deep pass to wide receiver Max Komar for 34 yards to the Redskins' 6-yard line.
One play later, Hall scrambled around right end and dove into the end zone for a 6-yard touchdown run.
The Redskins started to generate some offense late in the quarter.
Richard Bartel connected on four passes to Brandon Banks to move the ball to the Cardinals' 23-yard line as the quarter ended.
The Redskins opened the fourth quarter with Richard Bartel throwing to Terrence Austin across the middle.
Austin pulled in the pass, broke a tackle and raced into the end zone for a touchdown, narrowing the Cardinals' lead to 20-10.
On the Redskins' next drive, Ryan Torain had an 11-yard run and John Beck tossed a 38-yard pass to Terrence Austin to move the ball into Cardinals territory.
But Beck appeared to have a miscommunication with Devin Thomas on a route across the middle and his pass was intercepted by linebacker Monty Beisel.
Late in the fourth quarter, Justin Tryon intercepted a pass in the end zone to stymie a Cardinals drive.
[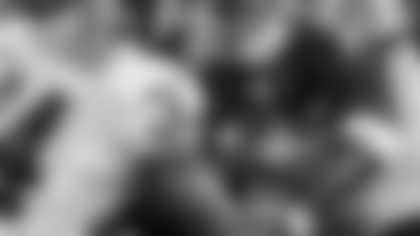 Photo Album: Redskins-Cardinals](/media-gallery/photos/preseason-week-4-redskins-cardinals/7BBCC492-3AC1-4AC1-8AFF-2E61093A6874)
---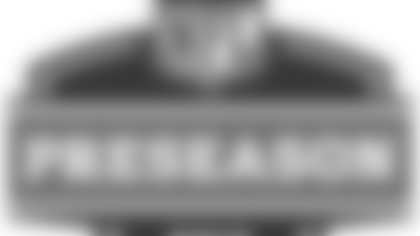 The Redskins wrap up 2010 preseason with a trip out west to take on the Arizona Cardinals on Thursday, Sept. 2 at University of Phoenix Stadium. Kickoff is 10 p.m. ET.
University of Phoenix Stadium has Tifway 419 Hybrid Bermuda Grass as its playing surface. The stadium seats 63,400.
It's the Redskins' first appearance at University of Phoenix Stadium, which opened in 2006.
The trip will be the farthest the Redskins have traveled for a preseason games since playing San Francisco in the American Bowl in Osaka, Japan, in 2002.
It will mark Washington's longest trip in the United States for a preseason contest since playing at the Los Angeles Raiders in 1992.
The Redskins are 2-1 in preseason, having beaten the Buffalo Bills 42-17 on Aug. 13, lost to the Baltimore Ravens 23-3 on Aug. 21, and beaten the New York Jets 16-11 on Aug. 27.
The Cardinals are also 2-1 in preseason. They defeated the Houston Texans 19-16 on Aug. 14, lost to the Tennessee Titans 24-10 on Aug. 23 and defeated the Chicago Bears 14-9 on Aug. 28.
The game will be televised locally on NBC-4 and Comcast SportsNet. Kenny Albert handles the play-by-play with color commentary provided by Former Redskin Joe Theismann. Former Redskin Rick 'Doc' Walker reports from the sidelines.
On radio, the game will be broadcast locally on ESPN 980 and the Redskins Radio Network. Larry Michael calls the play-by-play with former Redskins and Hall of Famers Sonny Jurgensen and Sam Huff adding color commentary. Chris Russell reports from the sidelines.
The Redskins are 112-116-2 in preseason play since 1961, including last week's victory over the Jets.
---
PROJECTED STARTING LINEUPS
OFFENSE
Pos.
Redskins
Cardinals
WR
89 Santana Moss
11 Larry Fitzgerald
LT
72 Trent Williams
75 Levi Brown
LG
66 Derrick Dockery
66 Alan Faneca
C
61 Casey Rabach
63 Lyle Sendlein
RG
75 Artis Hicks
74 Reggie Wells
RT
69 Jammal Brown
72 Brandon Keith
TE
47 Chris Cooley
81 Ben Patrick
WR
84 Joey Galloway
15 Steve Breaston
QB
3 John Beck
3 Derek Anderson
FB
45 Mike Sellers
32 Nehemiah Broughton
RB
27 Larry Johnson
34 Tim Hightower
DEFENSE
Pos.
Redskins
Cardinals
DE
94 Adam Carriker
93 Calais Campbell
NT
96 Ma'ake Kemoeatu
97 Bryan Robinson
DE
64 Kedric Golston
90 Darnell Dockett
OLB
99 Andre Carter
55 Joey Porter
ILB
59 London Fletcher
51 Paris Lenon
ILB
52 Rocky McIntosh
52 Monty Beisel
OLB
98 Brian Orakpo
53 Clark Haggans
LCB
23 DeAngelo Hall
37 Trumaine McNride
RCB
22 Carlos Rogers
29 D. Rodgers-Cromartie
SS
30 LaRon Landry
24 Adrian Wilson
FS
37 Reed Doughty
25 Kerry Rhodes
SPECIAL TEAMS
Pos.
Redskins
Cardinals
P
6 Josh Bidwell
5 Ben Graham
K
4 Graham Gano
4 Jay Feely
H
6 Josh Bidwell
5 Ben Graham
LS
57 Nick Sundberg
82 Mike Leach
KOR
11 Devin Thomas
36 L. Stephens-Howling
PR
31 Phillip Buchanon
12 Andre Roberts
---
The Redskins and Cardinals franchises have played three times in preseason, with the Redskins leading the series 3-0.
The last time the two clubs played in preseason was in 1971 when the then-St. Louis Cardinals visited Washington. The Redskins prevailed 20-13.
In the regular season, the two clubs have a long history.
Arizona was a divisional rival in the NFC East prior to NFL realignment in 2002, and the two franchises have played 113 times in regular season play.
The Redskins hold the regular season series lead at 70-42-1. The record includes games against the Cardinals franchise when it was located in Chicago, St. Louis and Arizona.
The Redskins have a seven-game regular season winning streak against Arizona. Prior to that, the Cardinals had won three of five contests.
The last time the two clubs played was on Sept. 21, 2008, at FedExField. The Redskins won 24-17.
Santana Moss led the Redskins' offense with seven catches for 75 yards and one touchdown -- a 17-yard game-winner in the fourth quarter -- and Clinton Portis added a 2-yard touchdown run in the first half.
Cardinals wide receiver Larry Fitzgerald had a big game, with seven catches for 109 yards, including a 62-yard touchdown catch in the second half. Otherwise, the defense contained the high-powered Cardinals offense.
Rocky McIntosh turned in a strong game, leading the Redskins with seven tackles, a half-sack and a forced fumble. And Carlos Rogers' interception in the fourth quarter helped set up the Redskins' game-winning score.
---
REDSKINS 2009 RANKINGS
Offense
Rank
Yards/Game
Total Offense
22
312.5
Rushing Offense
27
94.4
Passing Offense
16
218.1
Defense
Rank
Yards/Game
Total Defense
10
319.7
Rushing Defense
16
112.4
Passing Defense
8
207.2
 </tbody>

CARDINALS 2009 RANKINGS
Offense
Rank
Yards/Game
Total Offense
14
344.4
Rushing Offense
28
93.4
Passing Offense
12
251.0
Defense
Rank
Yards/Game
Total Defense
20
---
FAMILIAR FACES ON THE CARDINALS
Head coach Ken Whisenhunt played for the Redskins as a tight end and H-back from 1989-90. Whisenhunt played nine NFL seasons with the Atlanta Falcons, Redskins and New York Jets. In 74 career games, he caught 62 passes for 601 yards and six touchdowns.
Assistant head coach-run game coordinator-offensive line Russ Grimm played guard and center for the Redskins from 1981-91. He also served as tight ends coach for the Redskins from 1992-96 and offensive line coach from 1997-2000.
Fullback Nehemiah Broughton played for the Redskins from 2005-08. He was the club's seventh-round draft pick (222nd overall) in the 2005 NFL Draft. Nicknamed "Nemo," he saw action in six games with the Redskins and alternated between the roster and practice squad.
Offensive tackle Jeremy Bridges was with the Redskins during 2009 training camp and preseason.
Wide receiver Onrea Jones, a Williamsburg, Va., native, spent time on the Redskins' practice squad in 2009.
---
REDSKINS-CARDINALS NEWS & NOTES
-- How the Redskins' 80-Man Roster Was Built
The Redskins have 25 players on the roster that the team drafted, including 2010 first-round pick Trent Williams and 2009 supplemental draft pick Jeremy Jarmon.
Mike Sellers is the longest-tenured Redskins. He had a stint with the Redskins in 1998-2000 and rejoined the team in 2004.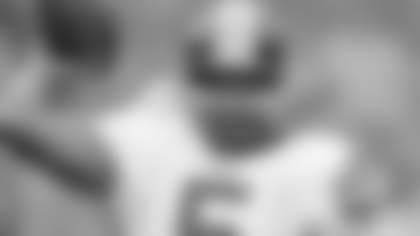 Washington has used unrestricted free agency to acquire 40 players, including Casey Rabach in 2005, Andre Carter in 2006, London Fletcher in 2007, DeAngelo Hall in 2008, Albert Haynesworth in 2009 and Ma'ake Kemoeatu in 2010.
Nine Redskins players were acquired as undrafted rookie free agents. This group includes offensive linemen Stephon Heyer and Edwin Williams and cornerback Byron Westbrook, all local products.
The team has acquired six players via trade: Clinton Portis, Santana Moss, Donovan McNabb, Adam Carriker, Jammal Brown and John Beck.
The Redskins have claimed just one player off waivers: cornerback Ramzee Robinson.
Redskins great Russ Grimm was inducted into the Pro Football Hall of Fame on Aug. 7 in Canton, Ohio. Grimm is currently the Cardinals' assistant head coach-run game coordinator-offensive line coach.
An All-American out of Pitt, Grimm was selected by the Redskins in the third round (69th overall) of the 1981 NFL Draft and he went on to spend the next 19 years with the organization as player and coach.
Grimm had a remarkable career with the Redskins as a member of the famed "Hogs" offensive line. He started 11 seasons at guard and center and earned four consecutive Pro Bowl berths (1983-86) and was a first-team selection to the 1980s All-Decade Team.
He also helped lead the Redskins to four Super Bowl appearances and three victories.
After his playing days, Grimm began his coaching career as the tight ends coach for Washington, holding that position from 1992-96 before moving to coach the Redskins offensive line from 1997-2000. He coached Chris Samuels and Jon Jansen, the Redskins' bookend tackles most of the last decade.
Cardinals cornerback Greg Toler hails from Washington, D.C., and was a two-time All-Metro choice as a cornerback, wide receiver and return specialist at Northwestern High School.
Cornerback Phillip Buchanon is the brother of Cardinals wide receiver Ed Gant.
Defensive lineman Vonnie Holliday is the cousin of Cardinals linebacker O'Brien Schofield.
Running back Ryan Torain and cornerback Justin Tryon played college football at Arizona State.
Wide receiver Bobby Wade played college football at University of Arizona.
-- Redskins Offensive Preseason Leaders
Rex Grossman leads the Redskins' quarterbacks with a 90.4 rating in the first three preseason games. He has completed 33-of-55 passes for 446 yards, two touchdowns and one interception.
Ryan Torain leads the Redskins' running backs with 72 yards on 23 carries. Rookie Keiland Williams has 68 yards and two touchdown runs on 17 carries.
Anthony Armstrong has posted seven catches for 101 yards to lead the Redskins' receivers. He is followed by Santana Moss, Chris Cooley and Roydell Williams, who have six catches each.
Brandon Banks has a 18.0-yard average on six punt returns. That average is boosted by his 77-yard punt return for a touchdown against Buffalo on Aug. 13.
-- Redskins Defensive Preseason Leaders
LaRon Landry and Perry Riley lead the Redskins' defense with 12 tackles each in the first three preseason games. He is followed by London Fletcher, who has 10 tackles.
Six defenders have posted one sack each in preseason: Robert Henson, Chris Wilson, Darrion Scott, Jeremy Jarmon, Albert Haynesworth and Adam Carriker.
DeAngelo Hall has two interceptions and a forced fumble in two preseason games. Lendy Holmes has also recorded an interception.
On special teams, Henson has made an impact, leading with four tackles on kick coverage. Anthony Armstrong and Chris Horton have three tackles each.
With Clinton Portis, Larry Johnson and Willie Parker on the roster, all of whom have two Pro Bowl selections to their credit, the Redskins have three of the top 12 active rushing leaders in the NFL.
Portis has 9,696 career rushing yards to rank third, Johnson has 6,219 career rushing yards to rank seventh and Parker has 5,378 career rushing yards to rank 11th.
LaDainian Tomlinson of the New York Jets leads with 12,490 career rushing yards.
Portis, Johnson and Parker have combined for 21,293 rushing yards and 152 touchdowns. All three rank in the top 93 in NFL history in rushing yards and are among 109 players to have rushed for at least 5,000 yards.
London Fletcher enters the 2010 campaign with 151 consecutive starts, a figure which ranks fourth among active players. (Brett Favre at 285, Peyton Manning at 192 and Ronde Barber at 167.)
Fletcher has not missed a game since entering the league as an undrafted rookie free agent with the St. Louis Rams in 1998.
His 192 consective games streak is tied for second among active players behind Minnesota's Brett Favre.
Since joining the Redskins in 2007, Fletcher has led the team in tackles each of his three seasons with the club. He earned his first Pro Bowl selection following the 2009 season.
Chris Cooley could emerge as the greatest Redskins tight end in franchise history this year.
For his 6-year career, Cooley has 343 receptions for 3,789 yards and 30 touchdowns.
Among tight ends, he is ranked second all-time in all three categories in franchise history behind Jerry Smith, whose 13-year career is twice that of Cooley.
Cooley already holds the Redskins record for most receptions by a tight end in a single season with 83 in 2008.
The Redskins will travel 11,124 miles in 2010, the 25th most in the NFL. For the second year in a row, they have the shortest travel schedule in the NFC East.
The San Francisco 49ers travel 35,219 miles, most in the NFL. The Cincinnati Bengals travel 6,688 miles, least in the NFL.
The total distance traveled by all NFL teams is 507,050 miles. This is 71,862 fewer miles than 2009, when teams traveled a total of 578,912 miles.
The Slowik family comes together for Thursday night's preseason game in Arizona.
Bob Slowik is the Redskins' secondary coach and his son Bobby is a Redskins video assistant.
One of his other sons, Ryan, is a Cardinals defensive quality control coach.
Preparations begins in earnest for the Redskins' regular season opener: Sunday, Sept. 12 against the Dallas Cowboys at FedExField.
Kickoff is 8:20 p.m. The game is broadcast nationally on NBC.
It's the first time since 1999 that the Redskins have opened the regular season against the Cowboys.