The Redskins.com crew breaks down the key players and matchups to keep an eye on during Sunday's Redskins-Bills 2015 Week 15 matchup at FedExField.
"Redskins-Bills: Ingredients For Victory" is presented by Papa John's.*
Every Monday after a Redskins game, get a Large Cheese Pizza for just $9.99. Receive a FREE TOPPING for every Redskins touchdown. DOUBLE THE FREE TOPPINGS when the Redskins win!
---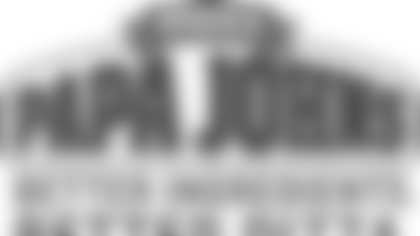 ](http://www.papajohns.com/index.html)
It's been longer than a year since the Washington Redskins could last claim back-to-back victories.
Yet, here they are, in a three-way tie for first place in the NFC East, owning the tiebreaker scenarios, with three games left in the season.
The team's consistently inconsistent 2015 season has landed it a 6-7 record so far, as its Week 5 and 6 losses on the road to the then-undefeated Atlanta Falcons and New York Jets have represented the only time the team has failed to follow a loss with a win all year.
So while the Redskins picked a terrific time to reel off their first road victory of the year last week in Chicago – a 24-21 nailbiter at Soldier Field – the team could really be doing itself a favor by winning consecutive games for the first time in 2015 on Sunday against the Buffalo Bills.
Those handling the scheduling for the league really did Washington a favor this week, as the two teams currently tied with the Redskins atop the NFC East – the New York Giants and Philadelphia Eagles – each face extremely tall tasks on Sunday, both at home. The Giants take on the undefeated Carolina Panthers; the Eagles, meanwhile, take on the 11-2 Arizona Cardinals, winners of seven straight.
That's not to say the Bills are a pushover for the Redskins, but, at 6-7, they've been battling the same inconsistencies as Washington this season. So if the Redskins want to get that all-important and elusive one-game lead in the division with two games left – matchups on the road against the Eagles and the Dallas Cowboys – then they, first, have to take care of business against Buffalo at FedExField, and then hope the Panthers and Cardinals do the same in Philly and in East Rutherford, N.J.
"If you pull out a couple now, you're sitting in a really good place and feel really good about not only this year but the organization, the team we have going forward," quarterback Kirk Cousins said. "I think we're close but it's still a process and we're working towards where we want to be." (By Andrew Walker)
---
BILLS TRIO
It took him five seasons for a legitimate chance to start in the NFL, but Buffalo Bills quarterback Tyrod Taylor is making the most of his opportunity this season.
After winning the starting quarterback gig in training camp over 2013 first-round pick E.J. Manuel, among others, Taylor has been impressive this season for Buffalo, as the Virginia Tech product has thrown for 2,439 yards with 18 touchdowns and five interceptions in 11 games.
But what makes Taylor so lethal is his legs – or, at least, the very threat of the run – as he's rushed for an additional 371 yards.
"Oh, man, he's been impressive, really taking advantage of a situation where he had to sit behind a heck-of-a quarterback in [Joe] Flacco at Baltimore," Redskins head coach Jay Gruden said. "[He] got limited reps there, and when he did, he showed Buffalo enough to take a chance on him. He's really made it pay off. He's a very good player. He's a much better passer than I think people would have given him credit for but he's very good with his legs — can run the ball extremely well out of the pocket and throw on the run. I've been impressed with him."
While Taylor only runs it a handful of times per game, whenever he's out there the Redskins must play to the whistle.
"The challenge with him is that the play is never over," Redskins cornerback Will Blackmon said. "You have to stay alive. …I think the biggest thing with him is that he'll take off to get a first down cause he's a heck of a runner and he was at V-Tech as well. The challenge is to make sure when we pass rush, you know, not have any open lanes for him to just run through, keep him contained, and for us in coverage to truly plaster our guys wait until the ball hits the ground."
Of course, the issue with having Taylor back there is that the Redskins can't overcommit to him.
If they do, others like LeSean McCoy and Sammy Watkins could be in for big days
"They've got No. 14 [Sammy Watkins]. They've got No. 25 [LeSean McCoy]," Redskins defensive coordinator Joe Barry said. "They've got No. 5, who I think he's thrown two picks since Week 2 or 3. So he's been really smart with the ball. When things do breakdown around him – when the coverage is great and things break down around him – he can stick his foot in the ground and run. Absolutely, something from day one that we talk about and we've got to be conscious of because they've got weapons all over the place but especially the guy that handles the ball on every play. He's playing really good football for them right now." (By Stephen Czarda)
---
RUN IT UP
Since the first couple weeks of the season, the Redskins have been unable to put together a consistent, week to week running threat, just as they have been unable to put a win streak together.
The two, of course, are naturally intertwined, which is why the Redskins won't abandon running the ball even if it doesn't always produce the best results.
The Redskins ran for 99 yards last week against the Bears, with Matt Jones carrying the brunt of the load for 62 yards, and while they manage 3.6 yards per attempt, they're still averaging 26 rushing attempts each game. The offense works well off the play action and bootlegs, and continuing to pound the ball, regardless of its effectiveness, should still prove to be valuable in the passing game. 
That was helpful against the Bears last week in Chicago, and using shotgun formations to implement draw plays mixed up different looks. That it was on the road also gave them some encouragement, where they had averaged around 45 yards per game prior.
"A lot of the shotgun runs are out of different personnel. You get a linebacker off the field. It's more against the nickel runs. You get a favorable box count sometimes where you can pop them," head coach Jay Gruden said. "We should be successful in all of them but… some of our shotgun runs have been better. Some of them have been in situations... We've hit a couple draws out of the shotgun, some of the one-back powers, but you are a little bit limited in shotgun as far as what runs you can run, but they have been effective. We do probably need to do more of those."
Even if Washington can't pull off a 209-yard team rushing performance as they did against the Saints a few weeks ago, the Bills should give the Redskins plenty of opportunities to make a dent this Sunday. Buffalo has committed 45 penalties on defense and given up an average 104.9 rushing yards a game, good for 14th in the league.
"It's never one thing you can put your finger on. If you run the ball and they defend it well, they defend it well; if they don't, they don't," left tackle Trent Williams said. "It's the NFL. Those guys are good across the ball as well. Everything isn't solely based on if we can run the ball or not, it's just based on balance. We got to keep that balance." (By Jake Kring-Schriefels)
---
BRACE FOR BLITZ
Running the ball well is typically a formula for success against any defense, but the Redskins on Sunday are also preparing for a plethora of blitz looks by the Bills and head coach Rex Ryan that will require some quality game planning and execution by those who touch the ball on each snap.
Williams said the Bills' defensive schemes are "extremely complex," and Ryan and Co. aren't scared to gamble and lose at times if it means they're otherwise rewarded at other points of the game with a couple big defensive plays.
"He's going to send all-out pressure, he's going to test your quarterback to see if he has his hot reads intact, to see if your receivers [are] paying attention to break the hot routes off, if your O-line knows which way to slide," Williams said of Ryan. "He's going to challenge you."
One of the best ways to counter a heavy blitz is to utilize an effective screen-passing game, and the Redskins have displayed the ability to run a screen play well, particularly with rookies Jamison Crowder and Matt Jones.
The Redskins can also do themselves a favor against the blitz if they can strike big on some long plays down the field, perhaps to DeSean Jackson or Rashad Ross.
"I think our offense, we really want to have the thought of blitzing them and not getting blitzed. That's the mentality that we want to have," Gruden said. "There's a time and a place for everything. We still think we can get some of our runs in there. I think I'll just play it by ear. Rex does a good job disguising his intent with the blitzes, giving you different fronts and different coverages, let along all the Cover 0 all-out blitzes."
Gruden said "I think the recognition with our quarterback and the offensive line and center is going to be huge," which falls on Cousins and center Josh LeRibeus.
"They have very good players all the way through their defense and all the way through their team," Cousins said. "So from a defensive standpoint, great pass rushers and also very good stopping the run. Talented secondary, very athletic, a lot of guys who are fast. Obviously the scheme itself can be very complex and throw a lot at you. It'll be a great challenge for us, but certainly will be something that we need to be well prepared for and be ready to adapt as the game goes on." (By Andrew Walker)