Following nine straight games, the Washington Redskins enjoyed some extra time off during their bye week.
The week consisted of strength and conditioning workouts Tuesday, a practice in shoulder pads and helmets Wednesday and then four straight days without team obligations, which allowed players to take trips they normally would not be able to during the season.
In looking at their social media profiles, it seems several players made the most of their weekend off. Here's a rundown of their excursions:
Redskins Well Represented At LSU-Alabama
The most anticipated game of the college football season happened Saturday afternoon in Tuscaloosa, Alabama, and several Redskins were in attendance for the showdown between No. 3 Alabama against No. 2 LSU. The Redskins have nine Alabama alums on their roster, by far the most in the NFL, and six of them -- Ryan Anderson, Landon Collins, Reuben Foster, Shaun Dion Hamilton, Daron Payne and Ross Pierschbacher -- made the trip to support their former team.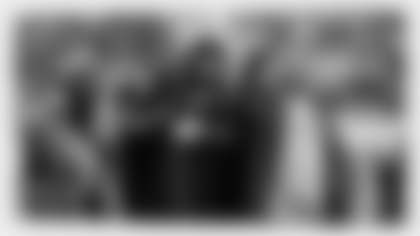 The group enjoyed a competitive game between the SEC powerhouses, but in the end LSU pulled out a 46-41 victory for their first win over Alabama since Nov. 5, 2011.
Perhaps no one was more excited than former LSU running back Derrius Guice, the only Tigers alum on the Redskins roster. Guice took to Twitter to voice his excitement both throughout the game and after the thrilling triumph.
Others Players Return To Respective Alma Maters
Defensive tackle Tim Settle and tight end Jeremy Sprinkle also traveled to their former schools over the weekend, with Settle returning to Virginia Tech and Sprinkle going back to Arkansas.
Elsewhere, running back Bryce Love returned to Wake Forest High School in North Carolina, where his No. 22 jersey was retired during the team's playoff game Friday night. Love rushed for more than 5,300 yards and 71 touchdowns for the Cougars from 2011-14 before starring for Stanford and joining the Redskins as a fourth-round pick in the 2019 NFL Draft.
Redskins Rookie Gets Engaged
It's been a big year for defensive lineman Ryan Bee. He signed with the Redskins in April as an undrafted free agent out of Marshall. In August, he earned a spot on the team's practice squad following a solid training camp and preseason.
But over the weekend, Bee trumped both of those accomplishments by getting engaged. Congrats Ryan and Mahalie!